Michael Jordan's Presence Alone Forced a Washington Wizards Teammate to Always Feed Him the Ball: 'Every Time I Had the Ball, I'm Not Looking for My Shot … I'm Looking for Jordan'
Even before he was the GOAT, players knew to get the ball to Michael Jordan. His Airness was always the focal point on offense, starting in his early days with the Chicago Bulls and during his final years with the Washington Wizards. One Wizards teammate shared a story about what it was like playing with Jordan in those later seasons, and how impossible it was at first to not treat him like any other player.
Michael Jordan finished his career with the Washington Wizards
After 1998, Jordan retired on top of the basketball world. His Bulls won title number six, as he would ride off into the sunset as the greatest player in NBA history. Or, so we thought.
In 2001, MJ announced his comeback, this time playing for the Wizards. One year earlier, Jordan became a part-owner of Washington, as well as its president of basketball operations. It was the first time he wasn't wearing a Chicago Bulls uniform since 1984, his final season at North Carolina.
The Wizards were a team desperate for some winning basketball. Since 1988, Washington made only one playoff appearance, coming in its final season as the Bullets in 1996-97. In Jordan's first full season in the front office, the Wizards went a dismal 19-63, earning the number one pick and selecting the high schooler Kwame Brown. So when he suited up and took the court, the reverence from his new teammates was as high as the Washington Monument.
Tyronn Lue was starstruck by Jordan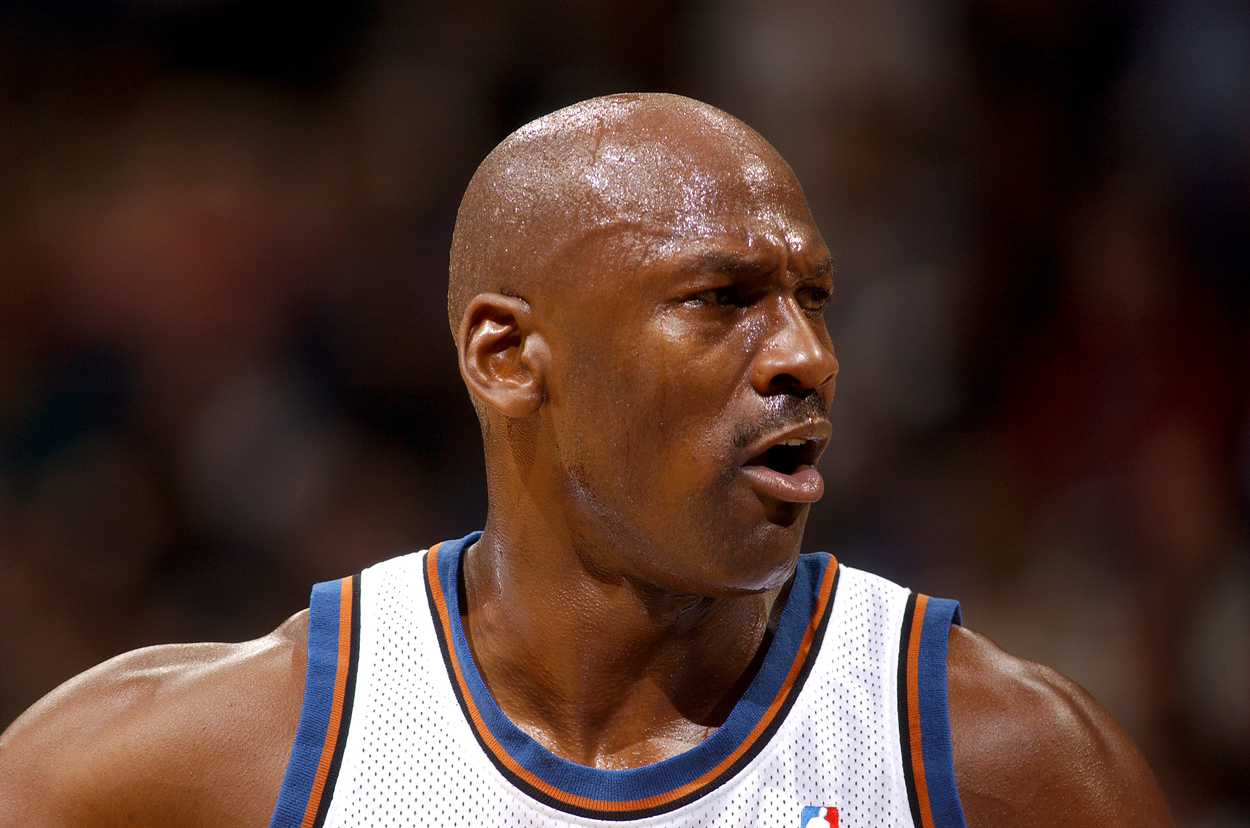 Tyronn Lue, who played sparingly for three seasons with the Los Angeles Lakers, signed with the Wizards in 2001. By that point, Jordan had yet to announce his intention to return.
Although he had spent his career playing with Kobe Bryant and Shaquille O'Neal, Lue told The Athletic how playing with MJ caused him to defer … a lot.
"So my first year playing, I was always just nervous and deferring to him all the time. Even when I have open shots, always looking for Jordan. I'm holding the ball, I'm 22 years old, 23 years old. … I couldn't get over it. I was just thinking about playing with him. Every time I had the ball, I'm not looking for my shot, I'm not looking for anybody else. I'm looking for Jordan. It was just like, it was unbelievable, like a dream come true."

Tyronn Lue
Lue, who is now the head coach of the Los Angeles Clippers, eventually got used to playing with a great like Michael Jordan. Although it took about a full season before he was able to adjust.
"Second year, I got a lot better," Lue said. "I started starting in Washington, got a lot more comfortable, but he always wanted me to be aggressive shooting the basketball. Like my second year, it kind of came around for me. I was able to be more comfortable, be able to go out to dinners with him and hang with him and talk with him. That kind of loosened everything else up and was good for me."
Jordan retired for good after two seasons with the Wizards
By the time Lue was comfortable with Jordan, they wouldn't be teammates for much longer. Jordan retired after the 2002-03 season, this time for good.
Across two seasons in the nation's capital, Michael averaged 21.2 points on 43.1% shooting. He had plenty of memorable moments, like scoring 43 points as a 40-year-old on February 21, 2003. He also made the All-Star team both seasons, passing Kareem Abdul-Jabbar as the all-time leading scorer in All-Star Game history.
Unfortunately, the winning he was accustomed to in Chicago didn't transfer over to D.C. Although Jordan was the hottest ticket in town, the Washington Wizards finished a pedestrian 37-45 in both of his seasons. Their playoff drought would last one more year after that before Gilbert Arenas helped snap it in 2004-05.
Even at an old age and hampered by injuries, Jordan still caused some NBA veterans to get a little starstruck.
All statistics courtesy of Basketball Reference.
RELATED: Michael Jordan Put One of His Charlotte Hornets Players 'in a Daze' After 1 Meeting Together: 'It Was My First Time With Him and It Was Probably the Best Meeting I've Ever Had'