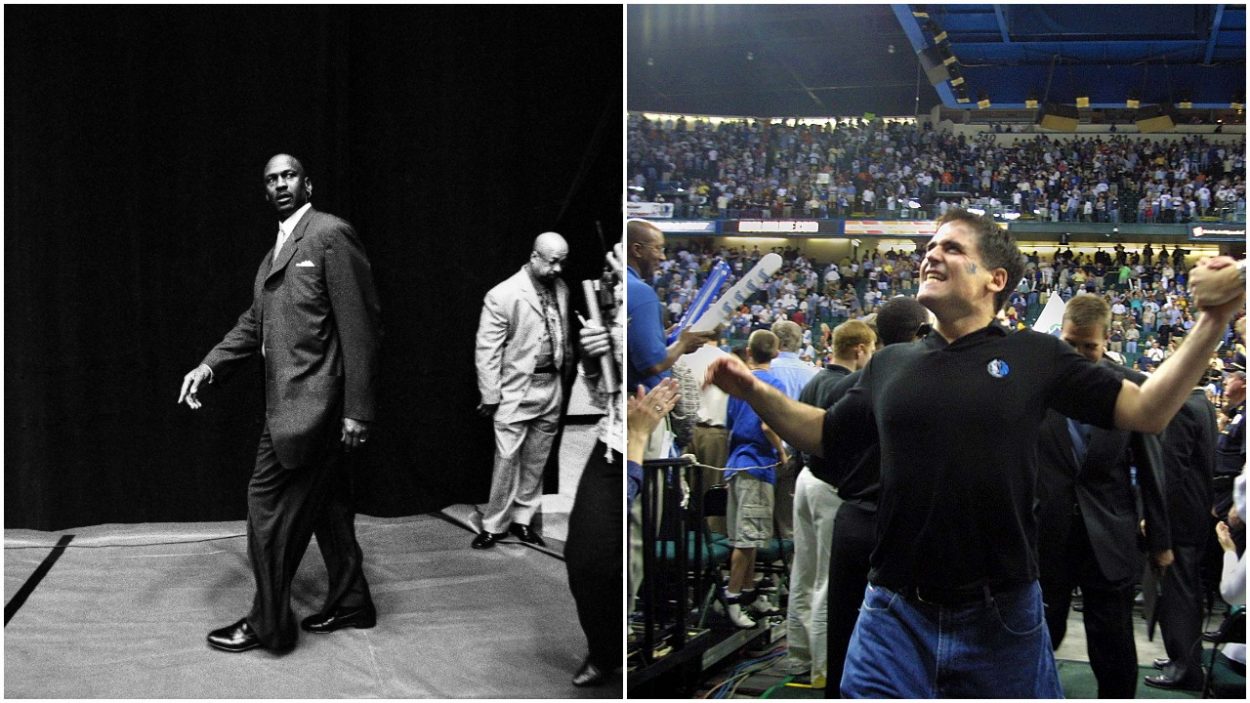 Michael Jordan Could Have Prevented an NBA Dynasty If He Accepted Mark Cuban's League-Altering Offer in 2001
Michael Jordan's second NBA comeback proved lackluster. But it might not have gone so poorly had MJ taken Mark Cuban up on an offer that could have altered the course of NBA history.
Michael Jordan's second NBA comeback lacked the same kind of fervor and success as his first. An aging MJ gave basketball the occasional thrill with his scoring escapades and flashes of the player he used to be, but he did so on a forgettable Washington Wizards team with teammates with whom he sometimes had a contentious relationship. However, what if Mike played for an emerging contender in the Western Conference?
Mark Cuban had only just bought the Dallas Mavericks when he found himself with an opportunity to pitch his new team to His Airness in 2001. Jordan hung with the Wizards, which only made sense given he previously served in the front office. But if Mike found a way to negotiate a path to Washington, he might have played a role in preventing one of the greatest dynasties in NBA history.
Mark Cuban met with Michael Jordan before MJ made his NBA comeback in 2001
Michael Jordan felt the urge to compete again ahead of the 2001-02 season. A green Mark Cuban hoped MJ would do so wearing the blue and white.
Cuban revealed last year (h/t Yahoo Sports) that he met with Jordan the day he signed with the Wizards. Mike's agent, David Falk, suggested that Cuban meet with the former Chicago Bulls great.
"The day he signed with the Washington Wizards to come back, David Falk — that's right when I was buying the Mavs — said 'why don't you go meet him?' So I went to David Falk's office and all the papers were right there. And I was trying to convince MJ to not sign them and to do something with the Mavs."

–Mark Cuban (2020), via Yahoo Sports
All efforts to convince Jordan to sign with the Mavericks proved worthless.
The six-time champion likely felt a sense of loyalty to the Wizards. It isn't very reasonable to imagine he could come back in a straightforward manner were it not for his position in Washington's front office.
Still, imagining Jordan in Dallas around that time provides quite the thought experiment, considering the Mavs had plenty of young talent and were about to become a top contender in the Western Conference.
The Mavericks could have offered Jordan a chance to win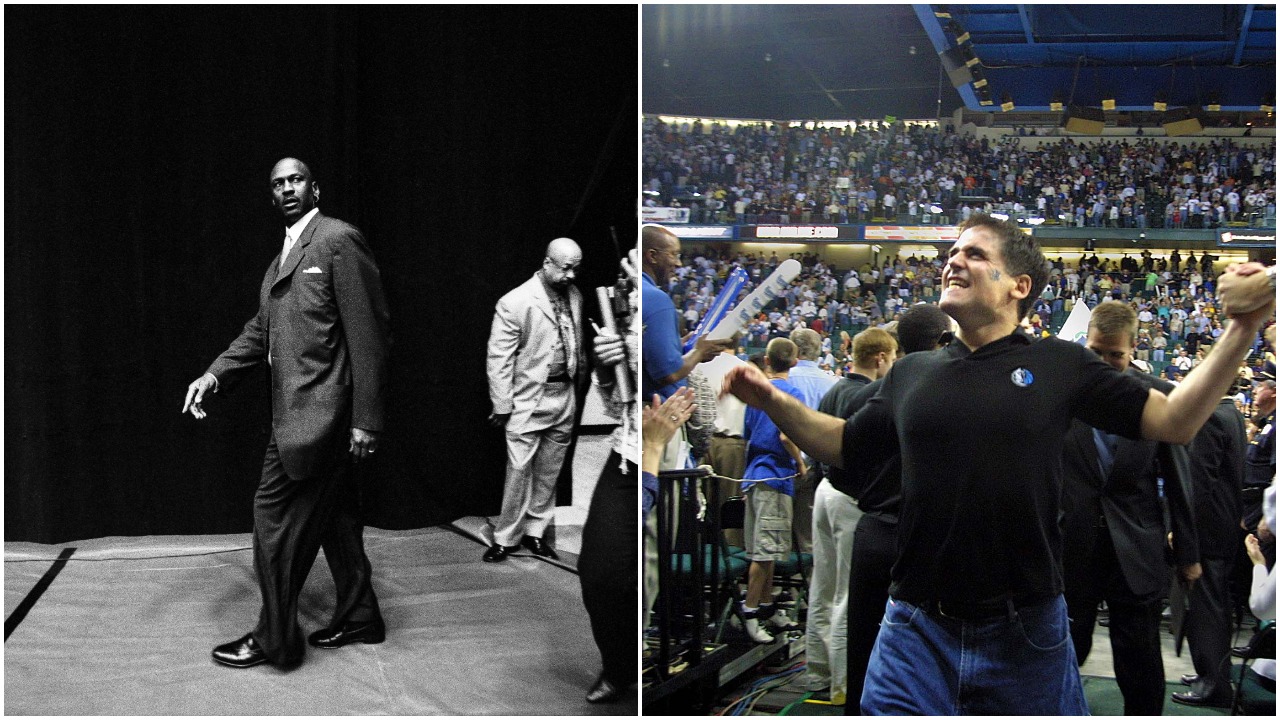 The Mavericks asserted themselves as a top up-and-comer in the Western Conference during the 2000-01 season.
Dallas won 53 games and made it to the conference semifinals. Dirk Nowitzki realized his All-Star potential, averaging 21.8 points, 9.2 rebounds, and 2.1 assists. His frontcourt mate, Juwan Howard, averaged 17.8 points and 7.1 rebounds.
The backcourt was every bit as strong. Chicago native Michael Finley averaged 21.5 points, 5.2 rebounds, and 4.4 assists. Steve Nash rapidly became one of the better point guards in the NBA, racking up 15.6 points and 7.3 assists while establishing himself as an elite shooter, narrowly missing out on the 50-40-90 club before achieving those numbers later in his career.
Imagine adding Jordan to that core.
Mike could have slid to the 2-guard, with Finley moving to small forward. He'd be playing with a true point guard and floor-spacer in Nash. Jordan and Nowitzki could have terrorized opponents in the post.
Dallas would have boasted a ton of scoring potential and good size. Jordan likely could have motivated the younger players and inspired competitiveness on the defensive end of the floor, where the Mavs lacked fortitude. It might have been enough to challenge Shaquille O'Neal and a young Kobe Bryant.
A Mavs team with MJ might have prevented a Los Angeles Lakers dynasty
The Los Angeles Lakers held dominance over the rest of the NBA at the start of the new millennium.
Kobe's rapid ascension to superstardom began in earnest, and with Shaq playing at an MVP level, the Lakers rolled to a championship in 2000. The Purple and Gold repeated in 2001, going 15-1 in the playoffs en route to a second straight ring.
Phil Jackson's team already established itself as a budding dynasty, and LA cemented that status by three-peating during the 2001-02 season. But the Lakers only narrowly defeated the Sacramento Kings in a controversial, seven-game series. They might also have had their hands full with a Michael Jordan-led Mavs squad.
Dallas lost to the Kings in the 2002 NBA Playoffs, largely because Nick Van Exel played horrendously and failed to give the Mavs a necessary scoring punch. Replace Van Exel with MJ, and Dallas likely has a much better chance against Sacramento, particularly if Jordan leveraged his size against Mike Bibby, who dominated.
What about against the Lakers? Shaq would have been a mountain to defend. But Jordan might have played a role in at least wearing on Kobe, plus Dallas probably benefits from a sizable advantage on the wings and definitely at the point.
All of this is hypothetical, of course. There's no telling whether fatigue could have played a role for an aging MJ come playoff time. However, he and the Mavericks likely could have contended for a championship and, in turn, possibly prevented the Lakers from three-peating. That would have altered the course of NBA history.
Stats courtesy of Basketball Reference.