Michael Jordan Proved a Trash-Talking Hall of Famer Wrong By Viciously Dunking Over Dikembe Mutombo
Michael Jordan hadn't dunked on former NBA All-Star center Dikembe Mutombo in his career, but that changed during the 1997 Eastern Conference semifinals thanks in part to some trash talk from Atlanta Hawks head coach Lenny Wilkens.
Jordan underwent an evolution during the course of his NBA career. Whereas His Airness used to be more of a dominant slasher and force in the air, he became more of a savvy scorer who dazzled with footwork and fadeaway jumpers later in his career. However, Jordan still had plenty of bounce even in his later years, as Wilkins, Mutombo, and the Hawks discovered.
Lenny Wilkens claimed Michael Jordan did not want to go to the basket ahead of the 1997 Eastern Conference semifinals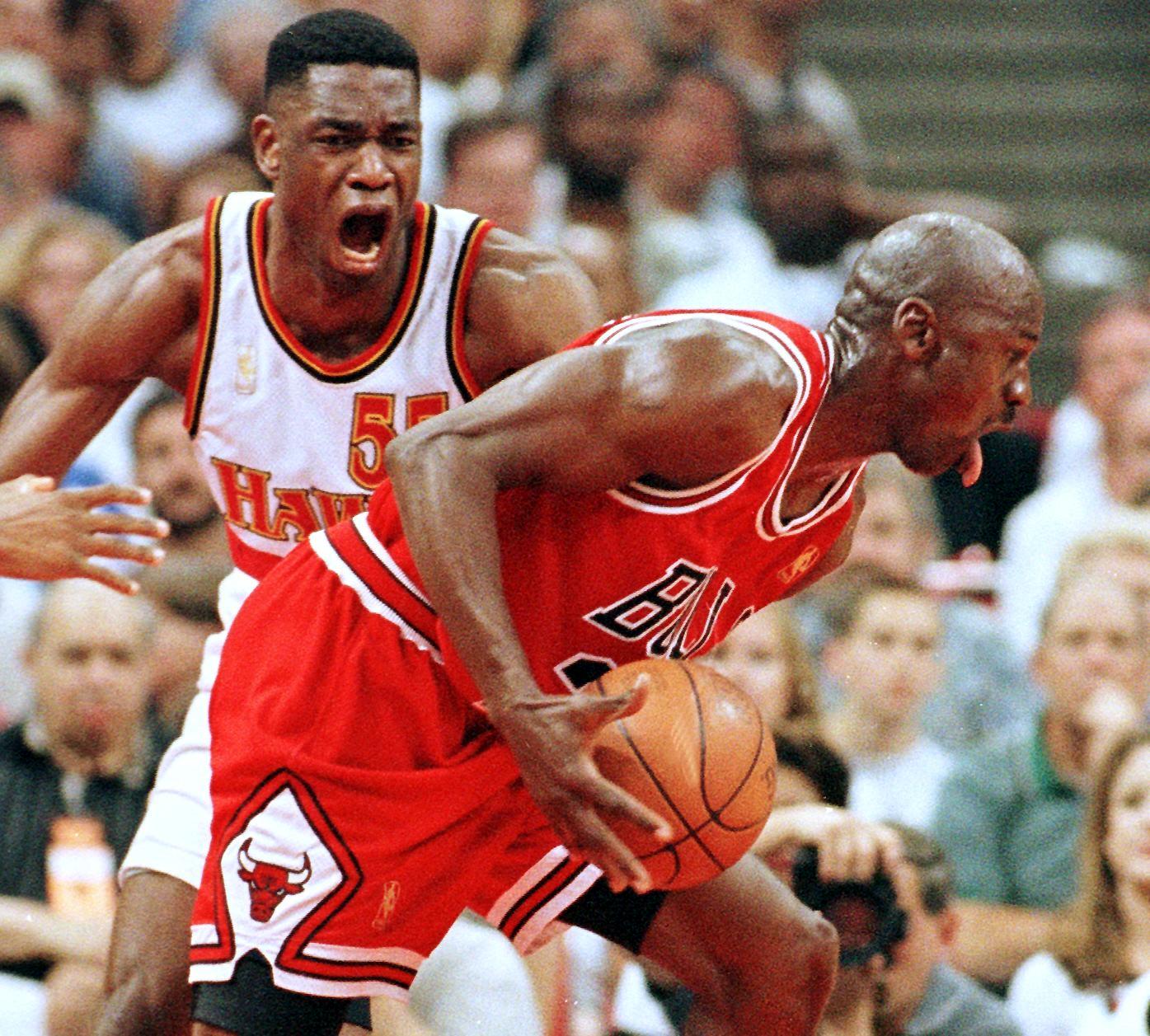 Guarding Michael Jordan was a daunting task for any individual defender. Lenny Wilkens and the Atlanta Hawks thus hoped to alleviate the pressure on Steve Smith by sending Jordan into the help defense.
Before the 1997 Eastern Conference semifinals, Wilkens said that his team wanted to take Jordan out of his comfort zone by making him go to the basket, where shot-blocking menace Dikembe Mutombo would meet him.
"[Jordan] doesn't seem to want to take the ball to the hoop as much," Wilkens said, via Sports Illustrated. "So if we can force him to do something he doesn't want to do, that's one small victory."
Smith typically served as Jordan's primary on-ball defender. It was a role he reprised during his earlier years with the Miami Heat. But Wilkens and the Hawks were more focused on making Jordan score over their tall trees in Mutombo and Christian Laettner rather than allow him to operate in the post.
However, Michael Jordan was never one to back away from a challenge. Wilkens gave him even more motivation to show he still had spring in his step, which Mutombo had also done at All-Star weekend.
Jordan put Dikembe Mutmobo on a poster and used his famous finger-wag gesture
Dikembe Mutombo made his bread as a shot-blocker. His intimidating interior presence helped him net three block titles and four NBA Defensive Player of the Year Awards. It also gave him the incentive to trash-talk Michael Jordan.
Mutombo and Jordan had a back-and-forth at 1997 All-Star weekend in which Mutombo tried to force MJ to admit he had never dunked on Deke. Jordan, as unrelenting as ever, refused to acknowledge his failure to put Mutombo on a poster. Meanwhile, the Hawks center boldly stated it never happened.
Well, of course, it did.
Atlanta stole Game 2 from Jordan and the Chicago Bulls in the 1997 Eastern Conference semifinals, but Chicago responded by winning each of the next two. The Bulls had a chance to close the series out back home at the United Center, and Jordan did so in an emphatic fashion.
Jordan had the ball in the corner after a missed Chicago jumper. He ran a quick give-and-go with Bulls center Luc Longley along the baseline, meeting Mutombo at the rim. Jordan punched it right in Mutombo's grill, copying Deke's patented finger-wag celebration and earning a technical foul in the process. The Bulls would route the Hawks and eventually capture their fifth NBA championship.
Part of being an elite shot-blocker is being exposed to potential poster-worthy jams. However, this one was especially noteworthy because of Mutombo's chiding earlier in the season and Lenny Wilkens' assertion that Jordan didn't want to take the ball to the basket against the Hawks.
Perhaps Wilkens should have known better
Lenny Wilkens' desire to force Jordan into the help defense made ample sense from a basketball perspective. Yet, the Hall of Fame head coach probably should have known better than to poke His Airness publicly.
Wilkins and Jordan went head-to-head on numerous occasions, especially during Wilkens's stint as the Cleveland Cavaliers head coach. Jordan routinely got the better of those matchups, overcoming "Jordan stopper" types and torching the Cavs for multiple playoff game-winners.
Although MJ might not have been the same athletic wonder in 1997 as he was earlier in his career, he proved to Wilkens and Mutombo that his pride was not something to be trifled with.
RELATED: Michael Jordan Infused His Pettiness Into His Message About Larry Bird's Retirement: 'I Am Tired of Seeing Your Face'