Michael Jordan Once Curiously Provided Kwame Brown With a Chance at a Career Revival and Helped His Former Draft Bust Earn $7 Million in the Process
Michael Jordan will always be remembered, by most, as the greatest basketball player who ever lived. But MJ also had a brief stint with the Washington Wizards as an executive (and a player) with poor results. Perhaps his biggest mistake in Washington was selecting high school center Kwame Brown with the No. 1 overall pick in the 2001 draft.
Brown never panned out with Jordan and the Wizards for a number of different reasons. Then His Airness retired for good after the 2002-03 season, and Brown left Washington two years later.
But when the five-time MVP became the majority governor of the then-Charlotte Bobcats, he made a curious decision to bring Brown back in as a free agent, a move that actually ended up working out for both sides.
Michael Jordan took Kwame Brown No. 1 overall in 2001, but things didn't go as planned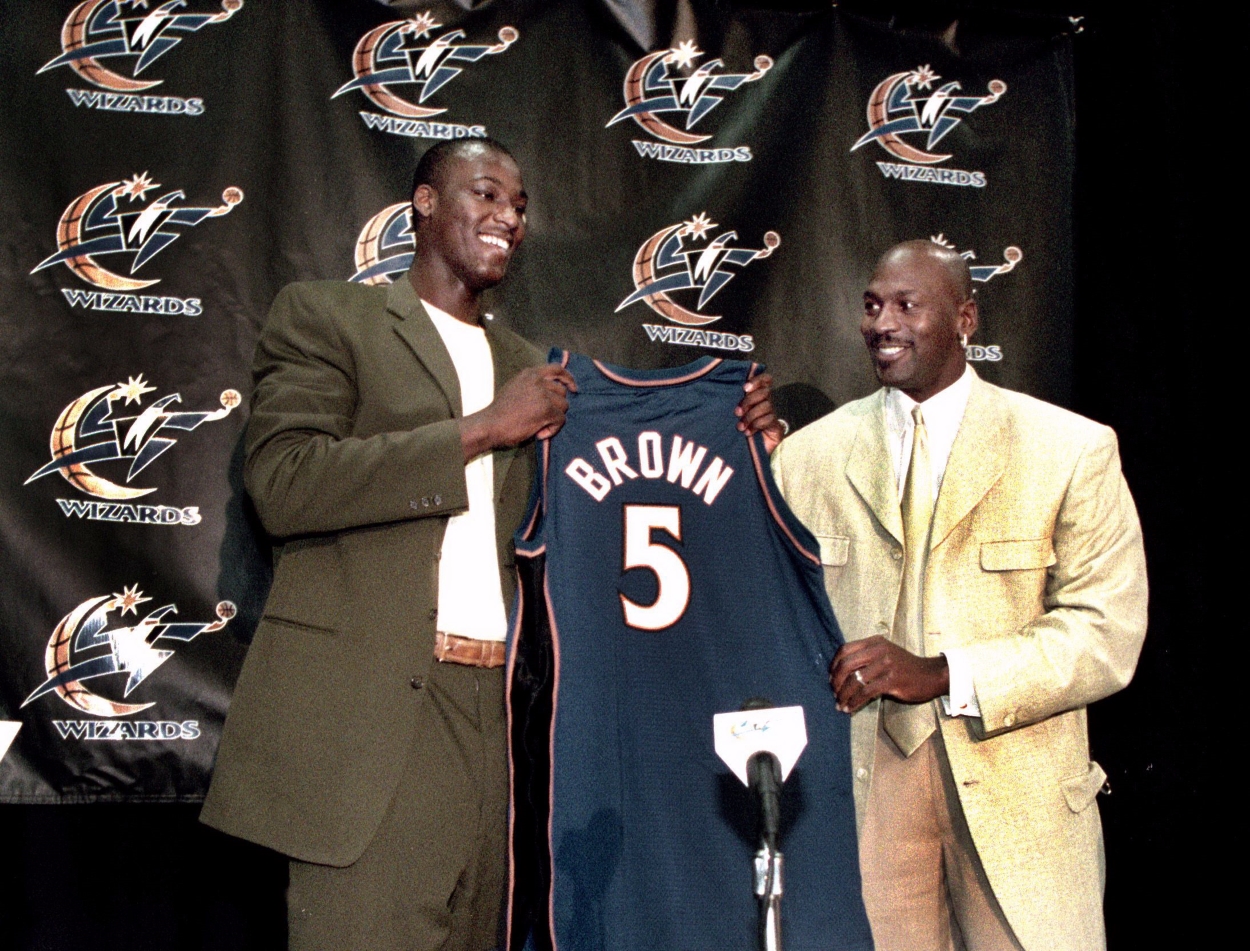 Jordan, then team president of the Wiz, used the first overall pick in 2001 to select Brown. Coming out of high school, the 7-foot center was a first-team Parade All-American, a McDonald's All-American, and Mr. Basketball in the state of Georgia.
It was by no means a controversial selection as Brown was widely considered one of, if not the, best prospects in the draft, especially at a time when centers were in high demand.
But due to a dozen different factors, Brown never lived up to his draft status. There were immaturity issues on the rookie's part, and by all accounts, Jordan didn't take it particularly easy on a teenager getting his first taste of professional basketball.
The South Carolina native averaged only 6.2 points and 4.6 rebounds over his first two seasons playing alongside MJ. Brown didn't fare much better with Jordan gone, though, as his numbers only jumped to 9.5 points and 6.5 rebounds per game.
The Washington experiment ended when the then-22-year-old was traded to the Los Angeles Lakers in 2005.
Brown bounced around the league but somehow ended up back with Jordan
After going from Washington to LA, Brown played part of the 2007-08 season in Memphis and the next two years in Detroit. His best statistical campaign post-Wizards was his second year with the Lakers in 2006-07, when he averaged 8.4 points, 6.0 rebounds, and 1.2 blocks in 41 games.
Jordan became the majority governor of the Bobcats in 2010 and surprisingly signed Brown that offseason. Charlotte had recently run through a gamut of average centers, from Nazr Mohammed to Desagana Diop to Erick Dampier. Mike bringing back his biggest draft mistake, though, seemed odd at the time.
Brown didn't have a great year by any measure in 2010-11, but he was a functional big man for a franchise that hadn't had one in years. He started 50 of a possible 66 games, averaged more minutes than he had in four years, and shot 51.7% from the floor.
He became a free agent once again after that season and parlayed his Bobcats stint into a one-year, $7 million deal with the Golden State Warriors, according to ESPN.
MJ shockingly chose Brown for a second time, and in the process, he helped his former No. 1 overall pick earn a good chunk of change.
Brown never lived up to his draft status but became a serviceable center for 13 seasons
It would be forgivable to remember Brown as simply another failed Jordan draft selection and put him down with the likes of Adam Morrison. A No. 1 overall pick who scored double digits in just one year of his career certainly can't be considered a success.
But one of the biggest high school recruits of the early 2000s also played in the league for more than a decade and amassed more than $62 million in total salary.
And, even after their disastrous time together in Washington, MJ saw enough in Brown to bring him back into the fold.
All statistics courtesy of Basketball Reference.
RELATED: Michael Jordan Left an Unforgettable Impression on Allen Iverson With His Cigar-Smoking Power Move Ahead of the 2003 NBA All-Star Game: 'Man — You Run Everything'