Michael Jordan Once Received a Precise Challenge From a Famous Comedian but Completely Ruined It by Going to the Wizards: 'I Gotta Mark Him Down for That'
Michael Jordan's success with the Chicago Bulls didn't just turn him into a superstar basketball player; it helped him become a massive celebrity. In fact, he's essentially a celebrity to other celebrities. He might actually be one of the biggest celebrities to ever exist.
Have I made it clear that he's a huge celebrity yet?
Jordan's NBA career had him rubbing elbows with many influential personalities during the 1990s, but he once actually received a challenge from one of the most famous comedians in the world: Jerry Seinfeld. The six-time NBA champ ruined it, though, when he eventually went to the Washington Wizards.
Jerry Seinfeld and Michael Jordan spent time together in the 1990s
Jerry Seinfeld and Michael Jordan were as famous as you could get in the 1990s. Jordan was the best basketball player on the planet, and Seinfeld's show, Seinfeld, was — and still is — one of the most popular comedies of all time.
Their success then led to them crossing paths when they were both named GQ's Men of the Year in 1996.
"The first time they did it was '96, and it was me, Michael Jordan, and Mel Gibson," Seinfeld said to Access Hollywood in May 2020. "… We did a photo shoot, the three of us. And we smoked cigars, and Michael and I struck up [conversations]; I was a huge fan of his, as everyone is. I went to see him play; he invited me to come to Chicago; I met his parents. And it was a little mini-interaction."
A clip of the interaction between MJ and Seinfeld even made The Last Dance docuseries, which led to the comedian revealing what he said to the NBA legend during their iconic meetup in the Bulls locker room.
Jerry Seinfeld challenged Michael Jordan to go out on top
With Seinfeld and Jordan both dominating their respective industries in the 1990s, the comedian said he gave MJ a specific challenge when the two met back in the day.
"I remember saying to him, 'Do you think you're going to end bigger than me?'" Seinfeld said to Extra in 2020. "I remember challenging him. … He did end bigger than me, but then when he came back with the Wizards, I gotta mark him down for that."
Seinfeld is essentially all about finishing on top, and he even tried to do that himself during the time his show was ending.
"I tried to go out on top like he did (with the Bulls)," Seinfeld said to Access Hollywood. "That was very important to me that the end of the series would be when the show was strong and not when it was running out of gas. So, that was very important to me. And I watch athletes very closely for that. What choice will they make? Will they try and squeeze every last bit out? Or will they want to end with a moment of glory and have that be the lasting image of them?"
As Seinfeld alluded to, Jordan, in fact, went out on top with the Bulls, but he then came back and ruined it by going to the Wizards.
Michael Jordan went out on top with the Bulls but ruined it by going to the Wizards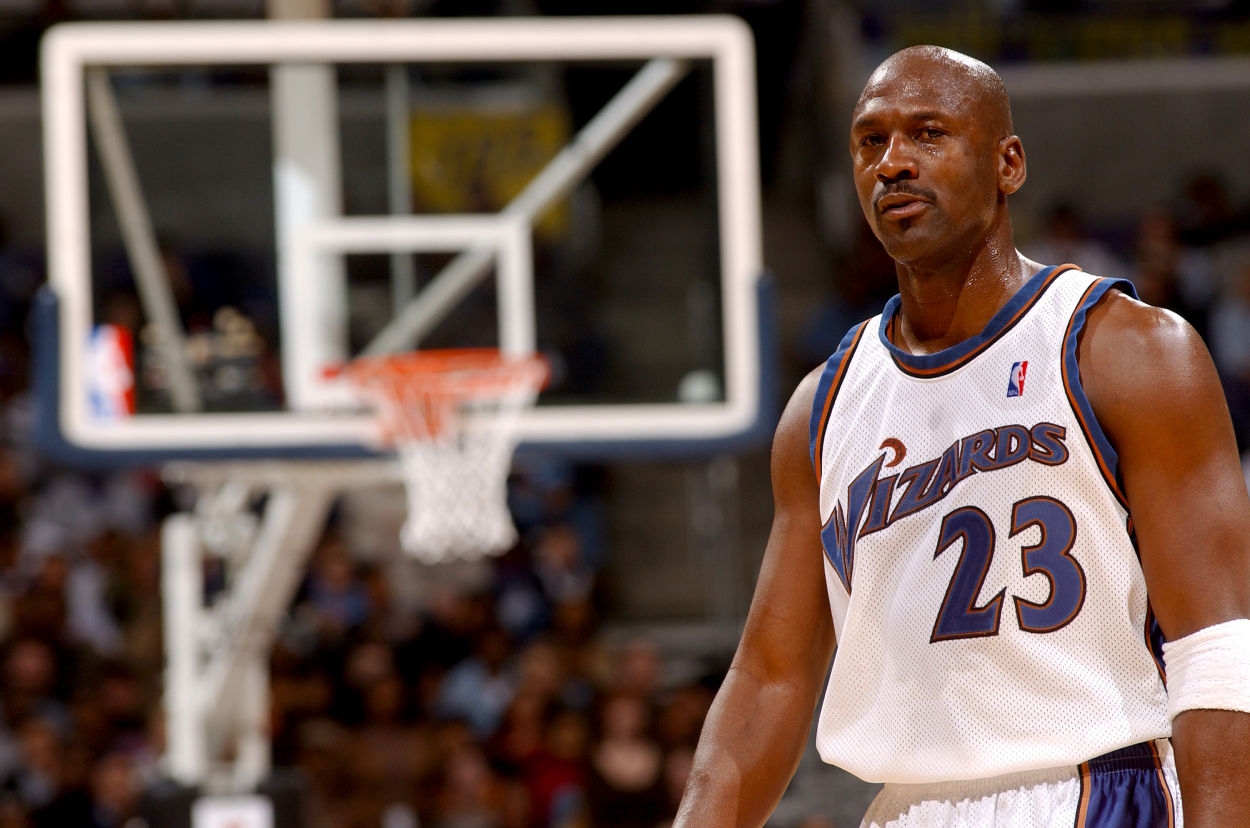 Michael Jordan nearly accomplished Jerry Seinfeld's challenge in the best way possible, as he won a third consecutive championship with the Bulls (his sixth overall) just a couple of years later in 1998 and then retired after the season. He also led the NBA in scoring for the 10th time of his career that year with 28.7 points per game.
The six-time Finals MVP, however, returned to the league with the Wizards in 2001-02, and while he was still an effective player, he was essentially a shell of himself. MJ averaged 22.9 points per game in his first year with the team and shot a career-low 41.6% from the field (other than the 1994-95 season when he only played in 17 games). He then followed that up by posting a career-worst 20.0 points per game in 2002-03 before officially calling it quits for good.
While his numbers were certainly poor by his standards during his time in D.C., Jordan also finished on a losing team. He went from winning six titles with the Bulls to suffering two consecutive losing seasons and not even making the playoffs in either of his years with the Wizards.
So much for going out on top.
Had Jordan retired for good after his 1997-98 season with the Bulls, he would have finished big like Seinfeld. But due to his Wizards tenure, the five-time MVP went out as a lesser version of himself.
All in all, though, the decision to play with the Wizards didn't hurt his image too much; he's mostly remembered for his Bulls career. But it didn't exactly help it either, as he and Seinfeld could have both called it quits as the kings of the 1990s.
Stats courtesy of Basketball Reference
RELATED: Michael Jordan Once Made a Trash-Talking Wizards Teammate Pay and Quickly Reminded Him Who He Was: 'You Know Better. You Grew up Watching Me'