Michael Jordan Ripped By Another Former Bulls Teammate For Treatment of Scottie Pippen In 'The Last Dance'
Between the Michael Jordan docuseries The Last Dance and the Scottie Pippen biography Unguarded, much of the last two years has been spent debating the Chicago Bulls dynasty from the 1990s. Yet another player with ties to that team weighed in to criticize Jordan for the portrayal of Pippen. It's like the gift that keeps on giving.
To be clear, the history of the 1990s is no different now than it was 25 or 30 years ago. But The Last Dance changed some perspectives and gave Jordan a bully pulpit to proclaim yet again how awesomely fantastic he was and is. The tenor of Pippen's memoir changed in response to Jordan's documentary series, and the two have been sparring via intermediaries (the press) ever since.
The documentary was precisely what Michael Jordan wanted it to be
Michael Jordan may be the greatest NBA player of all time. That's a never-ending debate. What isn't in question is Jordan's need to make sure we all know he may be the greatest NBA player of all time.
From his scathing Hall of Fame induction speech to The Last Dance, a great deal of Jordan's post-NBA playing career consists of taking shots at former peers, opponents, and the new generation of players.
Though he's only 58 years old, Jordan is in many ways the embodiment of The Simpson's "Old Man Yells at Cloud" newspaper headline. The same competitive fire that fueled his remarkable career still burns. He doesn't have the outlet of NBA arenas to vent it.
Still, there's a case to make that Scottie Pippen made Jordan simultaneously as Jordan made Pippen. Jordan never won a playoff series, much less a championship, without Pippen. Pippen couldn't grab another ring without Jordan at his side, either with the Bulls or later with the Houston Rockets and Portland Trail Blazers.
The Last Dance was a look inside Jordan's final season in Chicago, the team's third consecutive championship and the sixth title in eight years. But Jordan had final approval. Anyone shocked that the series made Jordan look superhuman and portrayed his teammates as passengers along for the ride wasn't paying attention during Jordan's career, or they were too young to have experienced it.
Stacey King believes Michael Jordan was unfair to Scottie Pippen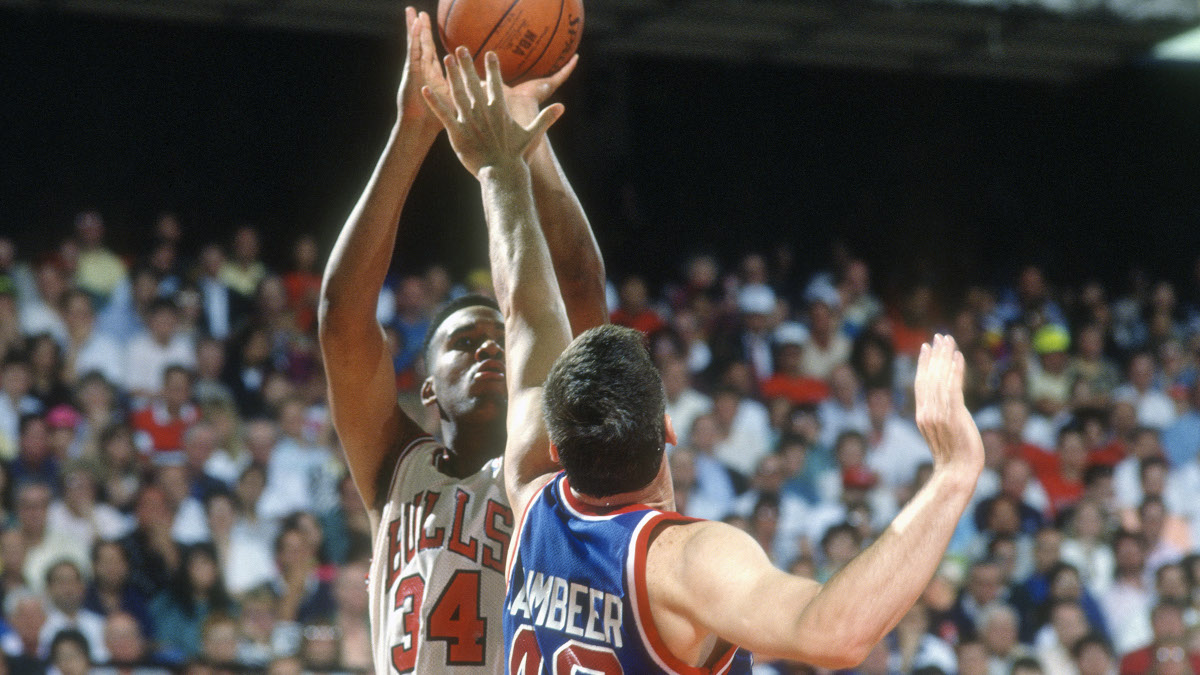 Journeyman center Stacey King spent nine seasons in the NBA after he was taken sixth overall by the Bulls in the 1989 NBA Draft. He was never more than a backup despite his lofty draft status. Chicago general manager Jerry Krause never quite got the star big man he was after. In 1994, King went to the Minnesota Timberwolves for Luc Longley, the starting center for the last three title teams.
King backed up Bill Cartwright and Horace Grant on the first three. During an appearance on The Lowe Post podcast, King said parts of The Last Dance were great for NBA fans. But he said Michael Jordan missed the mark with what was done to Scottie Pippen:
"I didn't like the way Scottie was portrayed in certain things. In that documentary, a lot of things Scottie did didn't really pertain to that second three-peat. You know, the 1.8 seconds was when MJ was retired. In my opinion, that really didn't need to be brought into The Last Dance. It had nothing to do with that."

Stacey King
King refers to Game 3 of the 1994 Eastern Conference Semifinals against the New York Knicks. In a tie game with 1.8 seconds left, Bulls coach Phil Jackson designed a play to give Toni Kukoč the final shot. Pippen refused to return to the court, believing he had earned the right to get that moment.
King is right. It wasn't part of the 1997–98 Bulls season. Jordan was a struggling minor league with the Birmingham Barons when it happened. Its inclusion in The Last Dance intended to separate the sidekick Pippen from the superhero Jordan. There's no other explanation that makes sense.
Scottie Pippen wears his bitterness on his sleeve
Since The Last Dance aired in the spring of 2020, Scottie Pippen has relentlessly attempted to correct the record. It's an unfortunate dilemma for a member of both the NBA's 50th- and 75th-anniversary teams to find himself. Pippen was a Hall of Famer and one of the most well-rounded players of all time.
But Michael Jordan's desire to remain relevant as an NBA player is unquenchable. Pippen became a vessel to be used to underscore Jordan's greatness.
Pippen's memoir began to celebrate his rise from obscurity to NBA superstardom. But after the documentary series, co-author Michael Arkush (not the Arkush who pushed his way into the NFL MVP news) said Pippen got defensive.
Instead, the book turned into a defense against the slights Pippen perceived in The Last Dance. The baggage is decades old. The bitterness remains palpable.
That's not all on Michael Jordan. But his insensitivity to his longtime teammate and partner in championships pushed Scottie Pippen into a corner. Competitors come out swinging in that situation, so it can't be a surprise that's what Pippen did.
Like Sportscasting on Facebook. Follow us on Twitter @sportscasting19.