Michael Jordan Said Magic Johnson Was the Most 'Unselfish Player' in NBA History
Michael Jordan is one of the most iconic players to ever grace the NBA, with an influence that continues practically unabated today. As a result of his enduring popularity, fans are always eager to hear Jordan break down the game of basketball. Jordan's opinions on other players — whether his peers or today's generation — are of particular interest.
Back in 2005, just two years removed from his final retirement, Jordan sat down for a wide-ranging interview with Cigar Aficionado. In it, Jordan shared his pick for the most unselfish player in league history: Magic Johnson. Here we take a closer look at Jordan's comments, then zoom in on Johnson's unselfish qualities, and how paid dividends for his Lakers squads.
Michael Jordan's pick for most unselfish player
Jordan fielded numerous questions about great players during his interview with Cigar Aficionado. For instance, he named Moses Malone as the best rebounder of all-time. Interestingly, he picked former Milwaukee Bucks shooting guard Brian Winters as the player with the smoothest shooting stroke.
Soon the conversation came to the question of unselfish players. Jordan's interviewer specifically defined "most unselfish" as a "real team guy who put himself second, third, last, whatever" and only cared about helping his team win.
At first Jordan hedged, saying that one "could think of a lot of players like that in the pros." From there he quickly narrowed his selection down:
"But to pick one, who would have the biggest impact on a game where you had a chance to win, that would be Magic Johnson."
The statistical case for Magic Johnson's unselfishness
RELATED: Michael Jordan Once Used 'the Most Expensive Wine' on the Menu to Teach His Agent a Lesson About Respect
Johnson was known for his ability to do basically everything on the court, from shoot, to rebound, to rack up steals. Yet his defining feature as a player was his elite ability to help his teammates knock down shots. Fortunately for us, that ability is well reflected in Johnson's most impressive statistical category: assists.
In 13 seasons, Johnson racked 11.19 assists per game — the best per-game assists number of all-time, per Basketball Reference. Had Johnson not been robbed of four years following his HIV diagnosis, he might very well have contended for most total assists as well.
Instead, his 10,141 assists are good for the fifth-most of all time. Not surprisingly, Johnson led the league in assists four times, posting a career-best 13.1 assists per game in the 1983-84 season.
More proof of Magic Johnson's unselfishness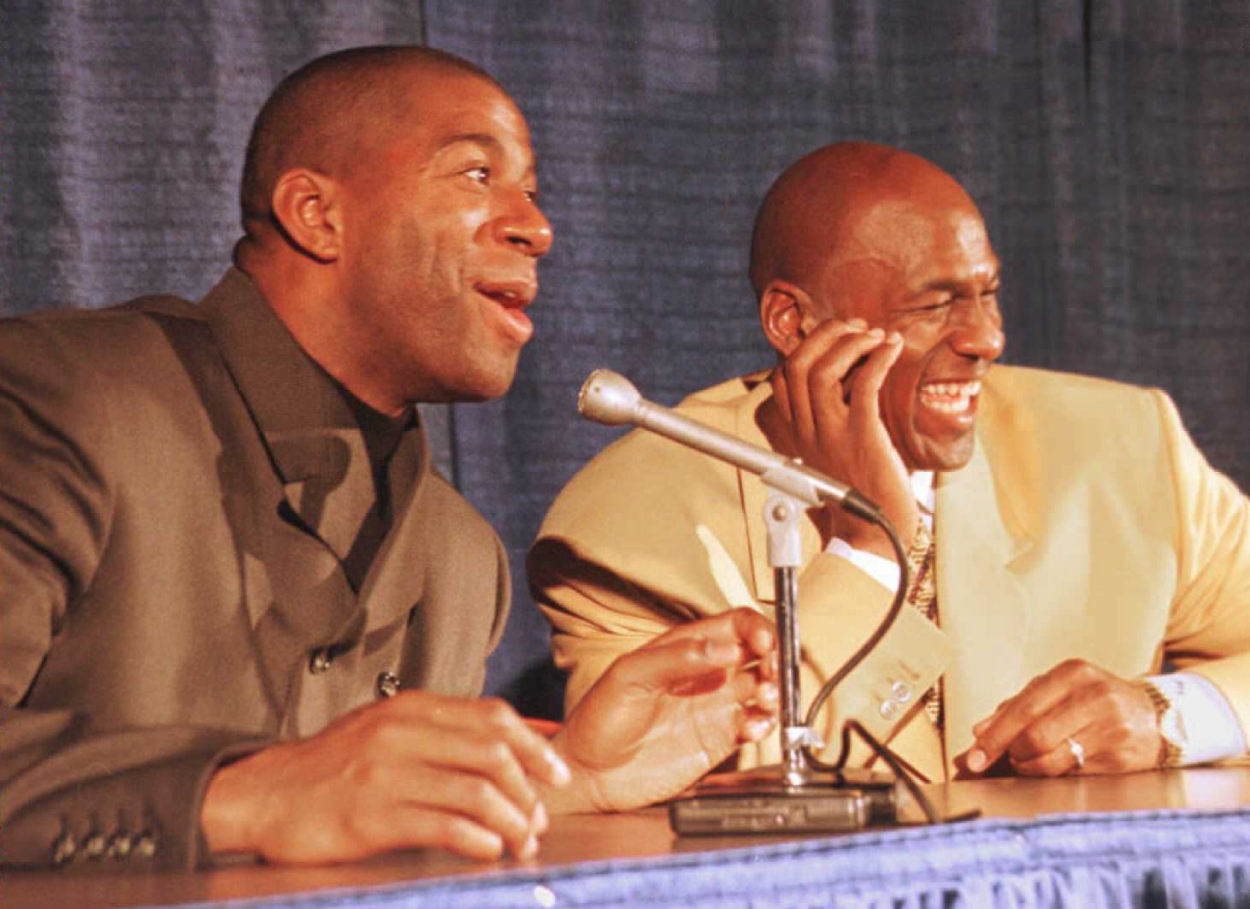 Assists are by-definition an unselfish statistical category. Yet selfish players still sometimes try to pad their assist numbers — usually by dominating the ball whenever possible. Johnson, by contrast, was the ideal version of an NBA point guard, one who truly wanted to empower his teammates through his exceptional vision and playmaking abilities.
The best testament to Johnson's unselfish nature is not his staggering assists total. It's actually the fact that he led his Lakers teams to nine NBA Finals appearances, coming away with five championship rings in the process. And whereas many star players become more selfish in the playoffs, Johnson went the opposite direction, becoming even more of a facilitator.
In his postseason career, Johnson averaged 12.3 assists per game, according to Basketball Reference. In the 1984-85 playoffs — which ended with Johnson's third championship victory — he averaged a career-best 15.2 assists per game. To this day, Johnson still holds the all-time record for postseason assists, according to the Land of Basketball.
His 2,346 playoff assists are almost 500 more than the next player on the list, LeBron James. More telling is the gap between Johnson and the player at number three: the all-time regular-season assists leader, John Stockton. Though Johnson played in only eight more playoff games, he racked up over 500 more assists than Stockton.
All stats courtesy of Basketball Reference