Michael Jordan Sent Karl Malone a Warning Before He Dominated the Jazz in the '97 Finals: 'Yeah, Karl, You Won MVP This Year. This Is the MVP of the Finals'
Michael Jordan was a six-time NBA champion with the Chicago Bulls. He was also a five-time NBA MVP. For those of us who struggle with math, that's one less MVP Award than Larry O'Brien Trophies. In the 1996-97 season, MJ finished second to Karl Malone of the Utah Jazz.
His Airness exuded nothing but contentment with how the voting went down. He was gracious and humble. But within that contentment lay Jordan's competitiveness.
Eventually — even if it was subtle — Mike took a verbal shot at Malone's award. Then, not so subtly, he got his revenge on the court by beating the Jazz to win his fifth title.
Karl Malone beat out Michael Jordan for the 1996-97 MVP Award
Malone is the second-leading scorer in NBA history. He amassed nearly 37,000 points over a 19-year career.
In the '96-'97 season, The Mailman started all 82 games and averaged 27.4 points, 9.9 rebounds, and 4.5 assists. He shot 55% from the field on more than 19 attempts.
Jordan, meanwhile, also played in all 82 games. He averaged 30.4 points, 6.6 rebounds, 4.3 assists, and 2.2 steals. He shot 49.5% from the floor and 42.7% from three on what was then a career-high 3.2 attempts per night.
An argument can easily be made that Black Jesus deserved that season's MVP. But Jordan had just captured his second consecutive and fourth overall Maurice Podoloff Trophy. Apparently, it was time for someone new in the NBA's White House.
Perhaps there's some legitimacy to the thought that voters "get tired" of writing the same name on their ballots year after year.
Surprisingly, though, The GOAT took offense to being slighted. (That was sarcasm. It's not surprising at all).
MJ sent a subtle warning to Malone before beating the Jazz in the NBA Finals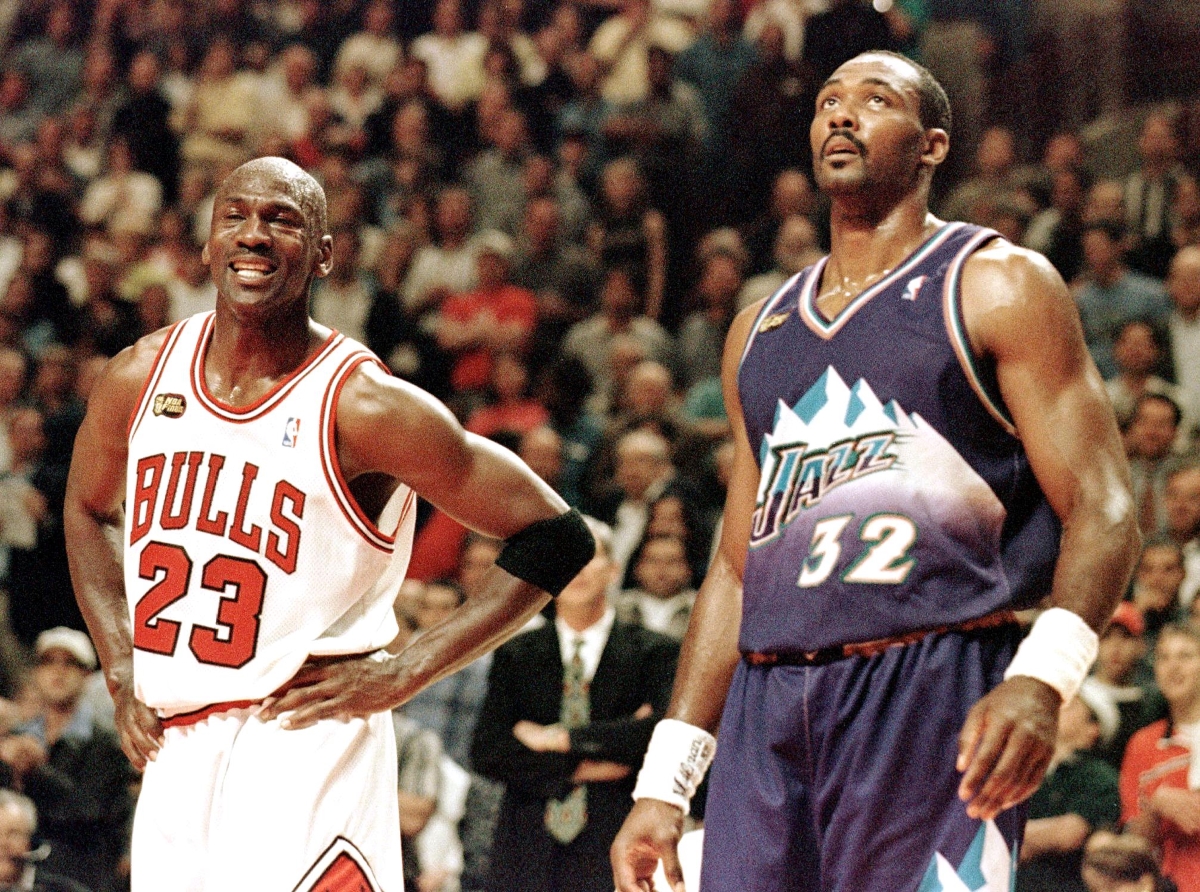 NBC's Ahmad Rashad interviewed Jordan before the 1997 Finals (h/t oldskoolbballofficial) and was asked about Malone beating him out for the MVP. At first, he was courteous in saying Karl was deserving of the award.
"Because of the opinions of others, they choose to give it to a guy who's been in the league just as long as I have and been just as consistent and been on a team that's just as successful this year," Jordan said. "I can't gripe with that. I can't have any jealousy or animosity towards Karl. Even though I may have had a good season, and certainly, from a stats standpoint it wasn't my best season. But as long as I am consistently thought of as an MVP, I'm happy with that."
Sure, Mike.
But later in the interview, Jordan fired a warning shot at Malone. Rashad asked MJ if a part of him relished the attempt at going head-to-head with The Mailman to see who the MVP really should have been.
The answer was pure Jordan (and he smirked throughout its entirety).
Sure, I'm the ultimate competitor. … Yeah, Karl, you won the MVP this year. This is the MVP of the Finals. Winning a championship, this is leading your team to the ultimate goal.

Michael Jordan to Karl Malone before the 1997 NBA Finals
Not to put words in Jordan's mouth, but it sure sounds like he tried to find a nice way of saying, "You think you're the MVP, Karl? Hold my beer."
The Bulls beat the Jazz in six games to win the '97 title
Game 1 of the series featured Jordan hitting a game-winner over Utah's Bryon Russell. No, not that shot. Poor Bryon got it more than once.
Game 5 was the famous Flu Game, and MJ closed out the series by finding a wide-open Steve Kerr for the clincher.
Jordan averaged 32.3 points, 7.0 rebounds, 6.0 assists, and 1.2 steals in the series. Malone averaged 23.8, 10.3, and 3.5. The five-time MVP outplayed the two-time MVP in every facet.
Jordan also addressed the award that got away during The Last Dance documentary via NBCSports.
"I'm not saying he wasn't deserving of it," Jordan said. "All I'm saying is that that fueled the fire in me. [I said] 'Okay, you think he's the MVP? That's fine, no problem.'"
AKA — "Hold my beer."
All statistics courtesy of Basketball Reference.