Michael Jordan Settles Tiger Woods vs. Jack Nicklaus Debate? 'It's an Unfair Parallel'
A handful of athletes defined the '90s. Few redefined their respective sports the way Michael Jordan did by the mid '90s, or Tiger Woods did by the late '90s. For both the NBA and golf worlds, there is a distinct before and after period — and an everlasting search for the next Jordan or Tiger.
The superstars have a great deal of overlap. On the business side of things, they represented the Nike brand for two different audiences. But it's their mutual love for golf that closely intertwines them. When MJ was asked about the Woods-versus-Jack Nicklaus debate, he had an interesting take.
Michael Jordan's decades-long obsession with golf
According to the PGA Tour's official website, Jordan discovered golf during his time at the University of South Carolina in 1984. His roommate befriended a member of the school's golf team, who invited Jordan to hit some balls for the first time. The future NBA legend immediately took an interest and was given a set of old cobbled-together clubs and balls.
Like anything Jordan set his mind to, it became an obsession. He started terribly, only making par on one of 17 holes. The feeling of hitting par lit a fire in him that never went out. Even as he rose through the NBA ranks, even as he became a constant presence in the NBA Finals, he fit in golf wherever he could.
While Jordan never became a professional golfer, he was far more than your average amateur. He regularly participates as a captain in the Ryder Cup, according to NBC Sports. He plays casual games against top golfers and sometimes even beats them, USA Today reports. He's a full-on ambassador for the sport.
How Jordan's hobby boosted Tiger Woods' early career
Jordan's golf fandom naturally led him to become close friends with Woods for years. Tiger independently landed with Nike as a promotional partner, which made the pair a natural fit to appear in public together, reports Golf.com. Jordan, who almost always reserves effusive praise for sports legends of the past, made a rare exception for Woods. He became his biggest fan, and wasn't shy about airing it in public.
Most of Jordan's talk was about Woods' game. But he notably made a point of praising Tiger for his contribution to perceptions of the sport. A TMZ report points out that Jordan thinks Woods played a huge role in making golf more than "a white guy's sport," and into a game for everybody.
The friendship between the two unfortunately chilled in 2009, when Tiger's personal life became a liability. But the two appear to have mended things since. Jordan publicly praised Woods for picking up the pieces of his public reputation and coming back strong as both a man and a golfer. The two plan to make public charity golf appearances together soon.
Jordan's take on the Woods vs. Jack Nicklaus debate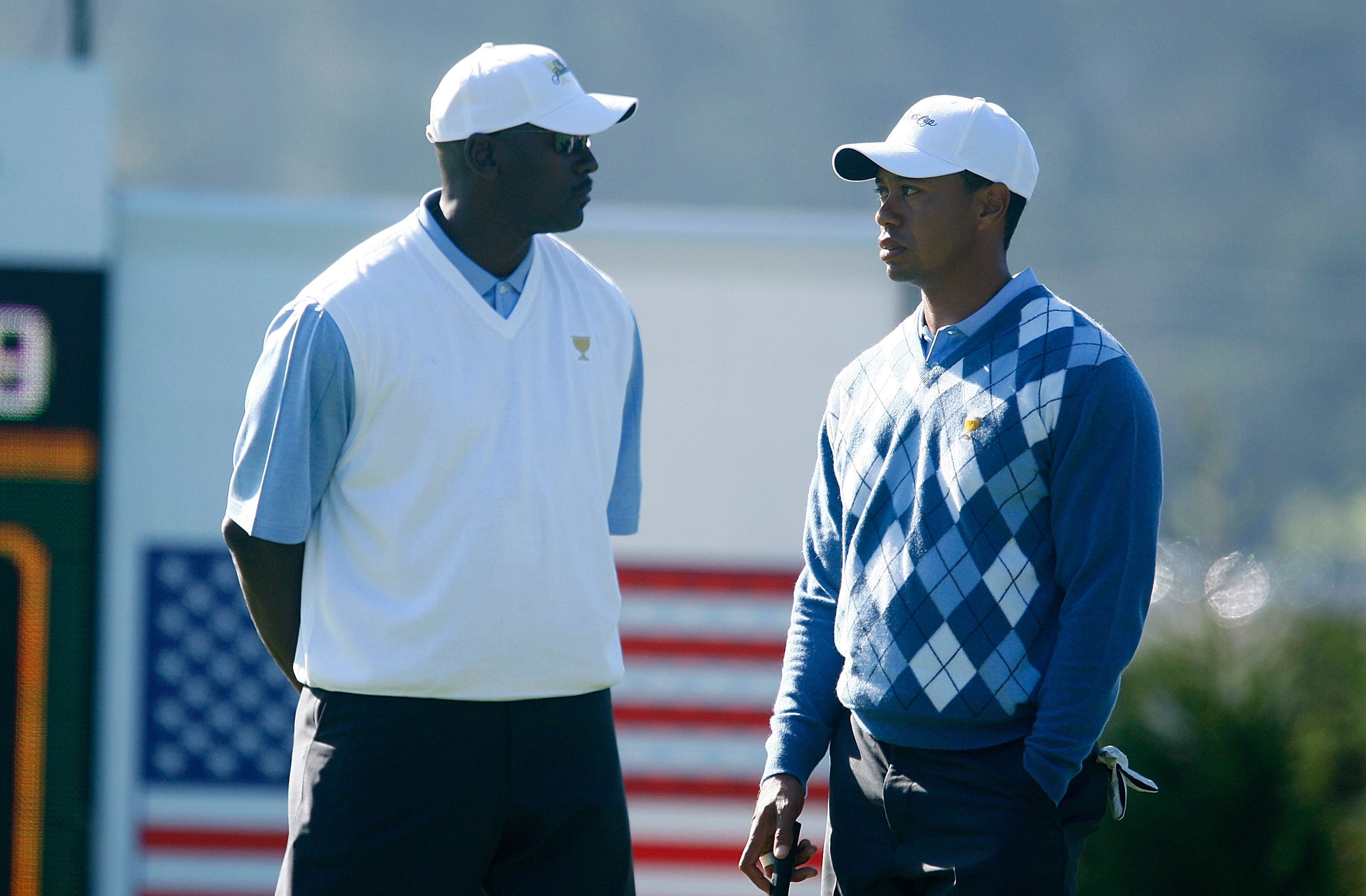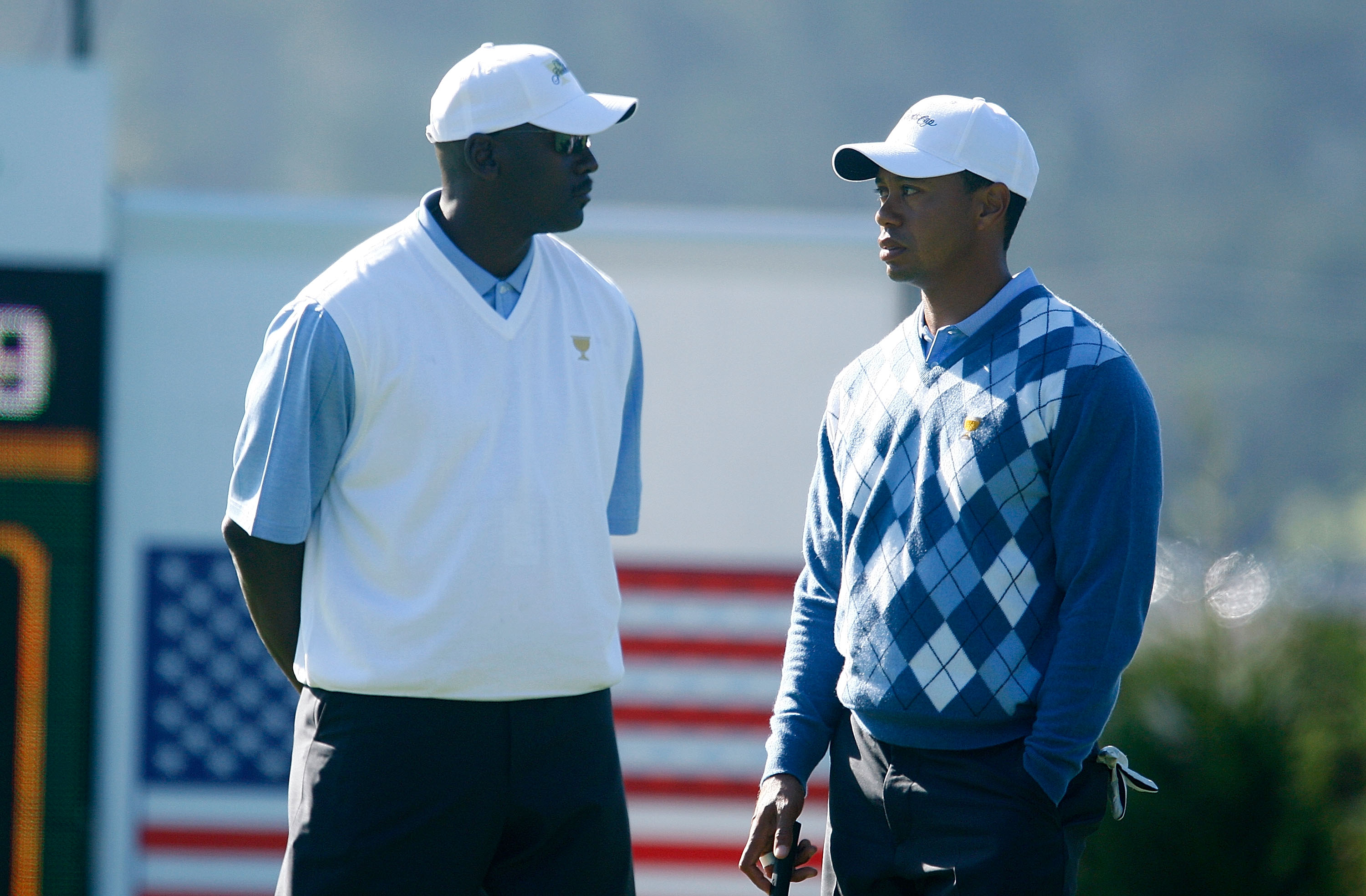 Both Jordan and Woods defined a whole generation's perception of their respective sports. But are they truly the greatest of all time? Is it even possible to pin that down?
Jordan, in a recent interview with Cigar Aficionado, has an intriguing perspective on the debate. "Obviously Jack won more during the time he played," the six-time NBA champion said. "But Tiger evolved [golf] to where it crossed a lot of different boundaries[…] Does that mean he's any less than Jack? I think [the sentiment] is unfair."
He went on to apply the same logic to himself. Many would say that Jordan is the best basketball player of all time. But Bill Russell, with his 11 championship rings — more than he has fingers for — has Jordan easily beat in that category. "I would never say one is greater than the other," Jordan concluded. It's all about context, about who meant the most during their respective eras.