Michael Jordan Spent Nearly Two Weeks Training With a Young Carmelo Anthony and Taught Him the Art of Scoring: 'I'm Going to Give You the Mental Part of It'
Entering year 19, Carmelo Anthony has put together a fantastic NBA career. The 10-time All-Star has averaged 23 points per game across stints with five different teams, earned six All-NBA selections, and led the league in scoring in the 2012-13 season. But who knows if Melo would have become the player he is without some early advice from Michael Jordan.
Anthony was the third overall pick of the Denver Nuggets in 2003. After a couple of years in the NBA, the high-scoring forward sought the help of Jordan. From there, MJ taught Anthony critical lessons, including how to properly watch film and a better way to approach scoring.
Carmelo Anthony sought help from Michael Jordan during the offseason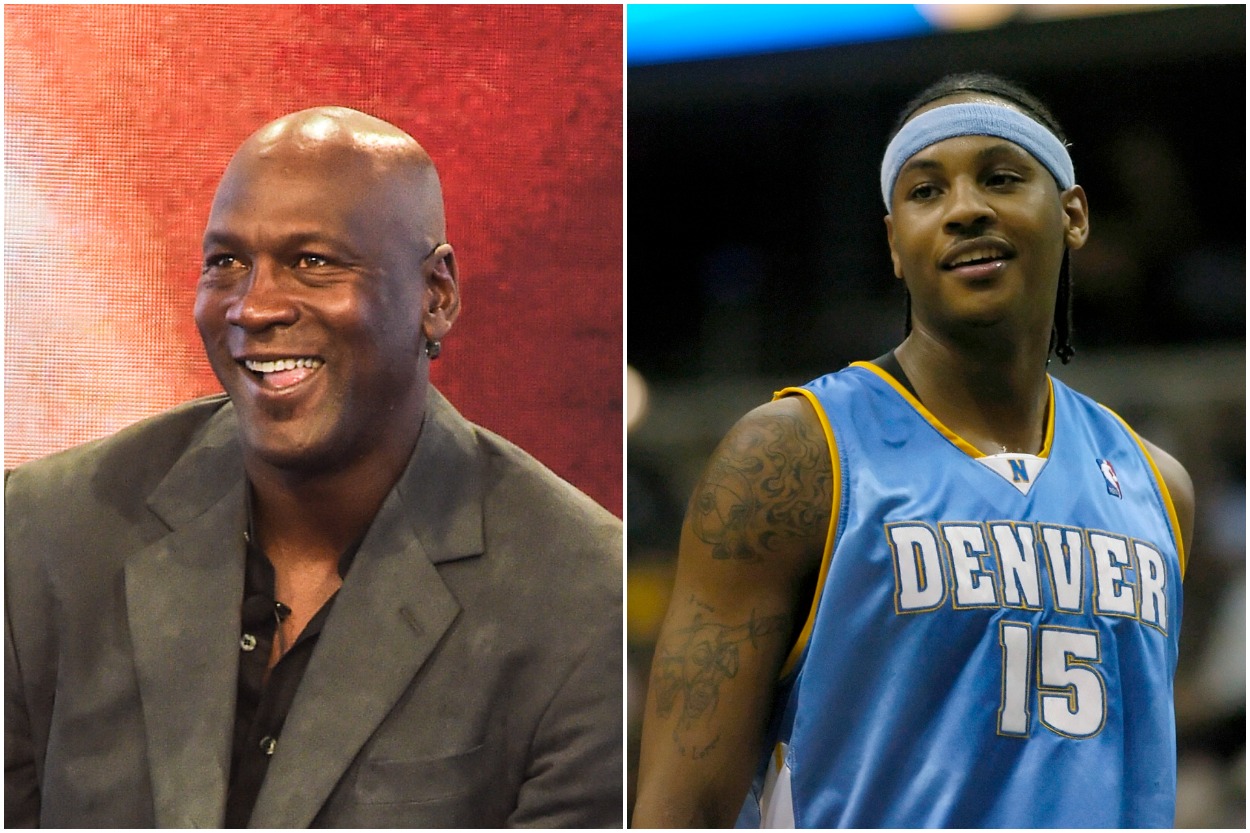 The relationship between Michael Jordan and Carmelo Anthony began in 2003. Jordan, who had just retired for the third and final time, signed the 19-year-old from Syracuse University to the Jordan Brand.
"I was the first signature athlete under the Jordan Brand," Anthony said on the Millon Dollaz Worth of Game podcast. "So when I signed with him, I knew he had my back. For him to take that chance on me, I knew he had my back."
With a relationship already in place, Melo placed a call to Jordan for basketball advice some years later.
"I went to Mike early in my career," Anthony said. "I was having a hard time with certain players in the game, certain situations in the game, figuring out how to beat certain defenses, and I went to MJ for that."
Melo then shared exactly how Jordan helped him approach the game and evolve from a solid young player to a perennial All-Star:
"I went to spend two weeks with MJ in Chicago. We trained every morning — 6:00, 6:30 in the morning. But it was more the conversations that we had, the way he broke film down to me. I didn't know how to watch film, and he broke it down for me, 'Watch it like this, do this, do that.' Then he taught me how to break down the art of scoring the basketball. And I'm like, 'Man, I already know how to put the ball in the hoop. It's what I do.' But he's like, 'No, I'm going to give you the mental part of it.'"

Carmelo Anthony
The mental side of scoring, in particular, is something Anthony reflected on as a big turning point in his career.
Jordan changed the way Carmelo approached scoring
As a player who showed he could score at the NBA level, Anthony was understandably confused by what Jordan meant when he mentioned the mental side of scoring. But His Airness broke it down and immediately changed Melo's approach.
"Say you want to average about 28 right now," Jordan told Anthony. "Here's an easy way to go get it: seven points a quarter. Break down seven points in a quarter. That's two lay-ups, maybe a three. [Or] a lay-up, two free throws, and a three. You might get hot one quarter, you might have 11, 12, 13 one quarter. But then in the second quarter, you can pace [yourself]. As long as you get your 14 in two quarters, you're [good]."
"I'm thinking about that [advice] in the games," Anthony said on Million Dollaz. "Then the next season I averaged almost 30. But I'm thinking about what he's telling me. I ain't gotta go get it as much as I really want to go get it, as fast as I want to go get it. You just slow the game down. And that was probably the best advice that he ever gave me."
MJ's advice paid off immediately for Carmelo Anthony
In his signature Jordans, Anthony flashed an ability to score the second he entered the NBA. He averaged 21.0 points per game as a rookie and 20.8 the following season. But the numbers shot up soon after he received those helpful lessons from MJ.
From year two to year three, Anthony's scoring average rose from 20.8 to 26.5. The following year, it was a career-best 28.9. In total, Melo has averaged 26 or more points six times. And at 27,370 career points, he enters the 2021-22 season 10th on the all-time scoring list and second among active players behind LeBron James.
"A couple of years ago, I didn't think I was gonna be in this moment right now," Anthony said to his Portland Trail Blazers teammates after moving into the top 10 last season. "I was out of the league for whatever reason. I'm back. I persevered. I stayed strong, I stayed true to myself, and now I'm here in the top 10."
With Moses Malone only 39 points away, Anthony should continue to climb up the all-time scoring list as he takes the court with the Los Angeles Lakers. And as Jordan taught him, he'll surely try to slow the game down and take it quarter by quarter along the way.
All statistics courtesy of Basketball Reference.
RELATED: Carmelo Anthony Planned on Returning to Syracuse Before Jim Boeheim Gave Him a Stern Dose of Reality: 'Boeheim Told Me to Get My Ass Off the Campus'