Michael Jordan Told Stephen Curry His New Hobby Helps to Reinforce His Patience on the Golf Course
Basketball is Michael Jordan's passion, but golf is the sport now consuming his psyche and sparking the competitive juices. Golf has come less naturally for MJ, though. The Chicago Bulls legend said during a Ryder Cup interview with Golden State Warriors point guard Stephen Curry that he's picked up a new hobby to reinforce the traits he needs to be successful on the course.
Michael Jordan compared basketball and golf during a Ryder Cup interview with Stephen Curry
Michael Jordan and Stephen Curry had a fascinating conversation during the Ryder Cup at Whistling Straits. The interview aired on Golf Channel.
Both MJ and Steph have a strong affinity for the game of golf, and Curry was keen on learning about the parallels Jordan draws between golf and basketball. Jordan alluded to the search for perfection being something that translates from the hardwood to the course. Granted, His Airness noted the plentiful differences.
Jordan explained that he could always respond and adjust to an individual defender or team on the basketball court. The Bulls great also made adjustments to his own body. He went from an athletic marvel and dynamic talent early in his carer to someone who added tremendous footwork and a terrific post game later in his career.
Conversely, Jordan noted how golf is all individual. He said there is plenty of frustration searching for perfection on the course and described golf as the "hardest" sport. However, MJ told Curry that golf keeps him "sane," despite all the frustrations.
Jordan told Curry he's taken to fishing primarily to help his "patience" on the golf course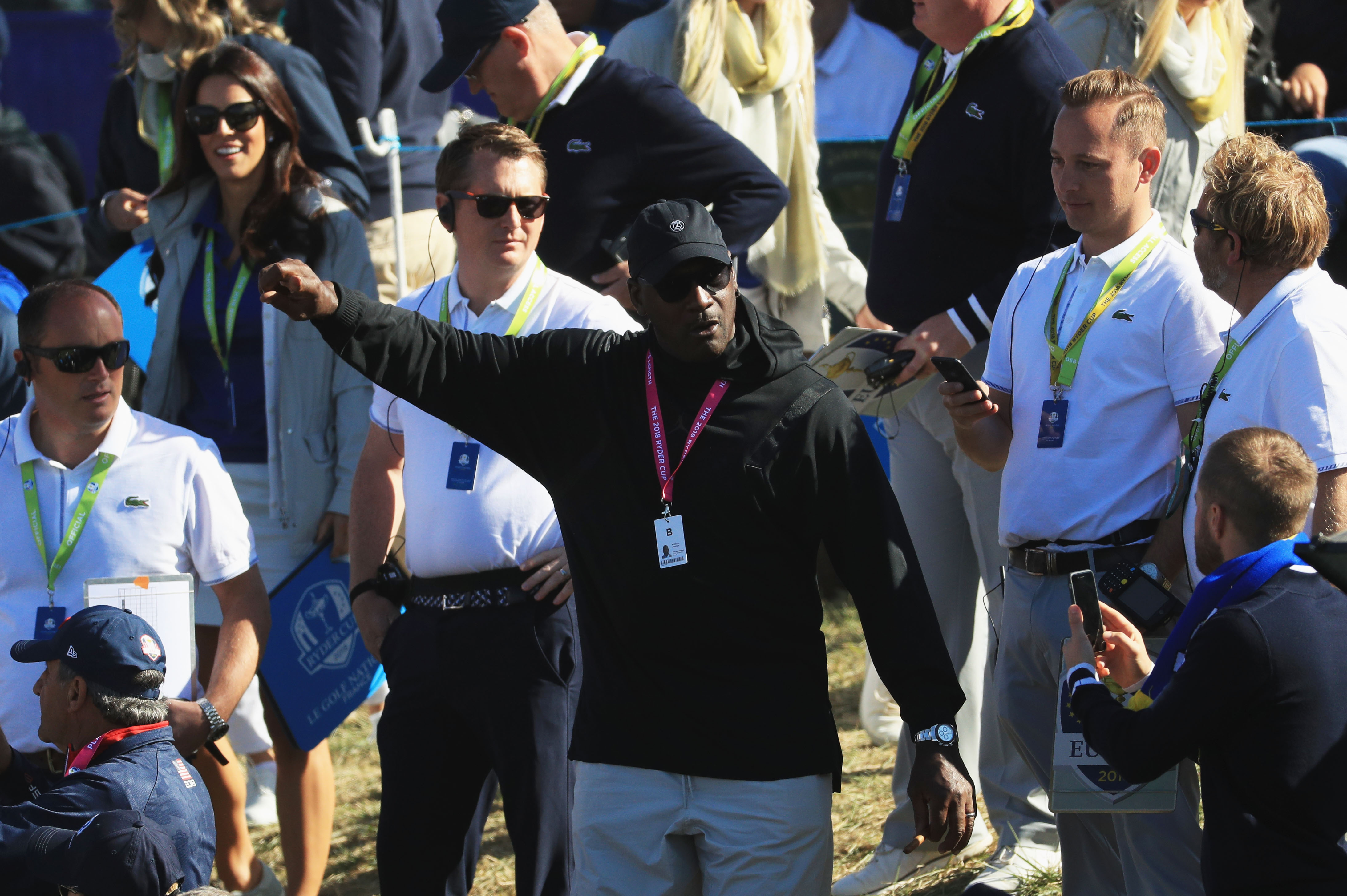 For Michael Jordan, golf often provided a distraction and different feel from basketball. He also mused to Stephen Curry that there was always "snow" on the ground in Chicago in-season, so it wasn't too hard to balance hoops and striking the little white ball.
Whereas golf offered Jordan a departure from basketball, he told Curry on of his new hobbies helps his game on the course. The six-time NBA champion said he is doing a lot of fishing because the attributes needed to be successful with the rod and line are similar to those that provide success on the course.
"Now I go fishing in between my golf," MJ said, "because I got to show patience in fishing that's going to be relative to golf."
Jordan might not lace up the sneakers and shoot too many jumpers anymore, but his endless hunger to improve and be better has clearly translated from the basketball court to the golf course.
Steph asked MJ about which Ryder Cup players he feels are similar to him
The conversation between the Warriors star and Hall of Fame 2-guard eventually shifted to Ryder Cup action, and Stephen Curry wanted to know if Michael Jordan saw any of himself in some of the players at Whistling Straits.
Jordan told Curry that Justin Thomas has some of the fire and passion MJ brought on the court. Indeed, Thomas has been emphatic about riling up the Wisconsin crowds after big putts and even chugged beers with Daniel Berger on the first tee on Saturday. The five-time MVP also said Brooks Koepka and Dustin Johnson have a quiet, steadfast confidence reminiscent of MJ's playing days with the Bulls.
Michael Jordan inspired so many as a global icon who transcended the game of basketball. Now, he finds himself drawing inspiration from others and even taking up fishing as he scrambles to lower his handicap.
RELATED: Michael Jordan Doubles Down on Lucrative Partnership With Sportradar After Massively Successful IPO