Michael Jordan Supported Magic Johnson's Comebacks Following HIV Diagnosis: 'I Want What's Best For Him'
Of all his accomplishments in the NBA, Magic Johnson should be especially proud of his relationship with Michael Jordan. 
Although they were fierce on-court rivals throughout the 1980s, the two star guards developed a close bond. Their connection remained strong even after Johnson revealed his shocking HIV diagnosis. 
Michael Jordan always supported and stood by Magic Johnson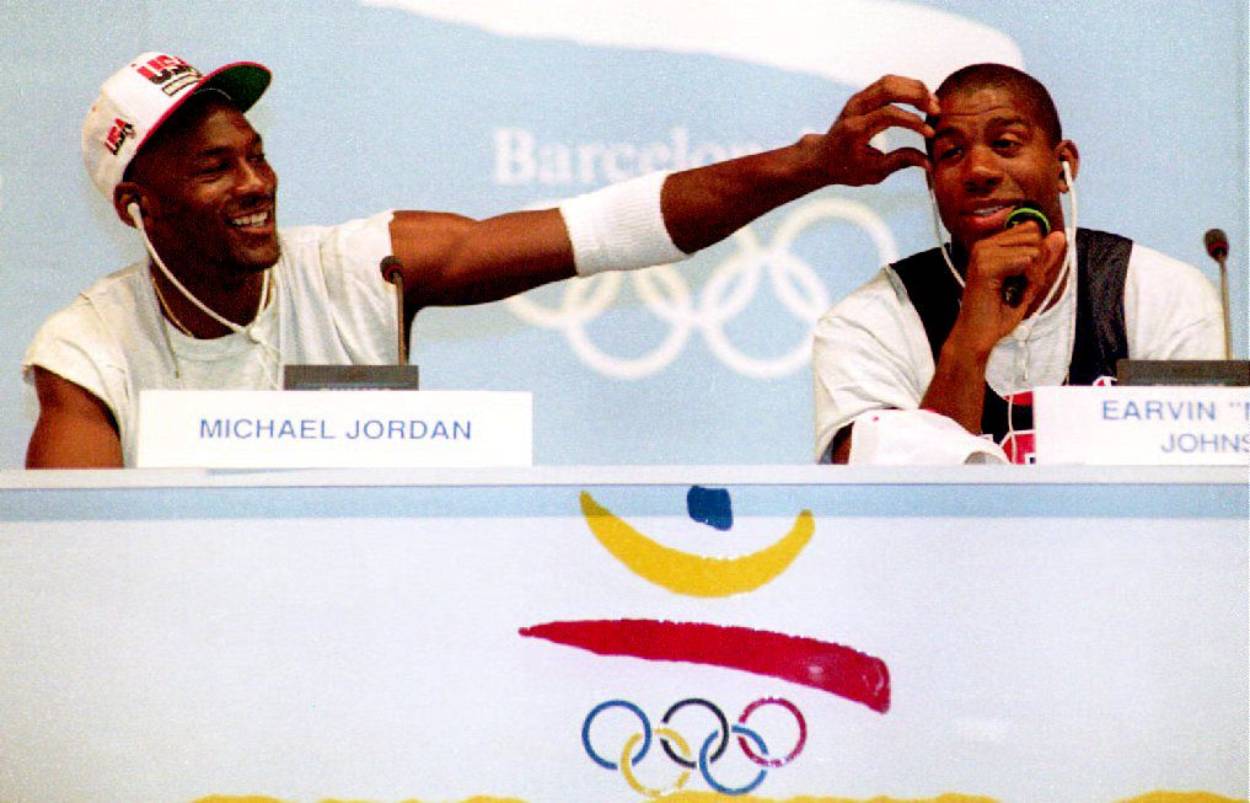 In the fall of 1991, Los Angeles Lakers legend Magic Johnson announced that he'd been diagnosed with HIV and that he was retiring immediately.
Many around the NBA, including Michael Jordan, were heartbroken. Jordan found himself so distraught upon hearing the news that he had to pull over and stop his car.
In a time when HIV was considered a death sentence, Johnson remained motivated to move past his diagnosis. He returned to the court in the 1992 NBA All-Star Game and played in the Olympics that year. Jordan never turned his back on his close friend and former rival.
It wasn't until January 1996, over four years after his diagnosis, that the former Lakers star wanted to pursue a legitimate, full-time comeback. Now 36 years old, the legendary point guard signed with his former team.
The Chicago Tribune asked Jordan, who himself had come out of retirement a year earlier, how he felt about Johnson's return to the court.
"I want what's best for him. If he feels he's ready and he can deal with some of the adversity he's going to have to deal with, then I support him."

Michael Jordan
Jordan also noted that Johnson would raise more awareness and attention to HIV by playing again. The five-time champion averaged 14.6 points, 5.7 rebounds, and 6.9 assists in 32 games and nine starts for the Lakers. He added 15.3 points and 8.5 rebounds in four playoff games.
Jordan and Johnson starred together on the 'Dream Team'
Less than a year after announcing his HIV diagnosis, Johnson took his talents to Barcelona for the 1992 Summer Olympics.
Outside noise and concerns about Johnson's presence didn't deter the Dream Team. The Americans, led by Jordan, defeated Croatia in the Gold medal game.
The ex-Lakers star averaged 8.0 points, 2.3 rebounds, and 5.5 assists during the Olympics. Jordan contributed 14.9 points and 4.8 assists per game.
The Naismith Memorial Basketball Hall of Fame honored the Dream Team in 2010. By that point, both Jordan and Johnson had already entered The Hall.
Jordan and Johnson have remained close over the years
The years following their respective basketball careers have been incredibly kind to Jordan and Johnson.
Jordan retired with six NBA championships and currently owns the Charlotte Hornets. His stake in Nike has helped him attain a reported net worth of close to $2 billion.
Johnson currently has ownership stakes in several franchises, including the Los Angeles Dodgers. He has remained a fierce advocate in the fight against HIV.
Like Sportscasting on Facebook. Follow us on Twitter @sportscasting19.