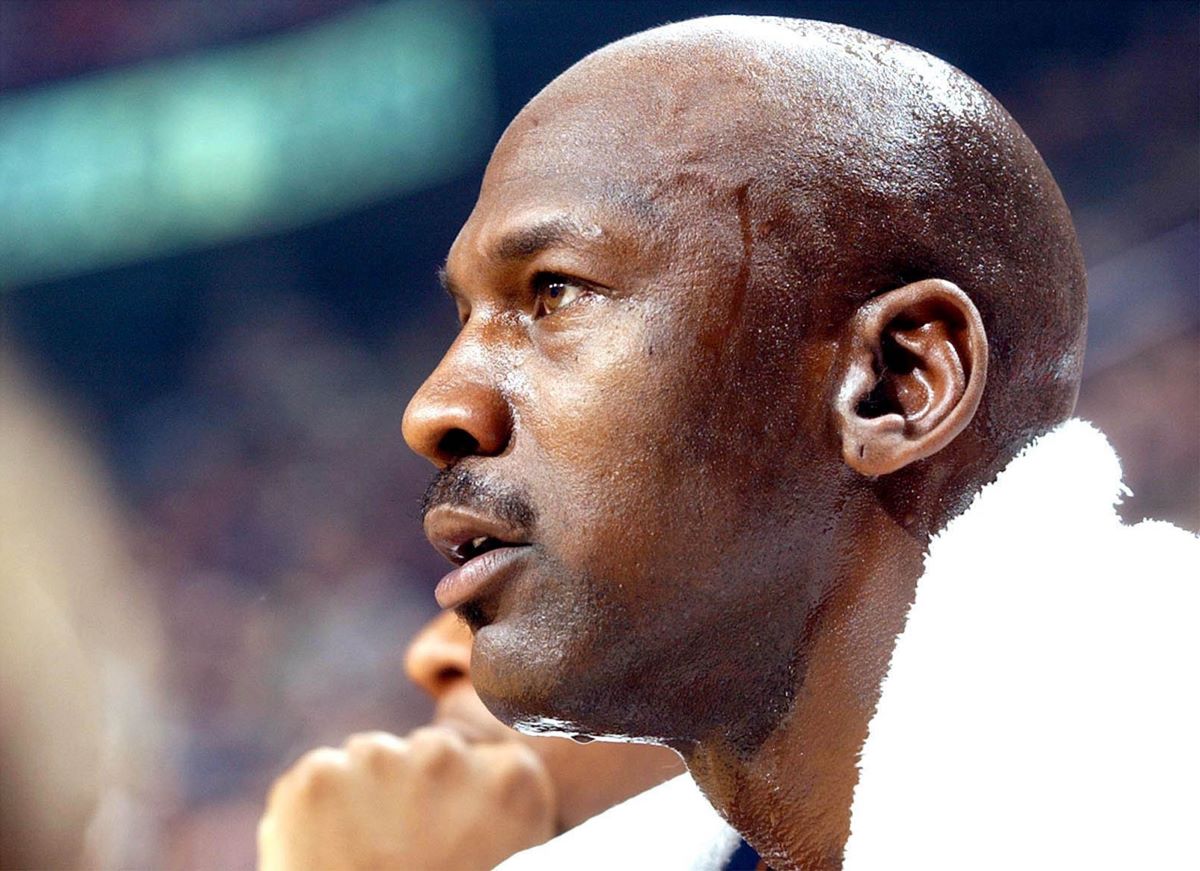 Michael Jordan Has a Tattoo 'That He Always Was a Bit Sensitive About'
Bulls writer Sam Smith revealed the shocking revelation that Michael Jordan has one tattoo.
Michael Jordan is one of the most iconic figures in sports history. From going 6-0 in the Finals to wearing long shorts during games and making being bald look cool, the Chicago Bulls legend is undoubtedly one of the greatest influencers in sports, and seemingly everyone wanted to be like him during the '90s.
However, no human is perfect, not even Jordan, who had gambling controversies that shed a negative light on him. He infamously wrote a check to Slim Bouler for $57,000 to pay off a gambling debt from a five-day golfing spree at Hilton Head Island. It made national headlines since the Bulls superstar testified in Bouler's criminal case. Bouler was indicted on drug and money-laundering charges and served eight years in prison in six states for the money laundering conviction.
The gambling and Bouler case aren't the only things Jordan is sensitive about, though. In fact, the six-time champion has a tattoo that not many people know about, and he's evidently happy to hide it.
Michael Jordan has a tattoo above his left breast
Jordan has a small tattoo above his left breast. It's an omega horseshoe, and it was drawn on as a way of pledging his commitment to the Black fraternity Omega Psi Phi, which he was a part of while he attended the University of North Carolina.
According to legendary Bulls writer Sam Smith, Jordan has always been a little sensitive about his tattoo. However, the five-time MVP did appear shirtless on the cover of Bob Greene's book called Rebound: The Odyssey of Michael Jordan, allowing the public to see his tattoo.
Jordan's Bulls teammate, Dennis Rodman, had a plethora of tattoos. Today's NBA stars aren't shy of expressing themselves through tattoos, as many players have tattoos all over their bodies. Jordan was a little old-fashioned and didn't have the urge to get inked up. Based on Smith's comments, it also seems like the six-time Finals MVP didn't necessarily want to get the omega horseshoe, but he had to for the Black fraternity at UNC.
Smith didn't dive into why Jordan was sensitive about his tattoo. However, when the Bulls icon made the Hall of Fame in 2009, Smith discussed what it was like to cover His Airness as a beat reporter after writing a polarizing book.
Michael Jordan treated Sam Smith with respect despite being upset over book
Smith's book, The Jordan Rules, chronicled the Bulls' 1990-91 season and everything juicy that went on behind the scenes. It covered everything from Jordan's relationships with his coaches, teammates, and management to his obsession with becoming the leading scorer and best player in the NBA.
Jordan was upset about the book because he thought it would destroy his image. The book revealed that the All-Star shooting guard punched Bulls big man Will Perdue during practice and refused to pass the ball to certain teammates. The carefully cultivated image Jordan created began to see some cracks in it as a result of Smith's book.
Despite The Jordan Rules taking a heavy toll on him, Jordan continued to treat Smith with respect since they saw each other every day. According to Smith, MJ's "upbringing wouldn't allow him to be a low life."
"But I always gave him credit with the professional way he dealt with me thereafter," Smith wrote in 2009. "I was hardly going to win any popularity contests or debates with Michael Jordan. But Jordan always answered me professionally in group sessions, offering full eye contact and never backing off or backing away from responding. He didn't need to."
Sam Smith: MJ has had more impact for basketball on and off the court
Smith believes Jordan has had more impact for basketball on and off the court. He detailed what made the Bulls great such an iconic figure in 2009.
"Jordan turned sneakers from utilitarian into a fashion statement," Smith wrote. "He was the first to wear his uniform shorts baggy and long. He made bald beautiful. 'Be Like Mike' became an advertising classic and a way to life for kids all over the world. ESPN, the preeminent sports network, conducted a survey of media members, current and former players, executives and officials and observers in all sports and voted Jordan the No. 1 athlete of all time ahead of Babe Ruth and Muhammad Ali."
During his run with the Bulls, Jordan averaged 31.5 points, 6.3 rebounds, 5.4 assists, and 2.5 steals in 930 regular-season games. He won six championships, six Finals MVPs, five regular-season MVPs, one Defensive Player of the Year Award, and the 1985 Rookie of the Year Award.
The Bulls built a statue of Jordan outside of the United Center in 1994. MJ is Chicago's all-time leader in games, field goals, free throws, rebounds, assists, steals, points, points per game, player efficiency rating, and win-shares.
Stats courtesy of Basketball-Reference.