Michael Jordan's Former Teammate Dishes the Details of MJ's Custom Golf Clubs
A former teammate of NBA legend Michael Jordan stumbled onto a treasure while going through a storage unit. The stash included a unique set of golf clubs had made that included two of his biggest passions: golf and basketball. Three-time NBA champion Scott Williams recently shared the tale of his big find.
Williams wasn't much of a golfer during his 15-year career as an NBA journeyman that included four years with the Chicago Bulls for the Jordan dynasty's first three-peat. But since leaving the NBA after a couple of coaching stints in the mid-2010s, Williams took up the game and holds memberships at several high-end courses.
Scott Williams got an invitation to check out Michael Jordan's golf stash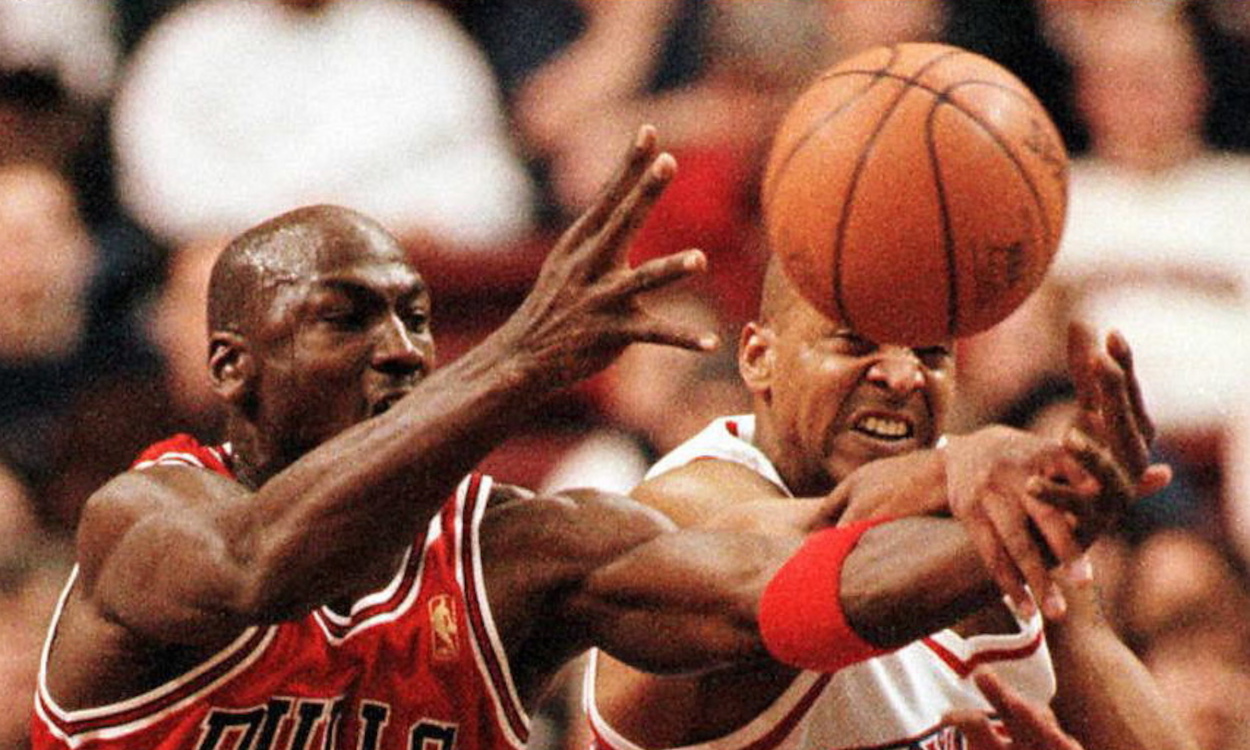 Stories of Michael Jordan's love affair with golf (and gambling on golf) circulate widely. Because of his well-known passion for the game, golf manufacturers constantly sent His Airness equipment samples.
After a practice, Jordan invited some of his Bulls teammates to his house to pick through his collection.
During a recent appearance on Golf Magazine's Fully Equipped podcast, Williams recalled the experience as being more of a shopping trip than a visit to a friend's home:
"It was like walking into a golf warehouse. There was stuff everywhere. Bags, shoes, balls, headcovers, it was unbelievable. He just started handing guys bags and irons and drivers, fairway woods, and all this stuff. And he gave me this bag with his name on it, and I went, 'Ooh, I like that.'"

Scott Williams
But the leather Wilson golf bag with the famous name contained a bigger surprise.
Michael Jordan had a set of custom Ping irons with a familiar marking
One of Scott Williams' best pickups from Michael Jordan's collection was a custom set of Ping irons.
They were customized to Jordan's unique swing and size and adorned with the familiar Jumpman logo. Ping's Eye2 irons were well-known to golfers. Manufactured from 1982–90, the clubs came in varying types of metals. Jordan's set came from an expensive copper alloy known as Beryllium Copper.
Stronger and softer than their stainless-steel counterparts, the club design is no longer allowed by the USGA because it was toxic, per the Chicago Tribune.
Williams said he never played much with the clubs, but their construction had nothing to do with that.
"The reason why I never really played with them — I think I played once with him with them — is because the grips," Williams said. "The grips are like a jumbo grip with eight wraps on them, and I have big hands, even when I played a little high school golf … I know you have to get that clubface closed. Well, the grips were too darn big for me to spin 'em around and get the clubface closed in time, so I sliced everything with them."
Instead, Williams had custom-fit irons commissioned and put Jordan's into storage.
Scott Williams rediscovered the rare clubs years later
Scott Williams settled in Phoenix, and while going through his storage unit there, he found the Michael Jordan bag and clubs under a pile of old sweaters.
"When I saw the bag, I said, 'Oh, no!' because these storage facilities I have … they're not climate controlled. I've lived in Phoenix for 20 years; I'm like, 'Oh, my God, the bag is going to be ruined, the grips are going to be dry rot,' but they're still in really good shape."
Williams said he took up golf while with the Philadelphia 76ers in 1995 and has been active in the game ever since. It was a hobby that traveled a lot, considering Williams played 15 seasons with seven teams.
He earned a little more than $30 million in his career from 1990–2005, a healthy amount to feed a golf habit. Besides the Bulls and Sixers, he also spent time with the Milwaukee Bucks, Denver Nuggets, Phoenix Suns, Dallas Mavericks, and Cleveland Cavaliers. In 746 career games, he averaged 5.1 points and 4.7 rebounds in 16.4 minutes per night.
He later spent a season as an assistant coach with the NBA G-League's Idaho Stampede and another on Larry Drew's staff with the Bucks in 2013–14, where he coached a rookie named Giannis Antetokounmpo.
But Scott Williams' most memorable NBA experience was his three years with Michael Jordan in the early 1990s. After all, he has three rings and a set of rare and now outlawed golf clubs to remember it by.
Statistics courtesy of Basketball Reference.
RELATED: Bill Russell Once Gave Michael Jordan a Taste of His Own Trash-Talking Medicine on the Golf Course