Michael Jordan Took Pity on Everyone Who Had to Compete With Larry Bird in the 1988 3-Point Contest: 'I Tell You, It's Hard to Shoot After Bird'
Michael Jordan was certainly capable of recognizing greatness when he saw it. His compliments for other players just happen to be incredibly outnumbered by his slights. On a night in 1988, though, MJ was able to step back and admire the grandeur of Larry Bird's jump shot.
The rise of Jordan's career unfortunately coincided with the decline of Bird's, but there's at least mutual respect between the two, part of which stems from the 1988 All-Star Weekend.
Jordan and Bird each put on a show during 1988's All-Star festivities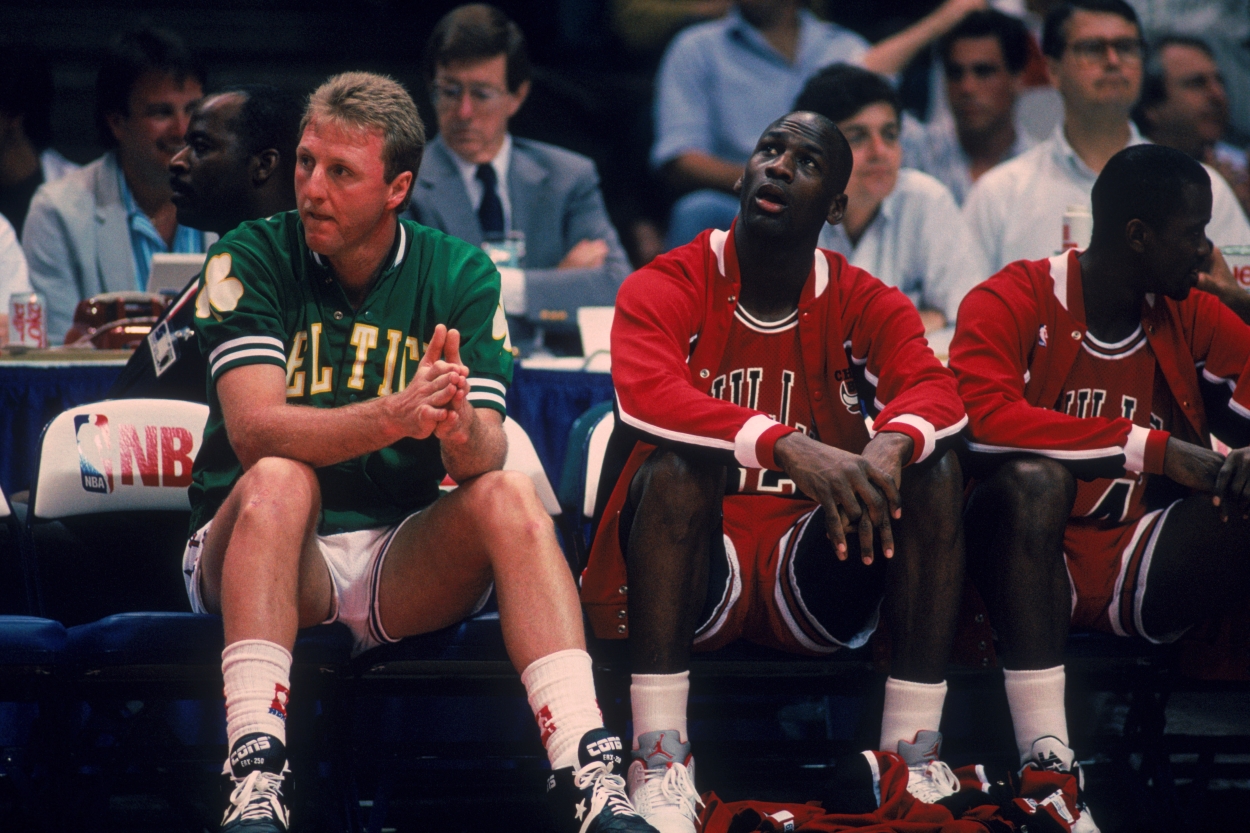 1988 may well have been the absolute pinnacle of NBA All-Star bashes. It took place in Chicago, and His Airness was participating in that year's Slam Dunk Contest. Jordan was the defending champion, while Bird was the two-time defending champion of the 3-Point Contest.
The game was an event in and of itself. Jordan was named the MVP in the Bulls' home city, scoring 40 points to go along with eight assists, four steals, and four blocks as he willed the East to a victory.
The game also featured names like Magic Johnson, Isiah Thomas, Hakeem Olajuwon, Patrick Ewing, Charles Barkley, Karl Malone, Kareem Abdul-Jabbar, and James Worthy.
The dunk contest duel between Michael Jordan and Dominique Wilkins is one of the most legendary All-Star events in NBA history. That piece of the 1988 weekend is worth an entire story on its own.
But before MJ walked out of the tunnel and onto the floor to battle 'Nique, he got to witness Bird's greatness firsthand.
Bird's 1988 3-Point Contest win is the stuff of legends
All-Star contests were never a favorite of Bird's. He didn't mind talking trash throughout them, of course, but the future Hall of Famer always preferred the nuances of running an offense and competing alongside a team. Still, the man could shoot, and 3-point competitions were a chance for him to show off.
Bird easily cruised to the 1988 final against Dale Ellis. The former Supersonics guard had a lead as Bird rounded into the final two racks, according to an NBA.com piece. He needed nine points to win with 10 balls left.
The three-time MVP then turned his jumper on as easily as a light switch. He hit five straight and needed three points to win with three balls left. Not only did Bird make the last shot to win, but he also turned around while the ball was still in the air and held up one finger as if to say, "It's over."
He never even took his warmup shirt off.
Jordan had been watching the contest with a group of reporters on a small TV in the bowels of Chicago Stadium, and according to NBCSports, he verbally recognized how difficult it would be to beat Larry Bird in a shooting competition.
"He didn't take off his top yet. I'd hate to see when he takes off his top. I tell you, it's hard to shoot after Bird just made 23."

Michael Jordan while watching Larry Bird's legendary 1988 3-point contest
And that was even before Bird's iconic display in the final round.
Jordan and Bird proved they were two of the greatest ever, even in insignificant All-Star events
It's no secret Michael Jordan and Larry Bird are two of the most competitive athletes ever to grace an NBA floor. It's no coincidence, then, that both put on epic displays in relatively meaningless events. Of all the trophies Bird won, his 3-point championship decorations probably aren't displayed most prominently.
But even Jordan — with all the competitive juices inside his body — was able to stop and take a minute to appreciate how difficult it would be to beat Larry Legend in a shooting contest.
All statistics courtesy of Basketball Reference.
RELATED: Larry Bird's Legendary Jump Shot Began With a Lesson From His Sixth-Grade Coach: 'That, to Me, Changed Everything'