A Lucky NBA Fan Paid More for a Michael Jordan Uniform Than Some Players Made in the 2020-21 Season
If you have money and you like Michael Jordan, then you are in luck. 
Jordan hasn't played in an NBA game in over 18 years, and although he owns the Charlotte Hornets, he's remained relatively out of the limelight in recent years. But the same can't be said for items that Jordan once owned or signed, which are still fetching a high price on the open market.
An NBA fan paid nearly $400,000 for one of Michael Jordan's uniforms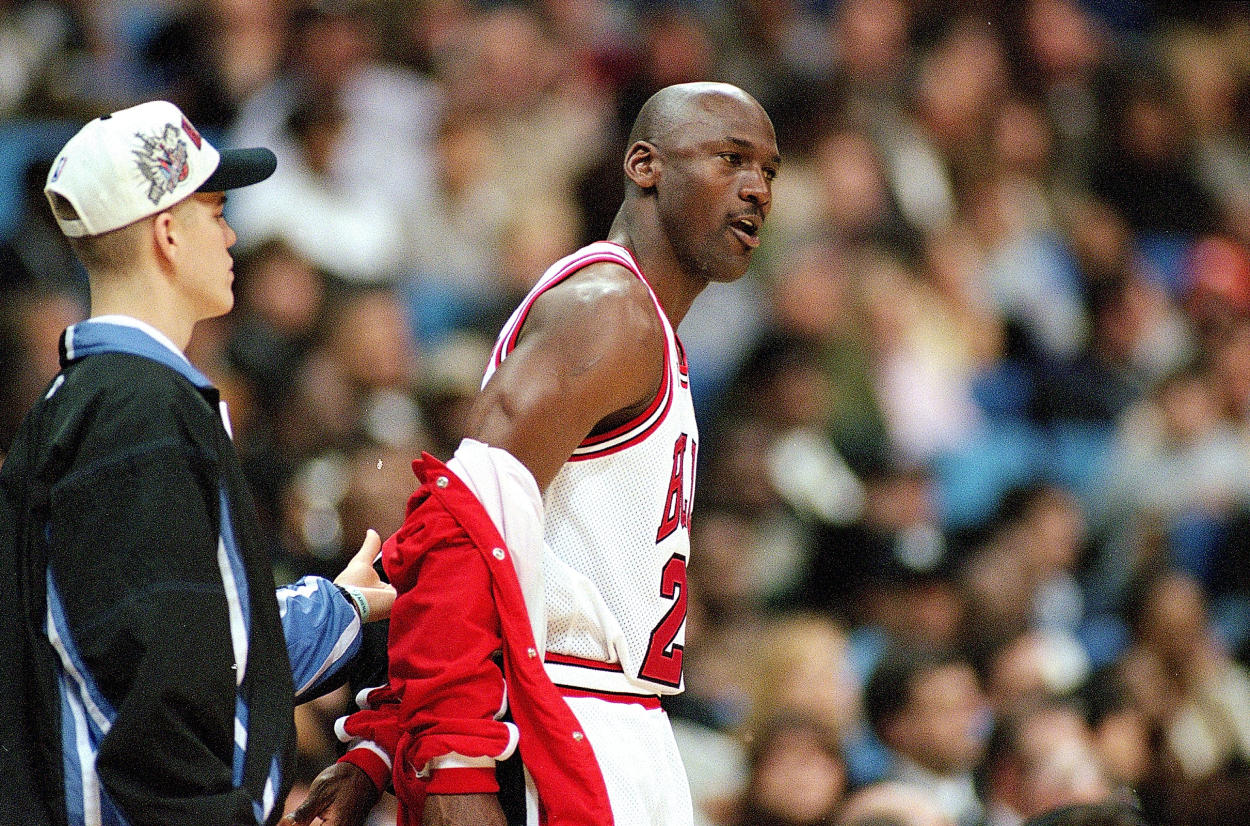 When ESPN aired The Last Dance docu-series in 2020, people who either had money to spend or had items involving Michael Jordan suddenly found something to do during the global pandemic.
GQ compiled a list of Jordan-related items that sold last year, ranging from jerseys to shoes. One of the high-profile items was a complete uniform that Jordan wore on April 13, 1997, against the Detroit Pistons.
Jordan scored 18 points, grabbed nine rebounds, and dished seven assists in a 108-91 road loss. Chicago fell to 68-11 with the loss — that is not a misprint — and later defeated John Stockton and the Utah Jazz in that year's NBA Finals.
One lucky fan spent $398,671 on the uniform, which was the black set with red numbers and text. Yes, someone really spent close to $400,000 on a uniform.
Several NBA players made less than $400,000 this season
At one point in 2020, someone actually spent nearly $400,000 on a uniform that Jordan wore nearly 25 years ago.
This is where things get very interesting. Basketball-Reference listed 15 players as making less than $400,00 during the 2020-21 season. Toronto Raptors forward Henry Ellenson leads the pack with a $50,000 salary.
Golden State Warriors guard Stephen Curry, conversely, is making $43 million this year.
Several of those players are making fewer than $400,000 because they signed 10-day contracts during the season. Brooklyn Nets forward Alize Johnson, who is earning $399,591 this year, barely escaped that club.
The NBA minimum salary is still more than the Jordan uniform
If you're making the minimum salary as an NBA player, you're still doing better than so many others in the world.
According to Statista, the NBA minimum salary in the 2020-21 season is $898,310, which is the same as last season. The minimum salary will jump to $925,258 next year and is expected to reach just over $1 million for the 2023-24 season.
It is not yet known how the coronavirus pandemic will further affect the minimum salary.
But, the league's finances have certainly changed since Jordan was in the prime of his career. Jordan made $30.1 million during the 1996-97 season. 
Only four other players, including Los Angeles Lakers center Shaquille O'Neal, even made over $10 million that season. None of those four topped $15 million.
All contract figures courtesy of Basketball-Reference.