Michael Jordan Used 1 Text to Pump up a Charlotte Hornets Rookie
Often when the big boss calls a new employee, something has gone wrong. But sometimes, those conversations go the other way. Michael Jordan surprised and impressed Charlotte Hornets' first-round pick James Bouknight as the rookie struggled in the NBA Summer League.
The Hornets took Bouknight late in the lottery at No. 11 overall. The Brooklyn native declared for the 2021 NBA Draft after an abbreviated sophomore season at UConn. He averaged 18.7 points and 5.7 rebounds per game on 44.7% shooting, though his 3-point mark of 29.3% didn't turn any heads.
But at 6-foot-5 and 190 pounds, Bouknight has been compared to Sixth Man of the Year Jordan Clarkson of the Utah Jazz and Portland Trail Blazers standout CJ McCollum.
James Bouknight has the potential to be like Michael Jordan, style-wise
To the surprise of many draft analysts, James Bouknight was still on the board at No. 11 for the Hornets. Per NBA.com, most mock drafts ticketed Bouknight for the Oklahoma City Thunder with the sixth overall pick.
In four games in Las Vegas, Bouknight is putting up 16.8 points, 3.8 assists, and 2.8 rebounds in 28.8 minutes a game for winless Charlotte. He's hit 45% overall and, more importantly, has knocked down 37.5% from 3-point range (6-of-16).
But in an 80-70 loss to the Sacramento Kings, Bouknight struggled. Fellow rookie Davion Mitchell got the best of their matchup, scoring 10 points with nine assists. Bouknight managed 11 points but needed 11 shots and coughed up five turnovers.
In terms of playing style, NBADraft.net says Bouknight is a three-level scorer but is most effective at this point going to the rim or pulling up from midrange. If that sounds sort of like another shooting guard of some repute, it should. That was Michael Jordan's calling card early in his NBA career. That's not meant as a comparison of the two, certainly not after four games in Vegas. But there are stylistic similarities.
Maybe that's why Jordan thought he could help.
A surprising text message from Michael Jordan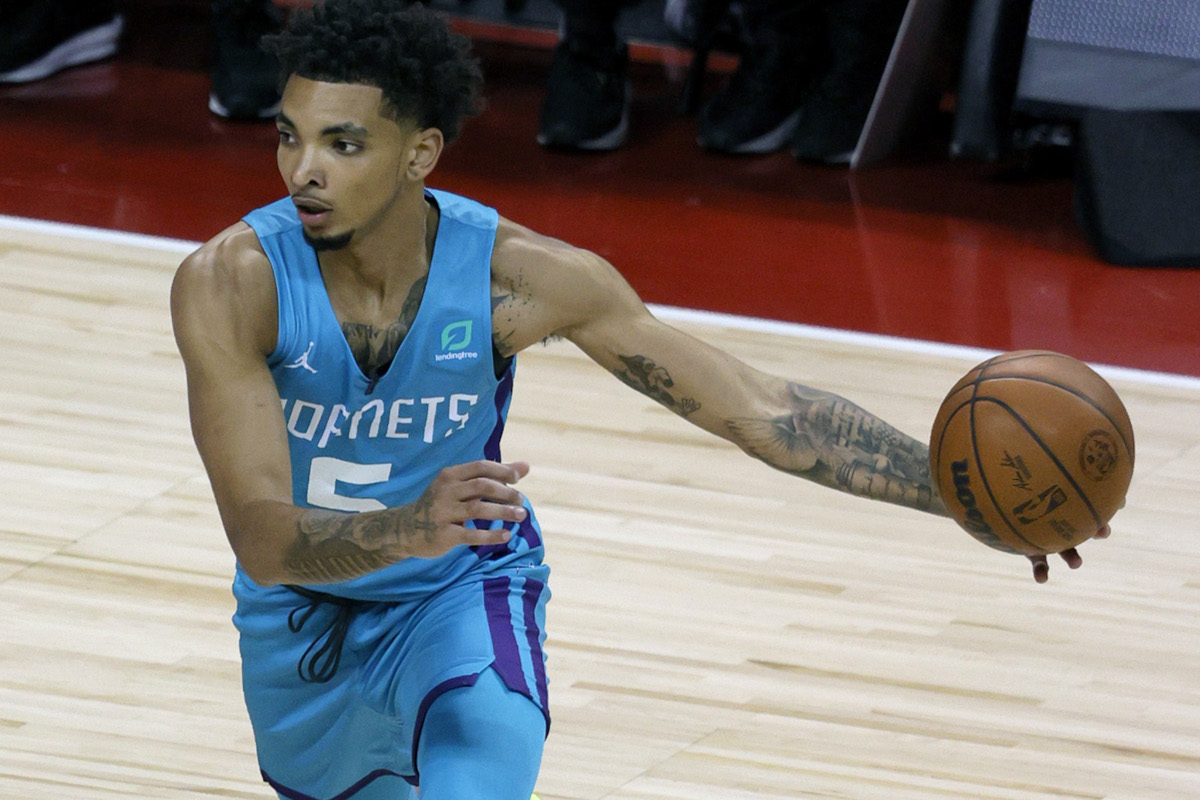 After James Bouknight's uneven effort against the Summer League Kings, Hornets owner Michael Jordan reached out to the rookie. A simple text directed Bouknight to call the boss, per the Charlotte Observer.
After the call with Jordan, Bouknight bounced back with 23 points in a one-point loss to the San Antonio Spurs. He talked a bit about the conversation after the game.
"That second game, I just wasn't myself. At times, I was selfish; wasn't really sharing the ball. I was lackadaisical. I wasn't really playing with that New York swag and that type of confidence I usually play with."

James Bouknight
As for the call, Bouknight was understandably excited.
"How many 20-year-olds, first year in the league, can say that the best player ever to touch the basketball is calling them and helping, giving them pointers? So I took that to heart, and I took that personal and did my best to have a good game."

James Bouknight
There's reason to think Bouknight might be contributing sooner rather than later in Charlotte.
Openings for James Bouknight in the Hornets backcourt
James Bouknight comes to a Charlotte team with a scrambled depth chart at the guard spots. The Hornets return leading scorer Terry Rozier and Rookie of the Year LaMelo Ball. But from there, roster churn has changed the look of the team.
Devonte' Graham is gone in a sign-and-trade deal to the New Orleans Pelicans. Charlotte got Wesley Iwundu in the swap, but the four-year veteran has never been more than a deep rotation player.
It's not a lock that backup point guard Brad Wanamaker is gone, but the Hornets didn't extend a qualifying offer. Wanamaker remains unsigned as an unrestricted free agent.
The team did bring in Scottie Lewis, a second-round pick from Florida, but he's not as far along as Bouknight. Lewis is averaging 6.0 points, 3.0 assists, and 2.3 boards in 22.4 minutes per game. He's 8-of-15 from the field and 2-of 4 from deep in three games.
The door is open for Bouknight to earn rotation minutes right away. And getting a pep talk from Michael Jordan — the guy who signs the checks — is a pretty good sign you figure prominently in the long-term plan.
Statistics courtesy of NBA.com.