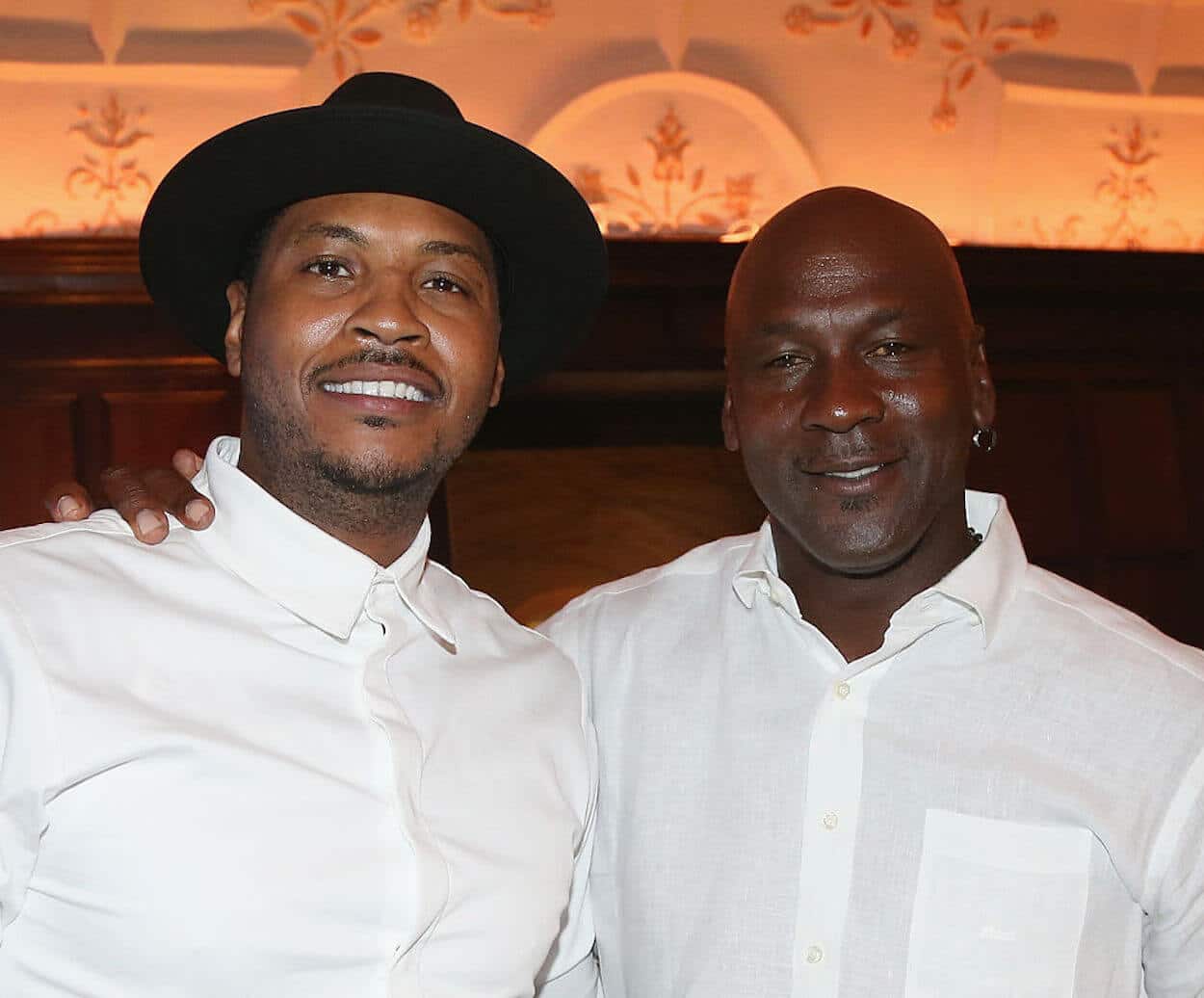 Michael Jordan Used Some Basic Math to Unlock Carmelo Anthony's Scoring Potential
Want to know the secret to scoring like Michael Jordan? Apparently doing a bit of division is a key part of the process.
At the risk of painting with an overly broad and not-entirely-accurate brush, you might think that NBA players would struggle with math. They make a living using their bodies, and, like it or not, the stereotype of a dumb jock does exist. Doing basic arithmetic, however, can be a valuable skill for those looking to take their offense to the next level. Allow Michael Jordan and Carmelo Anthony to explain.
Since he was a Jordan Brand athlete, Carmelo had the chance to spend some time with His Airness during the offseason. While the two did plenty of conditioning and film work — we'll talk about that in a bit — MJ also provided the Syracuse product with a quick lesson in basic math.
And that number-crunching, it seems, made all the difference to Anthony's offensive game.
Sound unbelievable? Let's check it out.
Michael Jordan gave Carmelo Anthony a lesson about the mental side of basketball offense
While it's easy to think of Michael Jordan as something of a jerk who would do whatever it took to win, he would share his knowledge with those who he felt were worthy of the insight. Kobe Bryant famously received much of that tutelage, but Carmelo Anthony also got to spend some time with the living legend.
"So, I went to Mike, I went to Mike early in my career," Anthony explained on the Million Dollarz Worth of Game podcast. "I was just green. But I knew how to go get it. And, for him to sign me at 19 years old, to represent his brand, I was the first signature athlete under the Jordan brand. … So, when I signed with him, I knew he had my back."
On the back of that relationship, Carmelo went to spend some time with His Airness during the offseason. The pair did plenty of work, both on the physical and mental side of the game, with a key lesson involving some basic math.
"He was, like, really taught me how to break down the art of really scoring the basketball," the then-Denver Nugget remembered. "And I'm like, 'Man, I already know to put the ball in, that's what I do.' He was like, 'Nah, I'm gonna give you the mental part of it. Listen.' He said, 'How much you want to average?' He said, 'You average about 28 right now.' I said, 'Yeah.' He said, 'Here's an easy way to go do it: Seven points a quarter.' Right? He said, 'Break down seven points in a quarter. That's two lay-ups, maybe a three. A lay-up, two free throws, a three. You might get hot one quarter. You might have 11, 12, 13 one quarter. Now, in the second quarter, you can pace. As long as you get your 14 in two quarters.'"
While that might seem like basic advice — it doesn't take an NBA legend to realize that scoring 28 points can be broken down into seven per quarter — looking at the game through that lens apparently made a difference for Melo.
"And I'm thinking about that in the games," Anthony explained. "And the next season, I average almost 30. But I'm thinking about what he's telling me. Like, I ain't have to go get it as much as I really want to go get it, as fast as I want to go get it. Just slow the game down, and that was probably the best advice that he ever gave me."
Jordan also helped Carmelo train and taught him about breaking down film, which also served him well
During their time together — Anthony said he spent a week and a half or two weeks with Jordan — the pair did more than basic division. And while Carmelo picked out the math lesson as the most significant piece of advice, their other efforts still sound worthwhile.
"I was having a hard time with, like, certain, certain, players in the game, certain situations in the game, knowing how, figuring out how to beat certain defenses," the Baltimore native explained. "And I went to MJ for that. … We trained every morning, 6:00 in the morning, 6:30 in the morning, but it was more the conversations that we had, the way he broke film down to me. Like I ain't know how to watch film. He broke it down to me. 'Watch it like this. Do this, do that. Why would you do it?' Questioning me."
Based on Melo's long and successful NBA career, it's safe to say that those lessons paid off. There's also something we can learn from Jordan, though.
Those quotes, even in hindsight, do provide a good reminder of what goes into life as a professional athlete. Talent does make a difference, but when you're playing at the highest level, everyone is incredibly gifted. At that point, the extra advantages — like knowing how to watch film or break down the game into smaller chunks — make all the difference.
Let's apply that framework to Michael Jordan as an obvious example. While it's easy to think that His Airness was simply better than everyone else, that robs the UNC product of his agency. He was an incredible player with natural athleticism, but he also worked incredibly hard and seized whatever mental advantage he could in pursuit of greatness.
During their time together, Carmelo Anthony learned some important lessons from Michael Jordan. By sharing them, he also shared an invaluable reminder with basketball fans. Talent is only one (admittedly large) piece of the NBA puzzle.