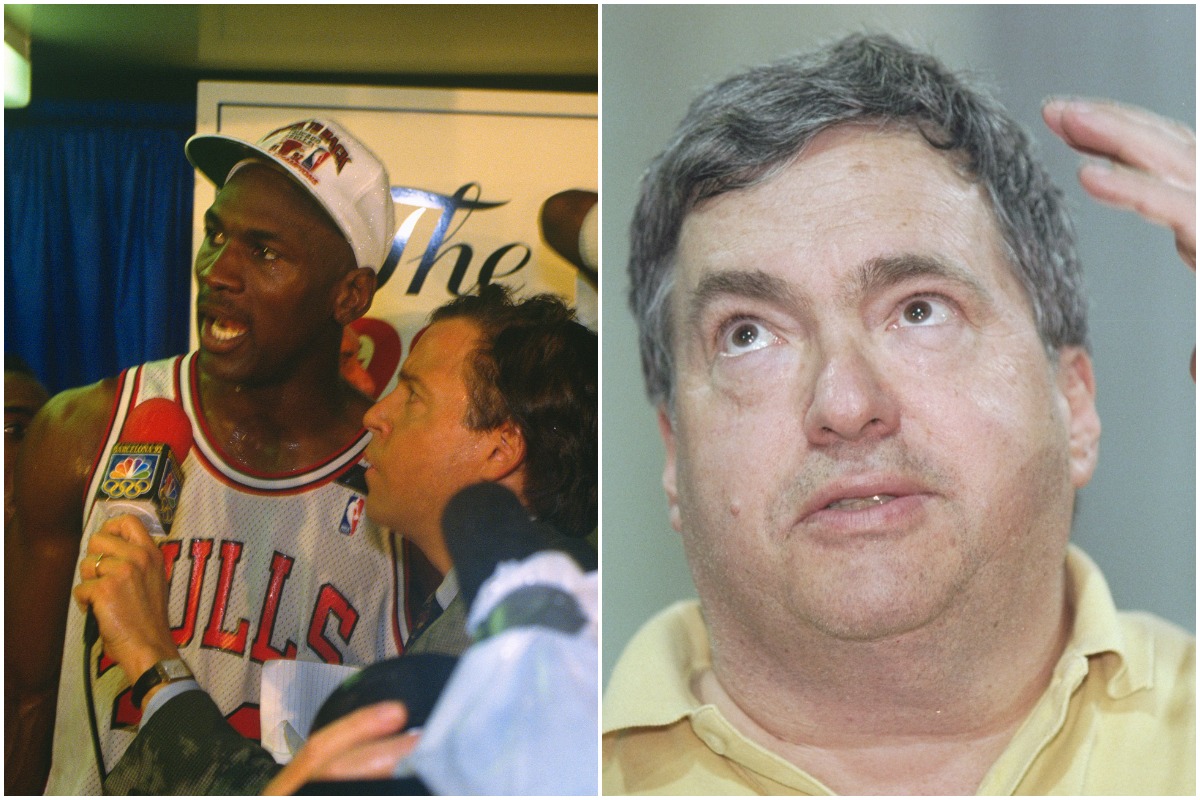 Michael Jordan Viciously Made Fun of Jerry Krause While Smoking a Cigar After the Bulls Won Their 2nd Straight Championship: 'You Can't Smoke It, It'll Stunt Your Growth'
If there are two things we learned from ESPN's The Last Dance docuseries, it's that Chicago Bulls icon Michael Jordan loves smoking cigars and hated general manager Jerry Krause.
If there are two things we learned from ESPN's The Last Dance docuseries, it's that Chicago Bulls icon Michael Jordan loves smoking cigars and hated general manager Jerry Krause. The six-time champion always seemed to be smoking a cigar in his downtime during his Bulls years and making fun of Krause.
Both of Jordan's "hobbies" were on display in 1992 after the Bulls defeated the Portland Trail Blazers in the Finals. As MJ celebrated his second title with a cigar in his mouth, he heard Krause ask him a question and made sure to poke fun at him for everyone to hear.
Michael Jordan made fun of Jerry Krause's height
The Bulls beat the Blazers in the 1992 Finals in six games. Jordan averaged 35.8 points, 4.8 rebounds, and 6.5 assists en route to winning his second consecutive Finals MVP.
Jordan smoked a cigar in the postgame locker room, and Krause asked his superstar if he could have one. His Airness went up to his GM and said, "You can't smoke it. It'll stunt your growth." This hilarious interaction was shown in Episode 5 of The Last Dance.
Krause was short in stature and got teased a lot by Jordan and Scottie Pippen, who weren't fond of their general manager for a number of reasons.
Why did Michael Jordan and Scottie Pippen not like Jerry Krause?
Jordan's relationship with Krause began to sour in 1985-86 when the shooting guard broke his foot. Krause and Jerry Reinsdorf put a minutes restriction on Black Jesus after he recovered from his injury and wouldn't let him go back into a game against the Indiana Pacers on the final possession since he had exceeded his time limit.
Meanwhile, Pippen had problems with Krause because the GM tried to trade him behind his back numerous times and never restructured his contract. During the 1997-98 season, Pippen yelled at Krause several times in front of the team on the bus.
Jordan and Pippen teamed up to embarrass Krause in 1992 by attacking Toni Kukoc in the Olympics. The Bulls superstars knew Krause loved Kukoc and wanted to make Chicago's architect look bad by exposing Kukoc in front of the world. Jordan did the same thing to Dan Majerle in the 1993 Finals. The five-time MVP was aware that his boss was a big fan of the swingman and made it a point to destroy Majerle because of Krause.
The main reason Jordan and Pippen disliked Krause is that he prematurely ended the Bulls' dynasty. Even though Captain Marvel made fun of Krause throughout his Bulls tenure, his level of disgust with him reached a boiling point in 1997-98.
GM said 1997-98 would be Phil Jackson's last year no matter what
Krause told reporters that the 1997-98 season would be Phil Jackson's last year in Chicago. The controversial exec informed the Zen Master in private that he would hire a new coach after the campaign even if the Bulls went 82-0 and won the championship.
Jordan and Pippen were enraged since they loved playing for Jackson. They knew they would probably be off the team after the season since their loyalty was with Jackson. That's how "The Last Dance" theme got created. During the Bulls' first official meeting as a team for the 1997-98 season, Jackson handed every player a handbook with "The Last Dance" laminated on the front page.
Krause was a massive distraction for the Bulls in 1997-98 since he was planning for the future. However, Jordan, Pippen, and Jackson stayed in the moment and led the Bulls to 62 wins and the championship over the Utah Jazz.
In the summer of 1998, Jordan and Jackson retired, and Krause traded Pippen to the Houston Rockets. When he was inducted into the Naismith Memorial Basketball Hall of Fame in 2009, Jordan said he had no idea why Krause was invited. The six-time Finals MVP clearly never got over how the two-time Executive of the Year acted during the '90s.