Michael Jordan Was 'Like Vampire' According to Reggie Miller
Reggie Miller came into the NBA as Michael Jordan established himself as one of the sport's greatest superstars. From his rookie season on, he watched as the promising young Chicago Bull became the biggest athlete in the history of professional sports.
While Miller was a star in his own right, he never was quite good enough to take on Jordan when the two teams met. However, the most intense games that they played might have happened on the set of a children's movie.
Michael Jordan and Reggie Miller take the court
While Jordan is defined by his rings, skills, relentless work ethic, and impact on the game at large, Miller was more of a specialist. He lacked in athleticism and dynamic skillsets but made up for one of the most outstanding jump shots in NBA history.
Miller had his success, leading the Pacers to the NBA Finals and becoming a perennial All-Star for most of his career.
Where the two most clicked, however, is in trash talk and competitive drive according to Clutch Points. Jordan and Miller are both known for their legendary trash talk and ability to get into their opponents' minds and make them suffer.
As the Bulls dominated the Eastern conference and formed a miniature rivalry with Miller's Pacers, the pair got heated during a 1993 game.
However, when Miller bumped into Jordan, the icon snapped and threw punches for one of the only fights of his career. However, as intense as that fight got, the best basketball the two played with one another wasn't there or with an All-Star team, but on the set of the hit film Space Jam.
Behind the scenes of 'Space Jam'
RELATED: Why Did Michael Jordan Pick David Thompson to Present Him Into the Hall of Fame?
Jordan spoke about the behind-the-scenes court that he had built to stay in shape while filming Space Jam during the wildly popular documentary The Last Dance.
Without a roster of NBA talent around outside of a few days of shooting, however, they had to call in others. Kris Johnson, a UCLA standout, was one of these people. He reminisced about the games in an interview with the LA Times.
"I thought, 'This is going to be a great summer,'" Johnson said of the experience. "There was just this vibe, this energy that you were someplace special. When the doors opened and the light went on, you'd look up because you didn't know whether it would be Will Smith or Bill Murray or Angela Bassett or Grant Hill or Patrick Ewing or Reggie Miller coming in."
However, when Miller was there, it made for some of the most exciting basketball that either ever saw as stars flew in to take on Jordan on the unofficial stage.
Reggie Miller on Michael Jordan being a 'vampire'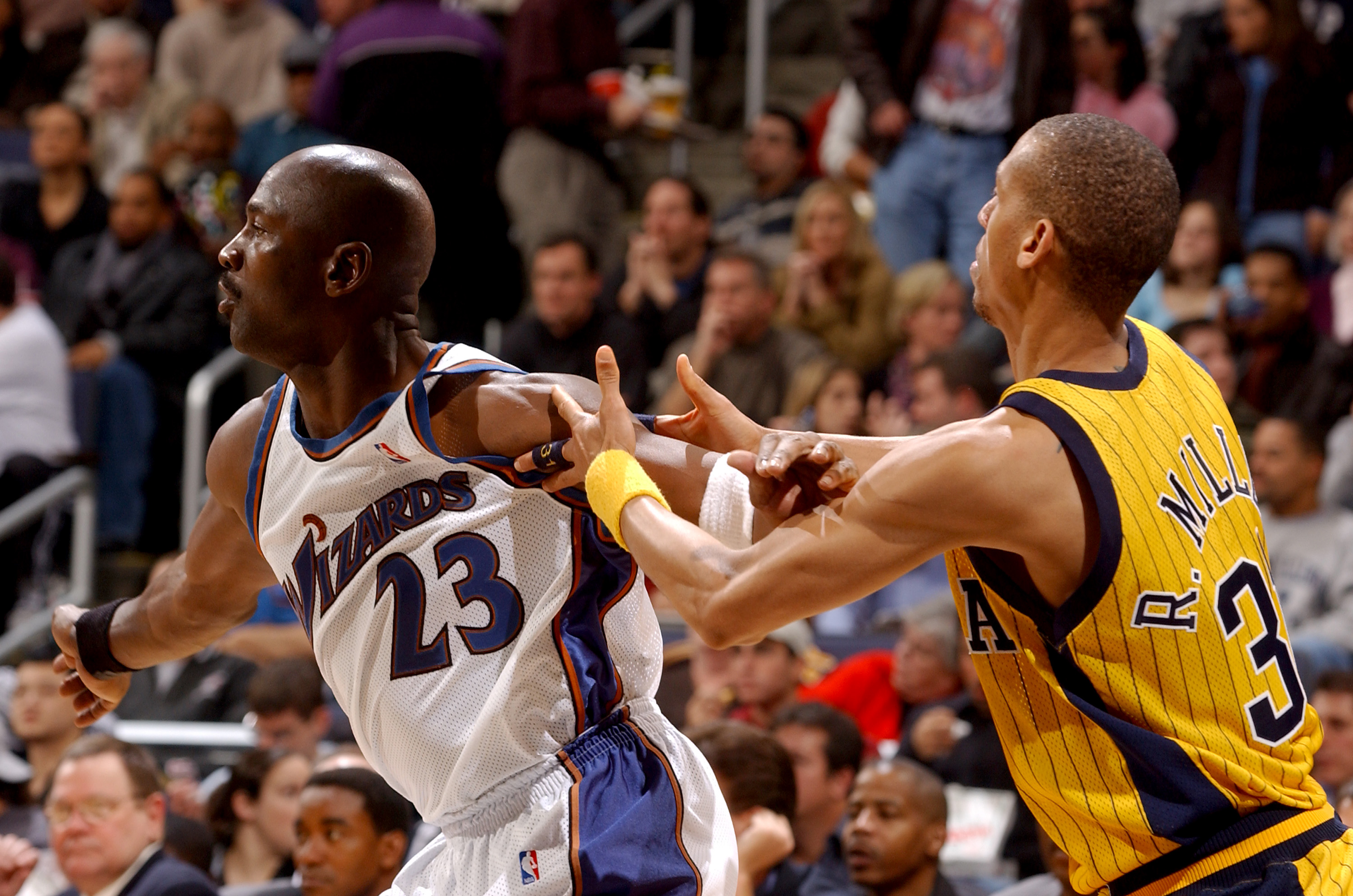 According to Miller, the games against Jordan were almost as good on the Space Jam set as they were on the NBA stage. Sometimes, the games looked less like pickup basketball and more like an NBA All-Star game.
"It was some of the best games," Miller said to the Indianapolis Star. "No officials. You're calling your own fouls, so it was a little more rugged and raw."
Combining NBA talent with playground competition, Miller says that Jordan found a way to remain just as competitive during these games, which often took place after long shooting schedules on a soundstage, as he did in any NBA court.
"I don't know how he did it. I don't know how he filmed all day and still had the energy to play for three hours," Miller said. "This dude was like a vampire, for real."
This might explain why Jordan was who he was. Regardless of what people thought about him during his playing days, he always had a switch that he could turn on, be it on a soundstage or in an arena.
While many have striven to be like Mike in the years since nobody else has done it like him, this is what makes the man they call His Royal Airness so unique.