Michael Jordan Was Wrong About Tiger Woods in the Best Way Possible
For a long time, the days of Tiger Woods pumping his fist after winning a major seemed to be over. His consistent struggles after years of injuries and a public fall from grace made his victory in last year's Masters all the sweeter. One person who lost faith in Woods' ability was Michael Jordan. Then, after Woods' Masters win, the NBA star turned around and gave his friend one of the highest compliments.
Failures and transgressions left Tiger Woods unraveled for years
Few athletes have ever experienced the deifying highs and humiliating lows of celebrity to the extent of Tiger Woods. At first, he was an unstoppable phenomenon racking up wins and money with ease. Woods was a sporting icon despite avoiding saying anything interesting or controversial for most of his career.
But everything changed as his personal life collapsed and his career followed. His father, Earl Woods, passed away in 2006, sending Tiger into an extended tailspin. (A piece by ESPN's Wright Thompson explored this period in detail.) Woods' life only got more tumultuous from there. His cheating scandal made him a pariah in the eyes of many and eventually ended his marriage.
As if the dissolution of his family wasn't stressful enough, Woods' body also began to fall apart. He suffered several injuries, mostly to his knees and back, that made him a shadow of his former self. At one point, reports Golf.com, he even dropped out of the top 1,000 in the world golf rankings. Considering everything, it was reasonable to think he might never win a major again.
Woods' Masters win culminated his redemption
Woods proved all of the skeptics wrong by winning last year's Masters. The only thing the media loves more than tearing a star down is to build them back up. Woods' struggles were so pronounced that the same people who chided him for sleeping with other women were now rooting for him to get his groove back.
Many in the golf community missed Tiger's dominance because of the attention and money only he could bring to the course. By the time he came out on top in the final round over Dustin Johnson, Brooks Koepka, and Xander Schauffele, Woods was the guy everyone was rooting for. 
The win made Woods, then 43 years old, the second oldest man to win the Masters after Jack Nicklaus, who was 46. 
Tigers Woods' comeback was so impressive Jordan complimented him in public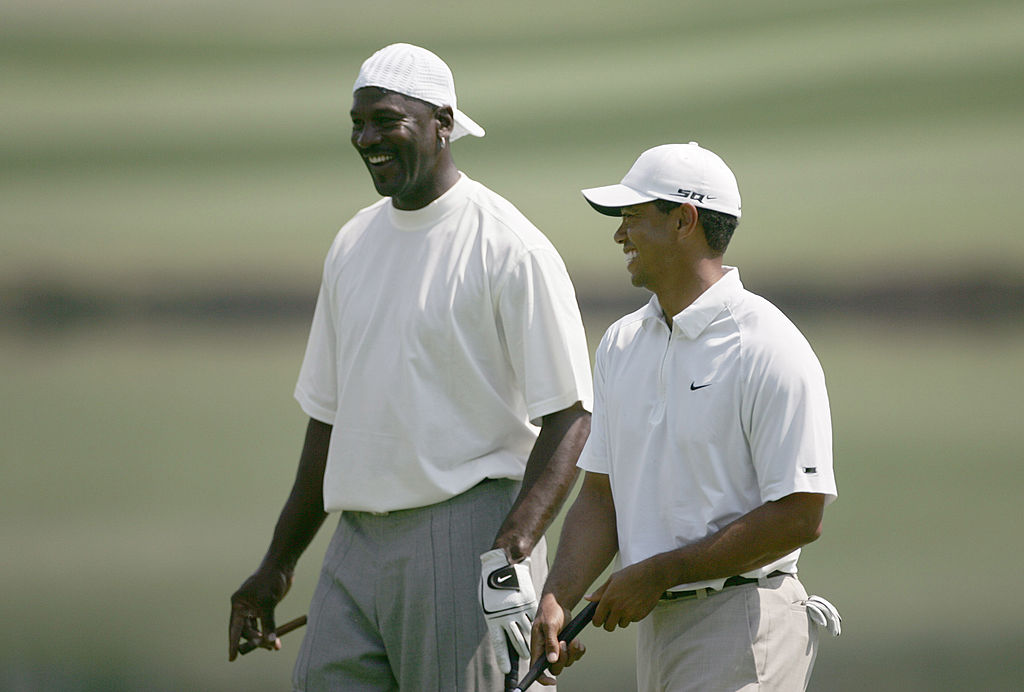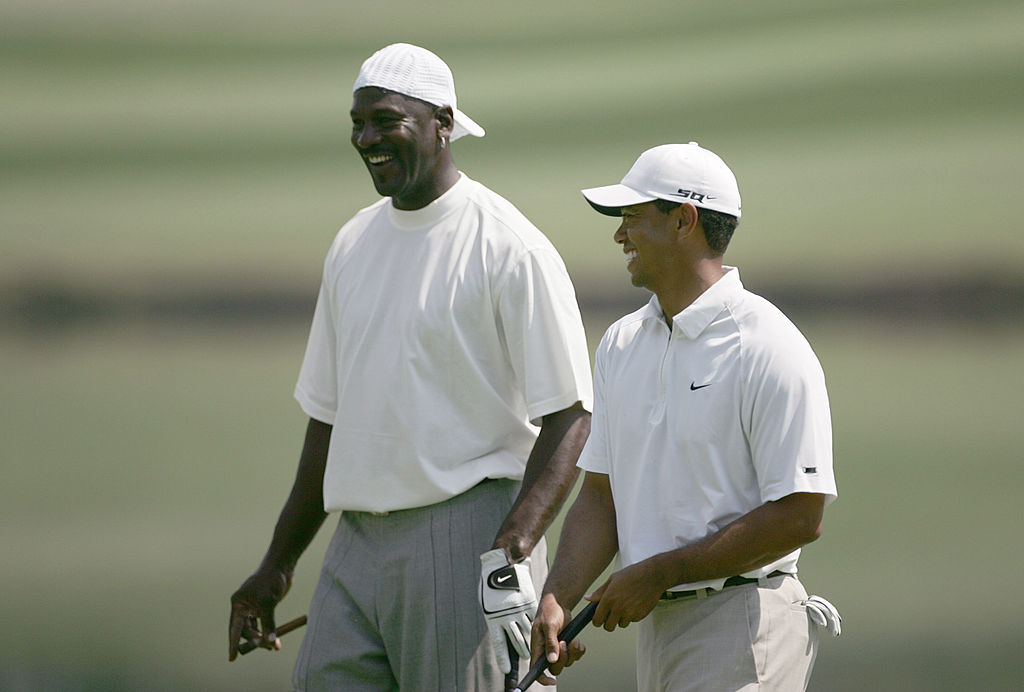 One of the people most shocked by Woods' resurgence was Michael Jordan. Their dual status as untouchable living legends brought the two together as friends. Although their relationship became strained after that fateful car crash in 2009. It's believed that this happened because Jordan went on record in that Wright Thompson feature to say he worried about the bleakness of his friend's future:
"I think he really wishes he could retire, but he doesn't know how to do it yet," Jordan said. "And I don't think he wants to leave it where it is right now. If he could win a major and walk away, he would, I think."

 "The thing is," Jordan says, "I love him so much that I can't tell him, 'You're not gonna be great again.'"
The two mended fences at some point. After Woods earned his fifth green jacket, Jordan did something he almost never does: praise the accomplishments of another. He explained to The Athletic why he thought Woods pulled off the greatest comeback he'd ever seen:
"I never thought he'd get back physically. He didn't think he'd get back physically. But he did it. No one expected him to be back the way he is now. He's probably the only person who believed he could get back. To me, that's a major accomplishment. To me, it's unbelievable. Mentally, you always think you can. But you can't answer to what your body has to deal with. … To me, it was the greatest comeback I've ever seen."
Tiger isn't the only player whose returned from injury to reach the top of their professions, but that doesn't make Woods' journey any less impressive.
His physical problems returned soon after winning the Masters, though he did manage to tie Sam Snead for the most career wins on the Tour (82). Whenever the major championships resume post-quarantine, Woods will still strike fear into the rest of the competition.