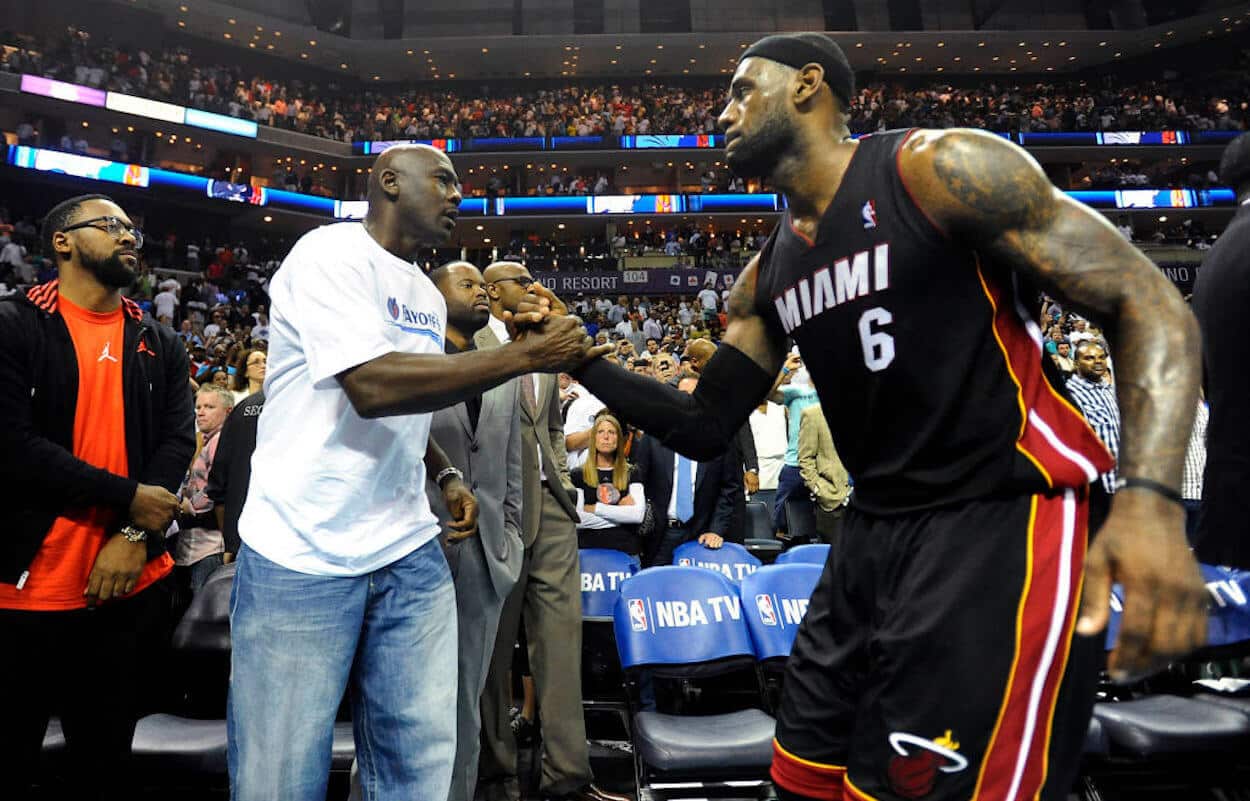 Michael Jordan Would Beat LeBron James in a Slap Fight, Says Dana White
While you've probably heard plenty of LeBron James vs. Michael Jordan debates, you've probably never considered this angle before.
If you've ever spent any time with a group of sports fans, you know that debate is inevitable. One of the most common arguments pits multiple players from different eras against each other in a battle for all-time greatness. NBA history offers plenty of legendary candidates, but in basketball circles, the GOAT debate usually features Michael Jordan and LeBron James.
As you might expect, those conversations usually focus on on-court achievements. MJ, of course, has six rings; King James has lifted multiple franchises to the NBA summit and possesses physical tools that His Airness could only dream of. Dana White, however, offered a new riff on Jordan vs. LeBron: slap fighting.
Yes, you heard that correctly. White was asked who'd win a hypothetical slap fight between the two basketball legends and, without missing a beat, threw his support behind MJ.
Let's break it down.
Michael Jordan is a serial winner, and Dana White thinks that would extend into Power Slap
While slap fighting is stretching the definition of a "combat sport," Power Slap is part of Dana White's business portfolio. And a key part of business success is promoting whatever product you're trying to sell. That reality at least partially explains how White found himself fielding questions about hypothetical slap-fighting showdowns.
In an interview clip on the Barstool Sports Youtube channel, the UFC president was asked for his quick reaction to some hypothetical slap fights. The first bout on this fantasy card featured two basketball legends: Michael Jordan and LeBron James.
While that question might give most people pause — you probably haven't considered the prospect of two NBA stars slapping each other before — White didn't miss a beat. He quickly threw his support behind His Airness, citing his legendary will to win.
Michael Jordan. Listen, I respect LeBron and what he's done and who he is as an athlete. Never in trouble. Always there for the games. Makes a big difference when he's on a team. You feel the difference when he's on a team. But Jordan my all-time, and I'm not even, I'm a Celtics guy my whole life. But Jordan's a f***ing killer. Jordan is a killer.

Dana White
And there you have it, straight from a man who (theoretically) knows a thing or two about fights.
In this case, though, LeBron probably has two major advantages over Jordan
Under most circumstances, picking Michael Jordan to win a hypothetical competition is a safe choice. When it comes to slap fighting, though, LeBron James would probably be the favorite for two key reasons.
First is age. While His Airness keeps himself in good shape and still possesses his famous inner fire, time waits for no man. Jordan is roughly 12 years older than King James; at this point in their respective lives, that is going to put the more senior man at a disadvantage in physical competition.
But what if this is a hypothetical, pitting the two legends against each other in their prime? When we argue about basketball greatness, someone like Kareem Abdul-Jabbar isn't omitted from the debate because of his age. Even in that case, MJ's will to win would be dwarfed by LeBron's physical tools.
During his playing career, Jordan clocked in at 6-foot-6 and 198 pounds. That isn't small by any means, but it's overshadowed by James' 6-foot-9, 250-pound frame. While that difference may be manageable on the basketball court, there's less wiggle room in a slap flight. It's not like His Airness can stick and move; he has to stand there and take the hit from someone bigger and stronger than himself.
So, with all of that being said, who are you taking in this (hypothetical) showdown between basketball GOATs? Do you like Michael Jordan's sheer will to win? Or LeBron James' size and strength?
Let us know in the comments below.