Michael Jordan Made a Young Star Pay After the Player Impressively Schooled Him Following His 1st NBA Retirement
Michael Jordan took many things personally throughout his entire legendary career with the Chicago Bulls. He would often try and use anything he could to give himself an edge, and it almost always worked.
Following his first retirement, though, Jordan didn't have to search very far for extra motivation, as a rookie ultimately outdueled him during a game. But MJ, of course, didn't let that player get the last laugh, as the GOAT eventually got his revenge the next time the two faced off.
That rookie was Glenn Robinson.
Glenn Robinson was an NBA rookie in 1994-95
During the time he was entering the NBA, Glenn "Big Dog" Robinson was an absolute superstar. He averaged 24.1 points in 1992-93 at Purdue and was even more dominant in 1993-94, averaging 30.3 points and 10.1 rebounds. He also won the AP Player of the Year award in that second season.
Robinson's play in college helped him become the No. 1 pick in the 1994 NBA Draft with the Milwaukee Bucks, and he had a nice rookie season. The star small forward averaged 21.9 points and 6.4 rebounds that year.
He also had some big performances against the Bulls, as Michael Jordan was retired for most of that 1994-95 campaign, choosing to play professional baseball instead. Big Dog scored 18 and then 24 in his first two games against Chicago — winning both — and then improved to 3-0 against the Bulls with a 26-point performance. He lost in the next matchup, though, and only scored 16.
However, for the fifth and final Bucks-Bulls game of that season, Jordan was back on the court in Chicago.
Glenn Robinson outplayed Michael Jordan in their first meeting against each other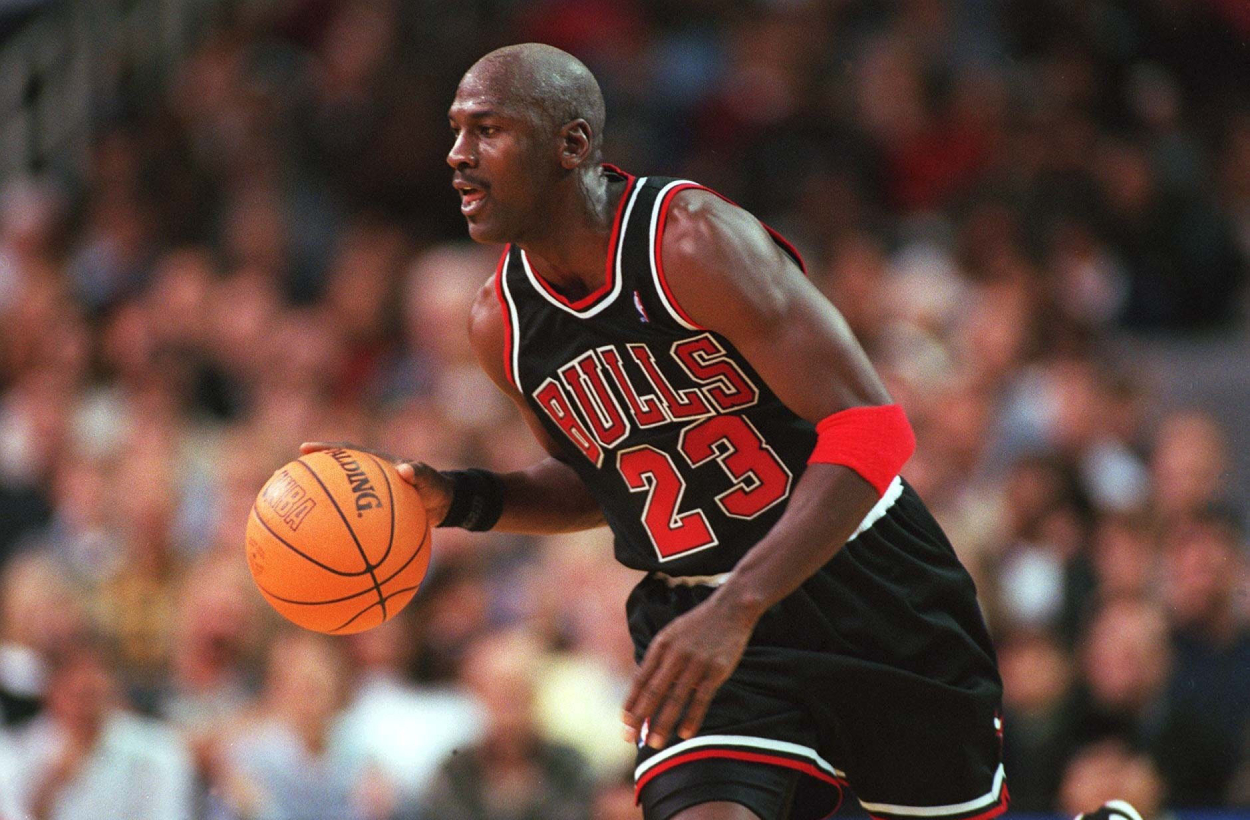 During the final game of the 1994-95 season, Michael Jordan's 17th contest of the year, the Bulls faced the Bucks, and despite MJ being back, Robinson still went off.
The former Purdue star scored 36 points on 13-of-25 shooting and pulled down eight rebounds, while Jordan had 33 on 11-of-29 shooting. The Bucks ultimately won 104-100.
"I had saw all the superstars," Robinson said on the July 27 episode of The Players' Tribune's Knuckleheads with Quentin Richardson and Darius Miles podcast. "I saw Hakeem Olajuwon. I saw Shaq, Penny, them doing their thing. I saw Barkley, David Robinson; you name it. … I felt like I saw everybody, so I was like, 'I'm finna bust their ass.' I played well."
Robinson's performance was so big it made headlines the next day. But, in the end, it appears that wasn't necessarily a good thing.
"It was a big article in the paper: 'Big Dog, the rookie, he outscored Mike,' this and that," he said. "Fellas, it was like he read that s—."
We don't know whether Jordan read that article or not, or whether he actually took that game personally, but it sure seems like he did. MJ ultimately balled during the next Bucks-Bulls meeting.
Michael Jordan got his revenge with the Bulls
The Bulls came up short in the playoffs in 1994-95, losing to the Orlando Magic in the Eastern Conference semifinals. But Milwaukee didn't even make the postseason, so Jordan had to wait until the next year to get his revenge.
And he did just that.
In December 1995, more than seven months after getting outdueled by Robinson and the Bucks, Jordan and the Bulls went off. Robinson still scored 39 points, but Chicago won 118-106, and Jordan dropped 45 on 16-of-28 shooting.
Robinson wasn't the only player Jordan punished that year, either. The entire league felt his wrath, as MJ eventually won MVP and led Chicago to a 72-10 record. The Bulls also won their first of three straight titles. It was an iconic season for Jordan and the Bulls' legacy.
All in all, Glenn Robinson was certainly a talented player and had a lot of success against Chicago. But a (likely) vengeful Michael Jordan was unstoppable; Robinson just learned that the hard way.
Stats courtesy of Sports Reference and Basketball Reference