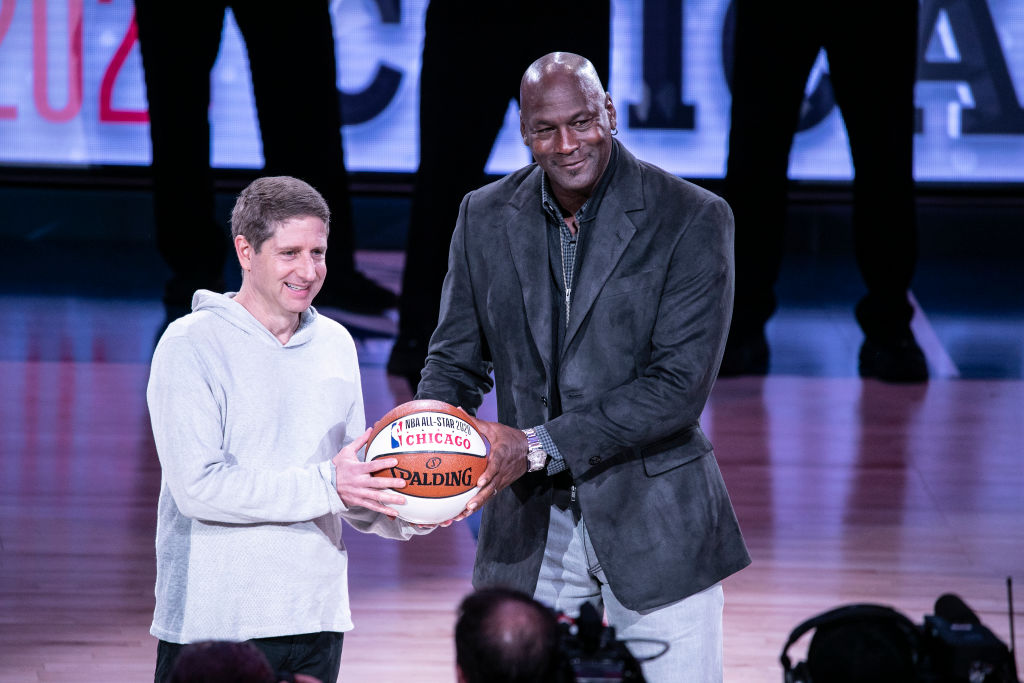 Michael Jordan's $4 Million 'The Last Dance' Donation Is Just 0.19% of His Massive Net Worth
Michael Jordan will donate all proceeds from 'The Last Dance' to charity. His $2.1 billion empire can more than handle it.
For Michael Jordan, money will never be a problem. That's what happens when you capitalize on a legendary NBA career to become a multi-billionaire. The larger-than-life icon has still managed to build an impressive empire despite well-documented gambling issues. Most recently, Jordan has been prominently featured in ESPN's The Last Dance, which chronicles the Chicago Bulls' last championship run over the course of 10 episodes.
As one of the richest athletes in the world, Michael Jordan has never been shy about sharing his wealth. He's devoted millions to charitable causes throughout the years. The NBA icon will continue that trend by donating 100 percent of his estimated $4 million proceeds from The Last Dance. Most people couldn't dream of making that amount, let alone giving it away. But for Jordan, $4 million isn't even a drop in the bucket; it's a drop in a $2.1 billion ocean.
Michael Jordan's $2.1 billion empire
If there's anything Michael Jordan excelled at more than basketball, it's business. Sure, he made about $90 million in his storied NBA career. That figure included $63 million in his final two seasons with the Bulls, which far outranked sidekick Scottie Pippen. But for Jordan, his NBA earnings pale in comparison to his various investments that have made him incredibly wealthy off the court.
While his divorce cost him $168 million, that represented just a fraction of Jordan's incredible empire. From his lucrative deal with Nike to his significant ownership stake in the Charlotte Hornets, the main figure from The Last Dance certainly has cashed in on his basketball prowess. The uber-competitive Bulls legend has even gone to great lengths to protect his net worth by defeating opponents in the court of law. Just like on the basketball court, no one can stand in the way of Michael Jordan and his money.
The Last Dance gives incredible insight into the Chicago Bulls
Though he ended his career with the Washington Wizards, Jordan established his status as The GOAT with the Bulls. As the alpha male on a team full of big personalities, the 14-time All-Star led Chicago to six NBA championships. The Bulls achieved their first three-peat before Jordan abruptly retired to play baseball. He ultimately gave up his dreams on the diamond and returned to the Bulls in short order. After two more title runs, Chicago entered the 1997-98 season ready to go out on top as the team prepared for a major facelift.
That famous season has been the subject of The Last Dance series. The 10-episode saga has provided some incredible insight into the biggest members of the Bulls. From Scottie Pippen's rise from a small-school star to an underpaid NBA legend to his feuds with Jerry Krause, there's been no shortage of earth-shattering moments. Of course, the documentary series has also touched on Dennis Rodman and his interesting life on and off the court. As the principal figure in the series, Michael Jordan's life has been on full display, including his family life, college career and early days in the NBA.
Jordan pledged to donate all proceeds from the hit series
So far, The Last Dance has been a smashing success so. For viewers, getting such an in-depth look at the Bulls' final title run has been eye-opening. And with a star-studded cast of Jordan, Pippen and Rodman, there's certainly been no shortage of revealing stories. From a financial standpoint, the series carries huge upside. According to Forbes, Jordan's share of the proceeds could max out at $4 million. However, the multi-billionaire won't take a single penny. Instead, he will donate all of that to charity. According to Robyn Merrett of People.com, MJ already has a plan of how to distribute the massive proceeds.
A rep for Jordan tells PEOPLE, "Michael has already committed to donating to Friends of the Children, a national non-profit that provides vulnerable children, ages 4-6, with professional mentors who stay with them from kindergarten through graduation, and we are vetting additional Coronavirus-related causes."

While Michael Jordan's multi-million dollar donation will make a significant charitable impact, it's not like he's losing out by giving away his proceeds from The Last Dance. That $4 million figure represents a paltry 0.19 percent of his $2.1 billion net worth.