Michael Jordan's Biggest Fans Can Blame Cable News for His Time With the Washington Wizards
Even the most loyal Washington Wizards fans might have buired Michael Jordan's time there into a dark and forgotten part of their brains.
Jordan, who won six NBA titles with the Chicago Bulls, returned to the league in the fall of 2001 and played two seasons for the Wizards. Although his tenure went better than fans want to admit, it's universally accepted that Jordan and the Wizards didn't work out.
So who is to blame for Jordan's two seasons in Washington? No, you're not alone in hearing CNN's music play.
Cable news may have brought Michael Jordan to the Wizards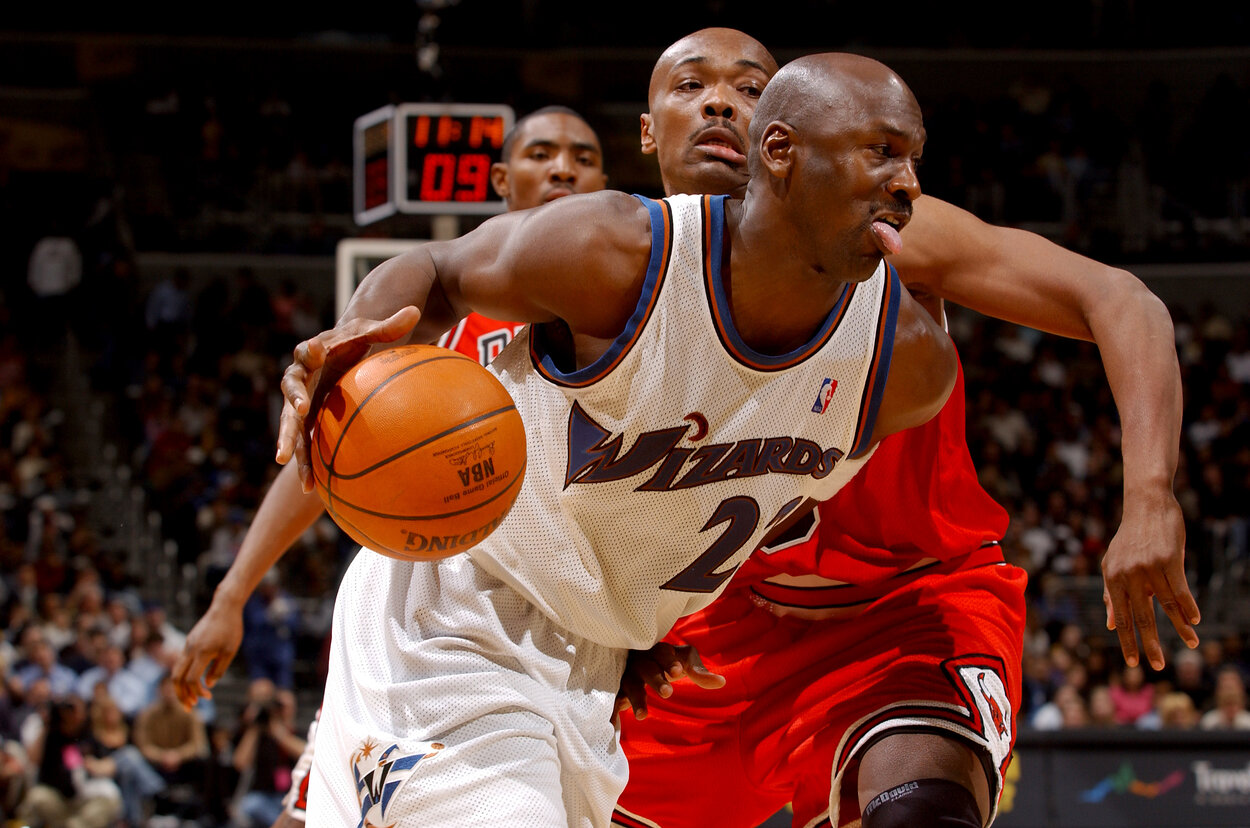 RELATED: Michael Jordan Revealed What 'Drives Me Nuts' About His Time With the Wizards
Basketball fans who already had an issue with longtime CNN host Wolf Blitzer, get ready to add another strike to your list.
In a 2011 interview with The Washington Post, Blitzer admitted that he might have had a role in Michael Jordan's return to the NBA. Blitzer recalled a conversation he had with Jordan at the 2001 NBA All-Star Game in Washington, D.C.
"At one point, I said to [Jordan], 'This city would really explode if you put your uniform back on and started playing a little bit.' And he laughed. Then I pressed him and pressed him. After the interview, he did it. Now being the egomaniac that I am, I take personal credit. But I suspect there were other factors besides my excellent questioning that convinced him to come back and play."
Jordan returned to the NBA later that year, but there were other reasons at play. The six-time champion donated his entire salary — $1 million in total — to victims of the September 11 attacks.
Still, it's fun to imagine that Wolf Blitzer, of all people, set the wheels in motion for Jordan to end his retirement.
Jordan played far better in Washington than fans will admit
RELATED: Michael Jordan Isn't Afraid To Admit the Biggest Mistake He Made on the Washington Wizards
Michael Jordan was in his late 30s for most of his time with the Wizards and still played at a relatively high level.
Jordan averaged 21.2 points, 5.9 rebounds, 4.4 assists, and 1.5 steals in 142 games and 120 starts across two seasons in Washington. The six-time NBA champion made 43.1% of his shots, much lower than his career 50.5 shooting percentage in 13 seasons with the Bulls.
Jordan wasn't the MVP-caliber player that he was in Chicago, but no one should have expected him to be. Legendary athletes like Derek Jeter and Peyton Manning watched their bodies break down in their final years.
But there was Jordan, scoring 51 points against Baron Davis and the Hornets or showing up on SportsCenter highlights.
Michael Jordan stayed retired after he left the Wizards
RELATED: Michael Jordan Battled an Awful Injury With the Washington Wizards: 'His Knee Would Swell Up Like the Elephant Man'
When Michael Jordan played his final NBA game in the spring of 2003, he was a 40-year-old man ready to call it quits.
Jordan scored 15 points, grabbed four rebounds, and dished four assists in a 20-point loss to Allen Iverson and the 76ers on April 16, 2003. That was it for Jordan, who hung up his sneakers for good.
Michael Jordan turned 58 earlier this year, but one has to wonder how he'd fare in an NBA game today. Nat Hickey, who played one game at 45 years and 363 days during the 1947-48 season, remains the oldest player in NBA history.
Could Jordan, even as he approaches 60, one day come in and pass Hickey? It seems unlikely, even for Jordan.
Like Sportscasting on Facebook. Follow us on Twitter @sportscasting19.