Michael Jordan's Surprising Connection to 'Real Housewives of Potomac'
When The Last Dance documentary aired on ESPN and Netflix, fans excitedly watched Michael Jordan make petty jabs in all 10 episodes. Some compared his remarks to cast members of The Real Housewives. In fact, Jordan has ties to several members of the Bravo franchises. Just like the housewives gossip about their fellow castmates, Jordan was quick to serve up the tea about his former rivals.
The Real Housewives of … Chicago?
While The Last Dance served up many emotional moments, Jordan's behavior regarding his NBA rivals was water-cooler fodder the most. His intense drive and ability to just squash anyone who challenged him — ahem, Gary Payton and B.J. Armstrong — show sides of the star that the public never fully understood before.
In fact, his outlandish behavior and meme-able moments are reminiscent of other bickering rivals: the Bravo network's housewives. Known for their dramatic confessionals and backstabbing ways, The Real Housewives franchise might want to look out for a new diva on the block: Michael Jordan.
E! Online was quick to point out how Jordan emulates former housewives' taglines. While the documentary had its moments of pettiness and insult-slinging, it was also an eye-opening and emotional look into basketball's greatest player.
Michael Jordan's ties to 'The Real Housewives'
One of Jordan's former teammates, Juan Dixon, has ties to The Real Housewives of Potomac (RHOP). Dixon's ex-wife and now fiancé, Robyn Dixon, is a cast member of RHOP since its premiere in 2016. Juan is prominently featured in the series, with storylines about his college coaching career and speculation about when and if he'll propose to Robyn. 
Juan played with Jordan during his time as a Washington Wizard. The 2002-03 season was Juan's first season with the team and Jordan's final one before retiring in April 2003. Reddit users even found a photo of Jordan slapping Dixon's backside; a nod to some of the drama playing out on RHOP between husband Michael Darby and members of the production team. 
But Dixon isn't the only Housewives tie. In 2012, Jordan listed his suburban Highland Park mansion for sale. Initially marked for $29 million, the house failed to sell. After numerous price drops, the listing was given to Mauricio Umansky, owner of LA-based The Agency. Fans of The Real Housewives of Beverly Hills recognize Umansky as cast member Kyle Richards' husband. Umansky told TMZ he had a bit of "a secret sauce" to get the house to sell, but it never did.   
Jordan's connection to Juan Dixon of 'The Real Housewives of Potomac'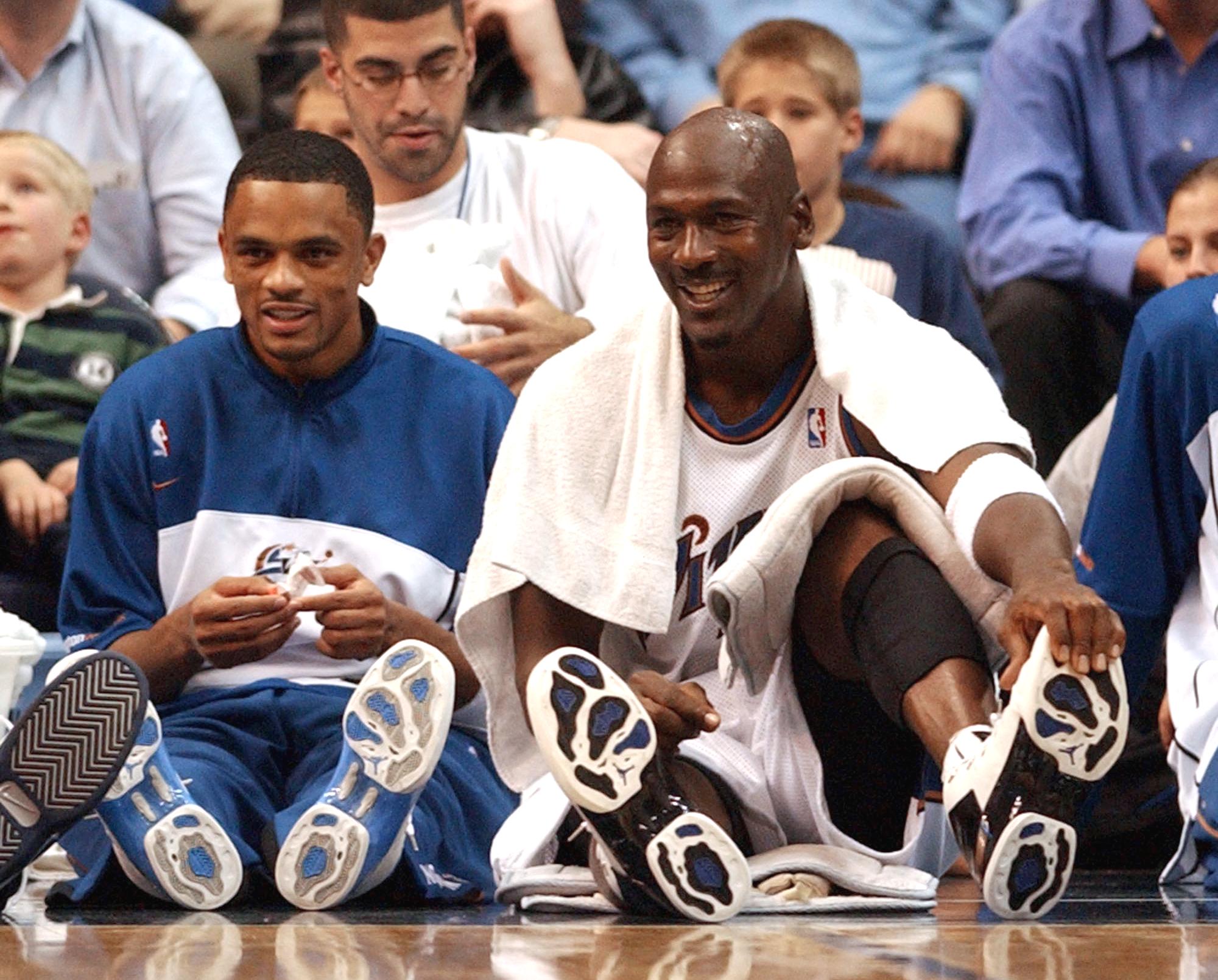 Before becoming a Wizard and playing with one of the NBA GOAT, Juan Dixon was a legend in his own right at the University of Maryland. He's the school's all-time leading scorer and led the team to their first-ever National Championship in 2002. While he eventually got to play with Jordan, he told ESPN that growing up, Jordan was one of his idols. 
Juan had a seven-year career in the NBA but it never matched up to the success he had as a Terrapin. According to The Baltimore Sun, after leaving the NBA, he played professionally in Europe before getting suspended for steroid use. For the next few years, Juan struggled to get himself together before returning to Maryland, this time as part of the coaching staff.
Over the next few years, he worked as a special assistant for the Terrapins basketball team and eventually got a head coaching job at the University of the District of Columbia. Today, Juan is the head coach at Coppin State, a happy return to Division I basketball.