Michael Jordan's Most Successful Business Venture Changed His Life Forever
Michael Jordan is one of the richest athletes in the world. He hasn't played professional basketball in decades but still continues to make outrageous amounts of money on business ventures and endorsement deals. His estimated net worth is $1.9 billion. Out of all the business deals Jordan has been a part of, one stands out from the rest as the most important of his life.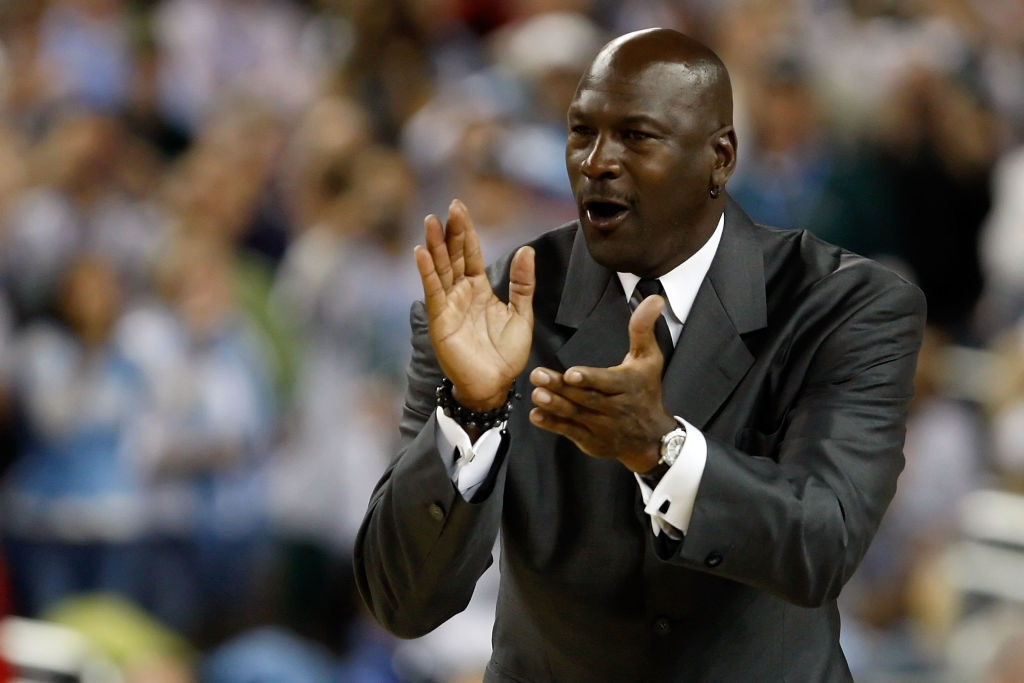 "It's gotta be the shoes"
In 1984, when Michael Jordan was a rookie and just starting to get a nose for business, he signed an endorsement deal with Nike for $250,000 a year.
Today, he has an estimated annual earning with Nike of $130 million. The Jordan Brand signature line sells more shoes and apparel than any other NBA player. These sales bring in more than $3 billion in annual revenue for the footwear giant. Not a bad steady stream of income for Jordan.
"Be Like Mike"
In 1991, Gatorade aired one of the most memorable commercials of all time, "Be Like Mike." Quaker Oats owned Gatorade at the time and offered Jordan a 10-year deal worth $13.5 million.
Jordan became the sole endorser of the sports drink. After the commercial aired, fans from around the world took to the courts to perfect their slam dunk in hopes of becoming like Mike.
In fact, NBA great, Allen Iverson, even paid homage to Jordan in his Hall of Fame speech, saying "Man, I wanted to be like Mike." Jordan renewed his contract with Gatorade, which is still in effect today, for an estimated $18 million.
Michael Jordan's business and various endorsement deals
Jordan has endorsed a lot of products over the years, but since retiring as a player he has cut back quite a bit. Jordan still works with Hanes, who he has been with for the past 30 years, earning over $14 million for promoting underwear.
Jordan has maintained a lucrative deal with Upper Deck valued at $13 million from the sports trading card company. He also has various business ventures involving car dealerships, restaurants, and other businesses. His newest venture is with Cincoro Tequila.
By the year 2020, Jordan's net worth will likely surpass $2 billion, making him eligible for the Forbes 400 List, which recognizes America's 400 richest people.
The Hornets: Michael Jordan's most successful business
Michael Jordan returned to basketball in 2010 as an owner instead of a player. He purchased the Charlotte Hornets NBA team for $175 million. The transaction included operating rights to the Spectrum Center, the arena where the team plays.
In four short years, under his leadership, the value of the franchise rose significantly. Jordan is the only NBA player that has held a controlling interest in an NBA team. He owns 97% of the equity in the Hornets franchise, which is now valued at more than $1.5 billion.
According to Forbes, the valuation of the franchise has increased by 757% since Jordan took over. With numbers like this, there is no doubt that the purchase of the Hornets has been Jordan's most successful business venture to date. It's been the most significant factor in him becoming a billionaire.
Why did Michael Jordan sell a stake in the Hornets?
In September of 2019, Jordan sold a small interest in the club to New York investors, Daniel Sundheim and Gabe Plotkin, for an undisclosed amount. Both investors manage hedge funds valued close to $4 million, but neither has previous basketball ownership experience.
They are considered partners of Hornets Sports and Entertainment and the NBA has approved the deal, which is effective immediately. Jordan retains the controlling interest of the team, with no interest in giving it up. He will continue to be the NBA governor for the Hornets. All team-related decisions will still be handled by Jordan on behalf of the organization.
An official statement released by the Hornets said the franchise is dedicated to adding new technology and modernizing the team so they can compete with the best clubs in the NBA. This means the Hornets are looking forward as the game of basketball evolves onto newly televised platforms. The official statement goes on to say that "Gabe and Dan's investment in the franchise is invaluable."