Michael Jordan's Popularity Still Couldn't Stop a White Sox Teammate From a Run-In With the Law
Chicago White Sox fans have enough reason to forget about Michael Jordan when the team's current future is so bright on the South Side.
It has been nearly 30 years since Jordan, the Chicago Bulls legend, spent a season playing minor-league baseball for the White Sox. To understand how long ago that was, current White Sox starting first baseman Jose Abreu, the reigning AL MVP, was seven years old in 1994 when Jordan traded his sneakers for cleats.
Jordan was the hot attraction when he started playing baseball, enough to where one of his teammates used the NBA champion's name during an encounter with police.
Michael Jordan spent the 1994 season playing baseball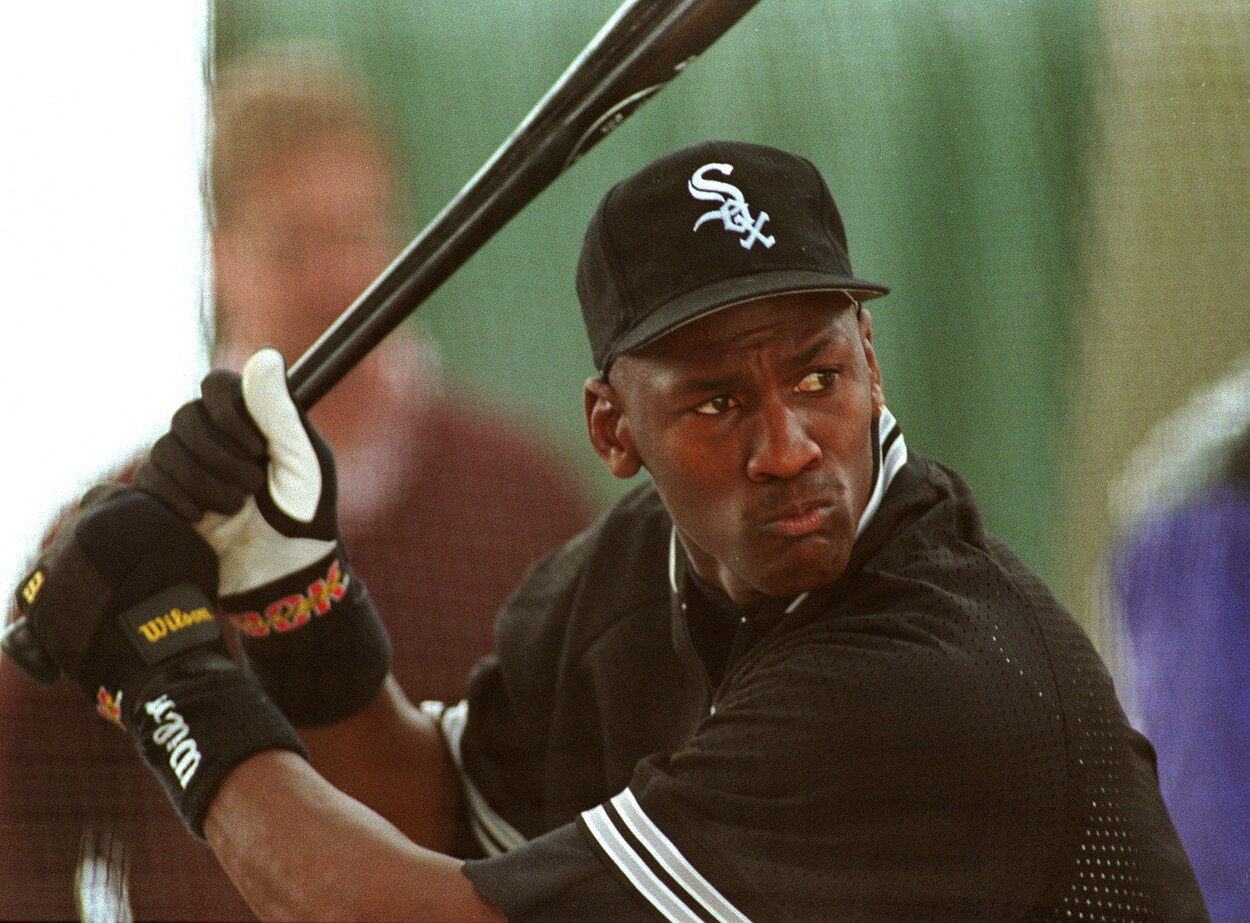 RELATED: Michael Jordan Hit so Much That His Hands Would Bleed
Much like his time with the Washington Wizards, Michael Jordan had a far better baseball career than many want to admit.
Jordan hit .202 with three home runs, 51 RBIs, and stole 30 bases in 48 tries for the Birmingham Barons, a Double-A team, in 1994. Remember, Double-A is the third-highest level of baseball — only trailing the majors and Triple-A — and Jordan, who played that year at age 31, didn't start off in rookie ball or a lower affiliate.
Jordan originally intended to continue playing baseball in 1995. However, the ongoing strike — and the possibility of Jordan making the majors as a replacement player — opened the door for Jordan to return to the Bulls.
That decision paid off. Although Chicago lost in the 1995 NBA playoffs, the Bulls won each of the next three NBA Finals.
His teammate, Mike Bertotti, used Jordan's name with the police
RELATED: The Craziest Michael Jordan Conspiracy Theory That Just Won't Die
Mike Bertotti thought Michael Jordan could save him before the two even met.
In a 2020 interview with CBS Sports, Bertotti — a minor-league pitcher who later reached the majors — recalled a North Carolina police officer pulling him over during the 1994 season. Bertotti was making the overnight drive to meet up with Jordan and the Birmingham Barons.
When an officer pulled Bertotti over, the left-handed pitcher already had an idea on how to get out of trouble.
"I said, 'Listen, sir, I apologize that I'm going a little fast. I gotta report to the Birmingham Barons baseball team, I just got promoted.' I even showed him my White Sox equipment bag in my backseat. I said, 'I'm going to play with Michael Jordan. Obviously you know Michael Jordan.'"
Unfortunately for Bertotti, the officer still chose to write him a speeding ticket. Bertotti told CBS that he still wasn't sure if the officer believed him about playing with Jordan.
Michael Jordan left a favorable impression with his teammates
RELATED: Michael Jordan's 27-Year Dispute With Sports Illustrated Began With 3 Words
Nearly 30 years after Michael Jordan's time playing baseball, his former teammates had plenty of positive things to say regarding His Airness.
Barry Johnson, a relief pitcher who spent the 1994 season with Jordan, told CBS Sports that the basketball legend showed an impressive work ethic in the minors.
"I'm sitting here thinking, from a dollars and cents standpoint, this guy does not need to work this hard."
Mike Bertotti pitched in 10 games for Jordan and the Barons during the 1994 season. Bertotti agreed with Johnson's assessment of Jordan's work habits and attitude.
"When I tell you he was there early every day, he was there early every day," Bertotti said.
Like Sportscasting on Facebook. Follow us on Twitter @sportscasting19.