Michael Jordan's 'Space Jam' Wouldn't Have Happened Without a Super Bowl Commercial
A small but important part of Michael Jordan's legacy is the movie Space Jam. His adventures with Bugs Bunny and the Monstars left an indelible mark on the minds of kids who enjoyed the film when it was first released. Nostalgia for the movie is so strong that a remake starring LeBron James is on the way. The first movie was a massive success, but it would not have happened if not for a commercial aired during America's biggest sporting event.

'Space Jam' gives Michael Jordan a new type of stardom
'The best basketball player ever teams up with decades-old cartoon characters to defeat a team of evil aliens and save other NBA stars' does not sound like a synopsis of a film that made $230 million, but that is what Space Jam is about, and that's how much it grossed in the worldwide box office. Its soundtrack also was six-times platinum.

As fantastical as the plot to the Joe Pytka picture is, Space Jam is fondly remembered by most 1990s children who saw it as kids. The novelty of the entire enterprise — Jordan teaming up with Bugs Bunny; real human beings acting alongside animated creatures — was new at the time, and it also introduced a new generation of people to the consistently entertaining Bill Murray. It also softened Jordan's public image, which is impressive considering how cutthroat and competitive he was during his career.

The movie wouldn't have happened without some help from Nike
And yet, Space Jam wouldn't have happened if not for a certain commercial that aired during a Super Bowl. In 1992, Nike aired an ad for the latest edition of Air Jordan shoes hitting the market that paired His Airness with the Looney Toons' star for the first time. In the commercial, an annoyed Bugs Bunny is awoken from his slumber by some loud ballers and decides to shut them up by lacing up his "Hare Jordans" and taking them to school alongside Jordan. It's as weird as you think it is.

The ad, created by Jim Riswold, became hugely popular, to the point that a second commercial in the same mold was released in 1993. But Jordan's agent, David Falk, had the vision to see that this combination could go even farther. And the rest is history.

In 2021, Space Jam will return to the big screen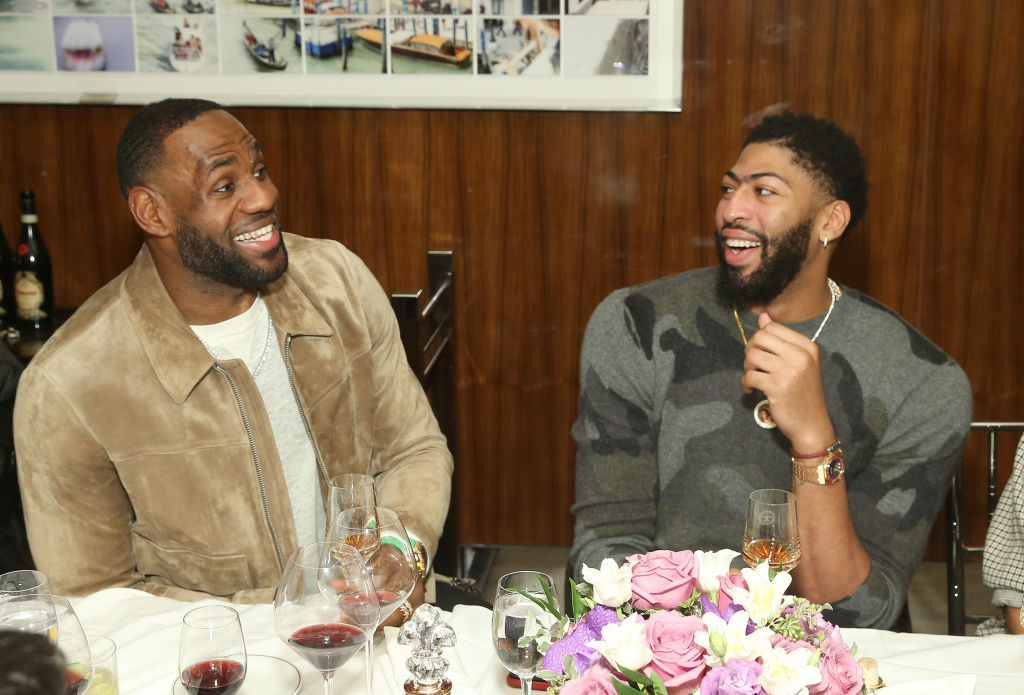 Despite the movie's success, attempts to make a second Space Jam proved to be for naught. A sequel was all set to go in 1997, centered around a new basketball tournament between the Looney Tunes and a new villain named Berserk-O!, but Michael Jordan didn't want to star in it, so the movie was canceled. There were discussions about spin-offs starring big names from other sports — Jackie Chan, Jeff Gordon, Tiger Woods, and Tony Hawk — but those talks never went anywhere.

But appreciation for the movie never went away, which meant that it was only a matter of time before Warner Bros. gave it another shot. In 2014, it was announced that development had begun yet again on a sequel, with the biggest star available on board to be the star: LeBron James. James had displayed some acting chops in the movie Trainwreck, standing credibly alongside Amy Schumer and Bill Hader as a more comical version of himself.
Principal photography took place during the summer of 2019. Several NBA and WNBA stars were spotted during the filming, such as:
Klay Thompson
Anthony Davis
Damian Lillard
Kyle Kuzma
Diana Taurasi
Nneka Ogwumike
Chiney Ogwumike
Don Cheadle is also in the film in an unspecified role.

Space Jam 2 has been riddled with issues during production. Fast and Furious veteran Justin Lin was named as the director of the movie in 2016. He left the project in August 2018 and was replaced by Terence Nance. Nance left the project during filming and was replaced by Malcolm D. Lee. Oscar-nominated cinematographer Bradford Young also left in the middle of production. 

A messy process does not always lead to a poor film. Many great movies have emerged from shaky circumstances. Space Jam 2 could be great or abysmal. We won't know until it's in theaters. Michael Jordan helped make the first Space Jam an improbable hit. We'll see if lightning can strike twice when Space Jam 2 comes out on July 16, 2021.