Michael Jordan's Yellow Eyes Are Never Explained by 'The Last Dance,' Concerning Fans
Michael Jordan's exploits have become the stuff of legends, both on and off the court. His most iconic games even have their own names, like "The Flu Game" or "The Shrug Game." Being a superstar means MJ has been subject to many conspiracy theories over the years.
ESPN's docu-series, The Last Dance, has put some of them to bed while generating new ones. One has to do with the oddly yellow tint of Jordan's eyes. Here we take a closer look at documentary and the theories about Jordan's unusual eye color.
'The Last Dance'
RELATED: Dennis Rodman Won't Watch 'The Last Dance" Because He's Already Lived It
The Last Dance is a 10-part documentary series that focuses on Jordan's final 1998 season with the Chicago Bulls. That year, a film crew had special behind-the-scenes access to Jordan and his teammates. Until The Last Dance, however, the footage had never been available.
The series doesn't just examine that 1998 season; it also flashes forward and backward in time to contextualize all of the factors that affected the way the season played out — and why it was the last for one of the greatest basketball squads ever assembled.
For instance, episode one shows Jordan's early days in both college and the NBA. Episode two turns its focus to Scottie Pippen's rise. Dennis Rodman, coach Phil Jackson, and general manager Jerry Krause also earn significant attention, as do classic Bulls rivals like the Bad Boy Detroit Pistons, Stockton and Malone's Utah Jazz, and the Reggie Miller-led Indiana Pacers.
Ultimately, The Last Dance re-emphasizes why Jordan remains the greatest basketball player ever. It also makes it clear just how much Jordan demanded of his teammates. The only real criticism of the series: Jordan's own production company was so closely involved — a fact some critics feel might've skewed the objectivity of the documentary.
Michael Jordan's yellow eyes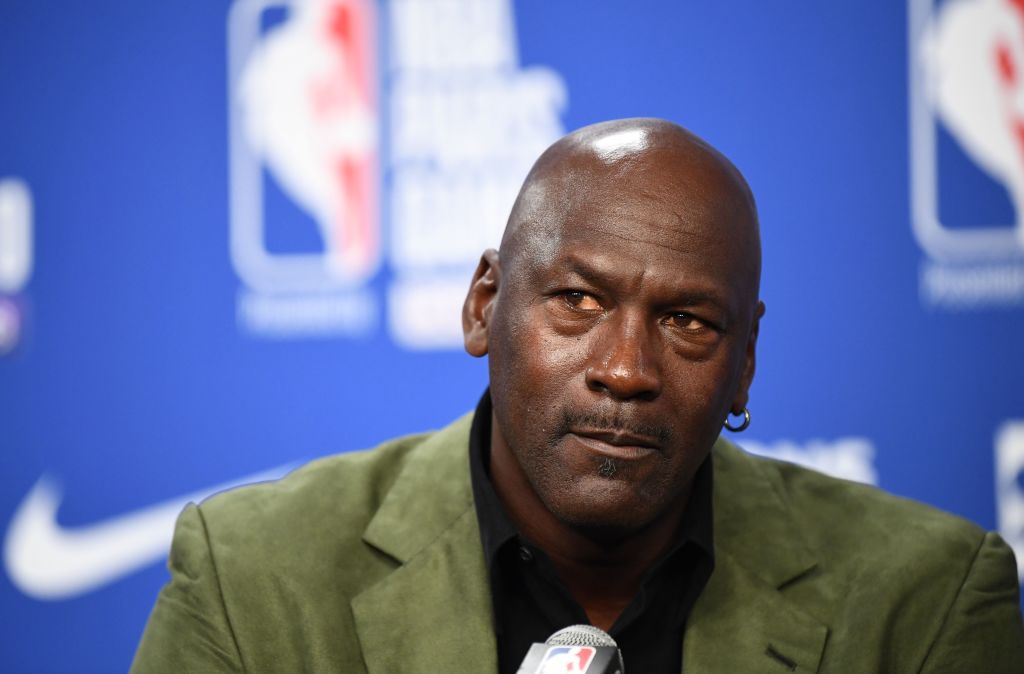 RELATED: Michael Jordan Once Skipped a Trip to the White House to Gamble With a Drug Dealer
As you can imagine, it didn't take fans long to start focusing on even the tiniest details in The Last Dance. Before long, social media was full of people pointing out how odd the present-day Jordan's eyes looked in his on-camera interviews. Specifically, his eyes had a yellowish tinge. On top of that, they seemed especially bloodshot.
Naturally, fans offered all sorts of bizarre speculations regarding Jordan's discolored eyes. Many speculated that they were somehow tied to Jordan's well-known fondness for cigars, as well as his sometimes excessive alcohol use. The documentary itself never offered any explanation of the phenomenon, which only made matters worse.
Possible medical explanations
RELATED: 'Baseball' Documentarian Ken Burns Has a Big Problem With 'The Last Dance'
The Last Dance isn't the first time Jordan's yellow eyes have been a cause for concern. Photos showing his oddly colored eyes have floated around since the early 2000s. Although Jordan himself has remained silent about any underlying liver or health issues in general, a number of doctors have chimed in with theories over the years.
In a Vice article, Dr. Val Phua, an ophthalmologist in Singapore, offered a number of potential explanations. To begin with, he said that Jordan's eye discoloration may "point to jaundice," a condition indicating serious liver problems. On the other hand, he also pointed out a raised lesion apparent on Jordan's eye.
That lesion could indicate that a local issue — for instance, a pinguecula — is causing the discoloration. Another hypothesis is that the discoloration is caused by melanin pigment on Jordan's eyes. This condition is often genetic. Fortunately for MJ's fans, it's a benign issue that shouldn't put Jordan's health at risk moving forward.