Michael McDowell Enters Daytona 500 Defense With Rookie Crew Chief, 'Hope'
To his right and left, all hell broke loose. In front, long-shot Michael McDowell saw nothing. The leaders a moment earlier he followed, suddenly disappeared. Behind him, flames engulfed his NASCAR Cup Series peers. In front, he saw a checkered flag. 
"That was an unbelievable moment," McDowell said during a televised Media Day interview. "It will last a lifetime.
"A dream come true."
Michael McDowell: 'Thankful to be in right spot at the right time'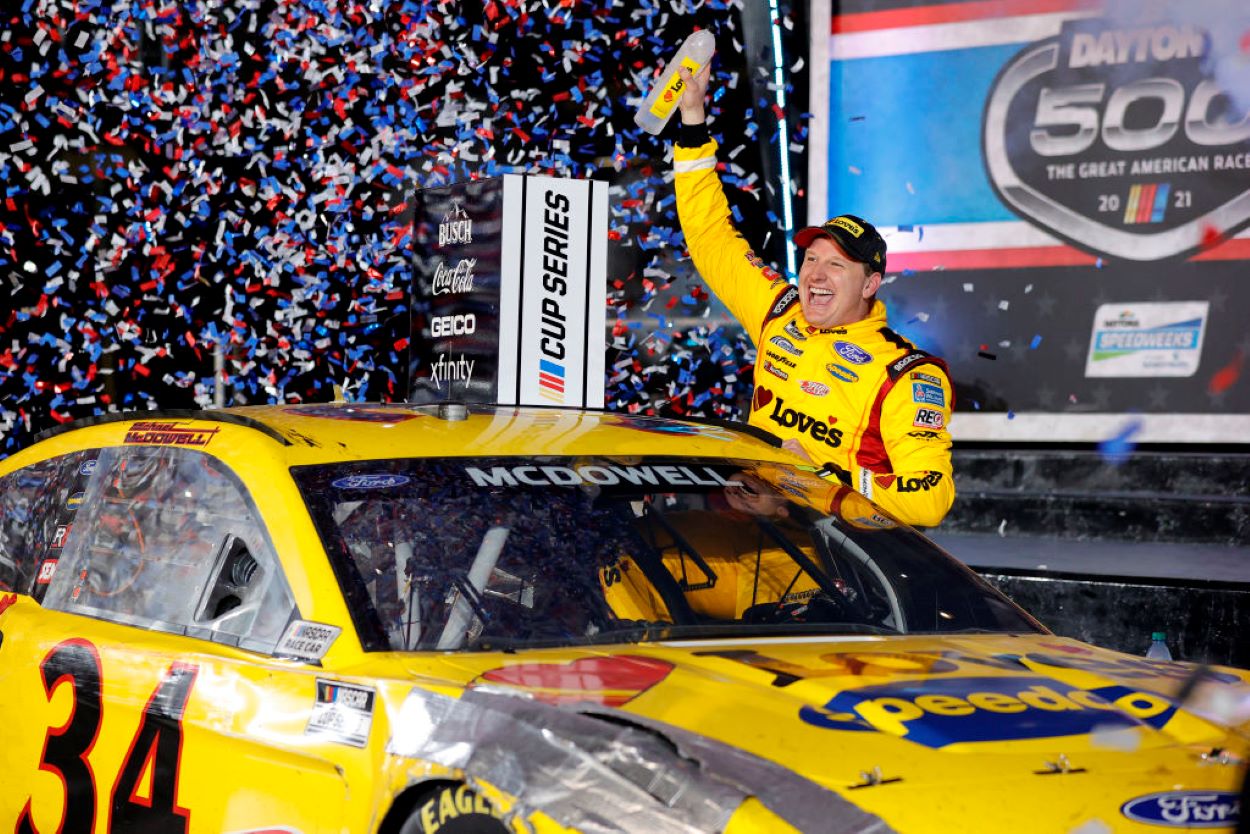 McDowell understands he was lucky.
With Joey Logano leading the pack, Brad Keselowski took out his Team Penske teammate. One car collided with another. Kyle Busch spun out at the front of the fiery carnage along the retaining wall, involving Austin Cindric, Cole Custer, and Bubba Wallace.
"Thankful to be in the right spot at the right time and capitalize," he said during a Feb. 16 interview on NASCAR Race Hub.
That wasn't always the case for one of the Daytona 500's most anonymous champions.
The 14-year veteran had never placed better than 23rd in the drivers' standings. He seemed always to be part of struggling teams or smaller organizations. Employed by eight Cup franchises, five no longer exist.
His current employer, Front Row Motorsports, may not be Hendrick Motorsports, but it's using McDowell's Daytona triumph to gain a bit of garage-area prestige.
"It gives you a lot of hope coming into this year: 'Hey, we can do this again,' " McDowell said.
McDowell has opportunity to become fifth NASCAR Cup driver to capture consecutive Daytona 500 titles
With in-season pressure not yet swarming around him, McDowell had a few moments before the start of Speedweeks on Feb. 15 to appreciate his newfound position.
A year ago, he was winless in 357 career starts. 
This year, "it's fun being the reigning Daytona 500 champion," he said.
McDowell will attempt to become the fifth back-to-back titleholder with a new crew chief, rookie Blake Harris. The 34-year-old was on Martin Truex Jr.'s 2017 drivers' championship team and played a role in at least 25 premier series wins, according to nascar.com.
Harris filled in as chief for a 2020 race at Texas Motor Speedway, guiding Truex to a second-place finish. McDowell said Harris is ready for the promotion.
The deal with Harris "came together very late," but since the Jan. 6 announcement, the two have been working on their in-race communication. 
McDowell and Harris participated in the final three Next Gen car tests, and they "worked through a lot of things," the 37-year-old driver said. "He's going to elevate the team."
McDowell on placing first during opening practice: 'Great way to start Speedweeks'
The new duo appeared to click during Speedweeks' opening practice session. With 42 drivers running clean laps and teammates collecting drafting data, McDowell finished first at Daytona again.
So, it was just practice, but his top speed of 192.73 mph established an early Next Gen car standard. McDowell turned in 25 laps over the 50-minute session.
"Great way to start Speedweeks," he said.
With qualifying scheduled for Feb. 16, McDowell's 2022 "grind" was beginning. He was thankful for the few peaceful days earlier in the week.
"Though all the ups and downs (of a season)," McDowell said. "It was really special to relive some of the moments. I got to enjoy the experience."
Two in a row?
Like Sportscasting on Facebook. Follow us on Twitter @sportscasting19. 
RELATED: Kyle Larson, Joey Logano, Ryan Blaney: Drivers to Watch During the Daytona 500