NASCAR's Next Gen Car Is Just What Michael McDowell Needs in Order to Break Out in 2022
Michael McDowell is again bucking the trend. The NASCAR Cup Series driver feels comfortable test-driving Next Gen cars.
Are they perfect?
No, but as others sit back and whine, McDowell embraces the industry's car culture change.
Michael McDowell: 'When I jumped into that (Next Gen car), I felt right at home'
The defending Daytona 500 champion told NASCAR.com that the 2022 change to the more budget-conscious Gen 7 machines could prove to be one of NASCAR's most significant moves — ever.
Personally, the move could benefit McDowell. Certainly, his comfort level and confidence are padded by the move. Learning to race in sports cars, McDowell senses similarities between the two setups, starting with the driver's seat. 
Unlike the Gen 6 models, Next Gen seats are aligned closer to the machine's center.
Appearing at the Champion's Week awards show in Nashville, Tennessee, on Dec. 2, McDowell discussed his opportunity to break away from the middle of the pack. He wants to join the front-runners and now has the technology to achieve it.
"You try not to be arrogant, cocky, boastful, but I'm just like that's a proper race car with a proper foot box and a proper seat positioning," McDowell said. "It took me forever to get comfortable in our (Gen 6) cars, but when I jumped into that (NextGen car), I felt right at home."
McDowell disagrees with peers on Next Gen cars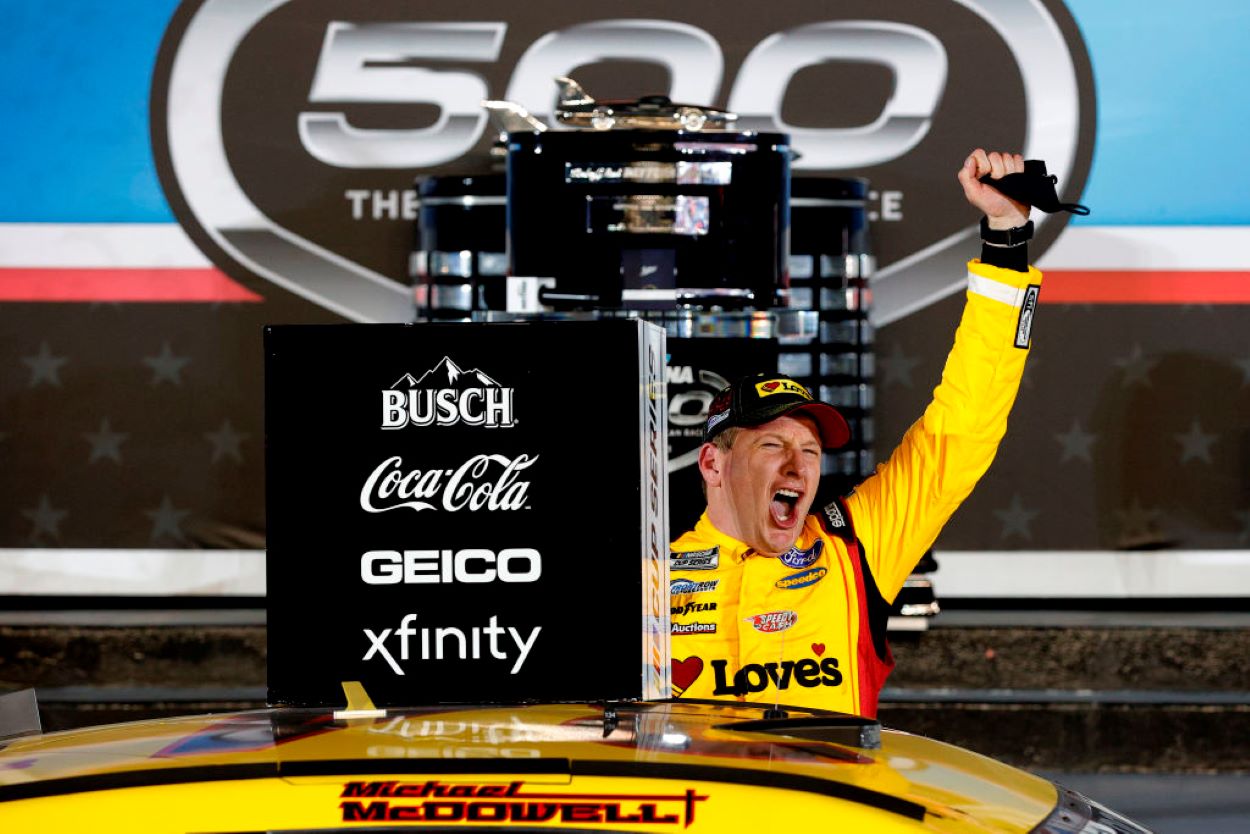 A chorus of critics disagrees with McDowell.
Some of his peers fear the Next Gen car's handling. They fret that the same level of downforce between Gen 6 and 7 models will diminish racing opportunities.
Others complain the Next Gen cabins are nothing more than sweat boxes.
Then there are the complaints McDowell hears from his peers: "A lot of guys have talked about the steering being too fast and twitchy and all that, but when you turn the wheel, the car's supposed to turn, and it's doing that.
"… It feels like a proper race car to me."
McDowell looking to earn a promotion to the first tier of Cup Series drivers
McDowell has raced in the second tier of drivers for much of his 14-year run on the Cup Series. His 2021 average finish of 20.47 is a career best. During his first eight seasons, his average finish was above 30, and he registered just two top-10 finishes.
Driving Front Row Motorsports' No. 34 Ford the past four seasons has resulted in a career renaissance for McDowell, who collected his lone win, four top-fives, and 12 top 10s.
His victory at Daytona 500 came during his 358th career Cup start. Will he be forced to wait that long again?
With his Next Gen car comfort level, McDowell hopes to use his sports-car advantage to move up and join the first tier of drivers.