Michael Palardy Served as Jordan Scarlett's High School Substitute Teacher Before the 2 Became Miami Dolphins Teammates
Miami Dolphins teammates Jordan Scarlett and Michael Palardy have taken the term "school is in session" to an entirely new level.
Scarlett, ​​a third-year running back who signed with the Dolphins earlier this year, is trying to stick around and play for his hometown team. He's also reunited with Palardy, a man who he had a considerable history with before the two played together on the Carolina Panthers in 2019.
Michael Palardy taught teammate Jordan Scarlett in high school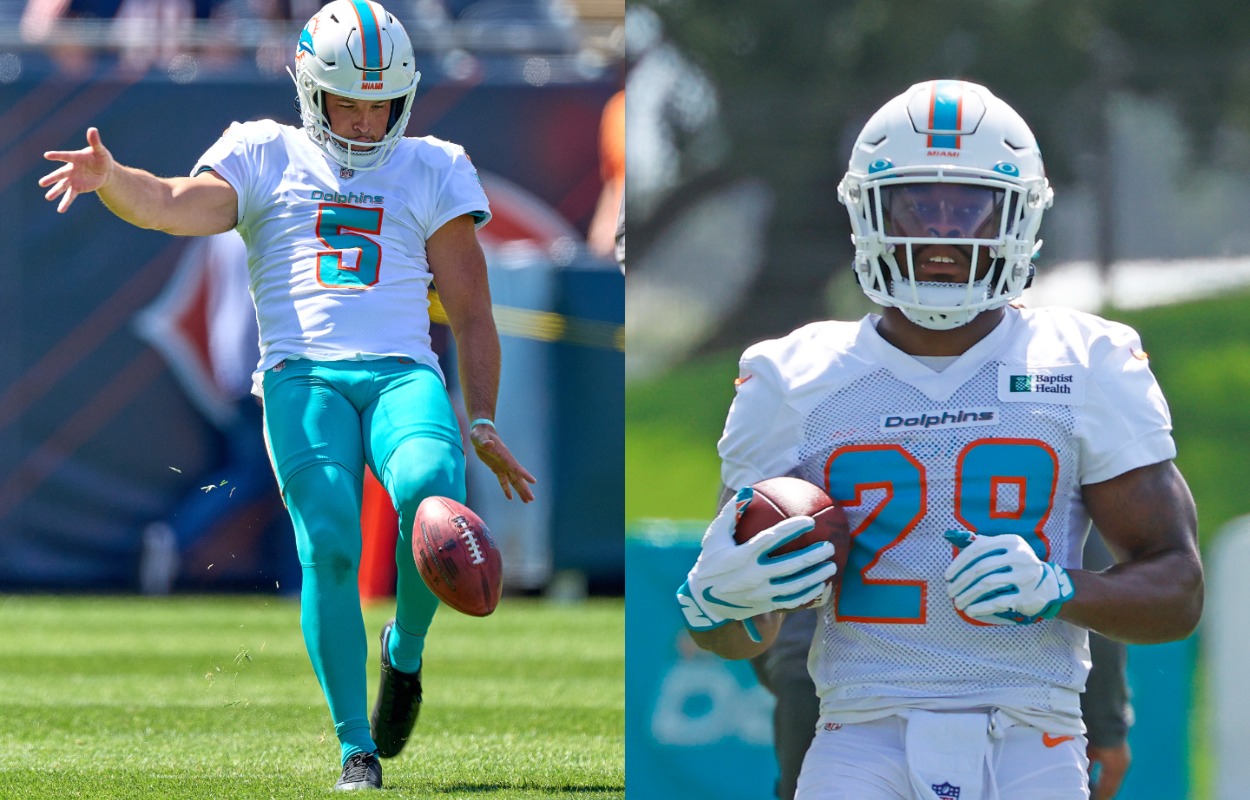 The Dolphins, as you figured, play in Miami. Well, technically, they play in Miami Gardens, which is still 15 miles north of the city of Miami.
Scarlett, who turned 25 in February, grew up in Fort Lauderdale, which is less than 20 miles north of Hard Rock Stadium, the Dolphins' current home. He played high school football at St. Thomas Aquinas, which boasts several current NFL players — including Joey and Nick Bosa — among its ranks.
While attending school there in the early 2010s, Scarlett had a substitute teacher named Michael Palardy, who himself had attended the same school a few years earlier. According to The Palm Beach Post, Palardy — who is now the Dolphins' starting punter — recently confirmed that, yes, he is the same Palardy in question.
"He was a good student," Palardy, who taught science and math at St. Thomas from 2014-16, recently said of Scarlett. "At St. Thomas, student-athletes are held to a very high standard."
Now, the two play together for the local football franchise. Who would have seen that coming during the 2014-15 academic year?
Palardy has stuck around in the NFL since the Panthers signed him in 2016
On its own, the idea of a former substitute teacher becoming an NFL punter is something out of a movie. Palardy's journey is even more incredible when one looks at all of the details.
According to The Post, Palardy estimates he played for up to 11 professional football franchises from 2014-16 and attended up to 26 total workouts. That included signing with the then-Oakland Raiders after going unselected in the 2014 NFL Draft and a stretch with the CFL's Toronto Argonauts from September 2015 through March 2016.
The Panthers employed Palardy for two months in the spring of 2016. Later that year, the team brought him back when veteran Andy Lee suffered a season-ending injury. The substitute teacher averaged 42.5 yards per punt across the season's final seven games and showed enough to warrant an invite back in 2017. Although Lee returned to action that summer, Palardy beat out Lee for the starting punting job.
From 2017-19, Palardy didn't miss a game for the Panthers, averaging 45.8 yards per punt in the process. He missed all of last season with a torn ACL, however, and signed with the Dolphins earlier this year.
Scarlett is trying to show the Dolphins he belongs
While Palardy tried pinning opponents deep in their own territory during the 2019 season, Scarlett simply tried finding reps as a fifth-round rookie from the University of Florida.
The 5-foot-11 running back carried the ball four times for nine yards in nine games that year. He also participated in 24% of the team's special teams snaps and recorded a tackle.
The Panthers cut Scarlett in August 2020, and he spent part of last season on the Detroit Lions' practice squad. He's currently trying to make the Dolphins as a reserve running back who might be able to provide value on special teams.
This might not be the start to his NFL career that Scarlett, a 4-star recruit in high school, envisioned when he attended St. Thomas Aquinas. All he needs to do is look at his former teammate for a reminder that hard work and dedication have a chance at paying off in the long haul.
Like Sportscasting on Facebook. Follow us on Twitter @sportscasting19.