Michael Phelps and Ray Lewis Forged an Unlikely Friendship
When somebody thinks about the most famous friendships in sports, they likely aren't thinking about Ray Lewis and Michael Phelps. After all, swimming and the NFL could not be more different than one another.
When one looks deeper, however, their friendship makes sense. They are both athletes whose careers were defined by high highs and low lows, and that bond is enough to forge an unlikely friendship. 
Michael Phelps's career
Phelps has been swimming for most of his life. The now-retired Olympian made waves as a young child, and by the time that he was a teenager, He first entered the mainstream at 15 at the 2000 Olympics in Sydney, Australia. Although Phelps was not yet the golden child he'd become four years later, these Olympics were essential for his growth as a swimmer. 
By 2004, the 19-year-old was an international superstar after taking home gold in six events. He followed that up with eight gold medals four years later. America had a new golden child in sports, but his exploits away from the pool began to make as many headlines as his successes.
From a picture of him smoking marijuana to a DUI, Phelps became a problem child. Although he competed in the London Olympics and added four gold medals to his trophy case, he was at a dark place. 
Phelps contemplated retirement after London, but after getting antsy, he decided to compete at the 2016 games in Rio. He kept on winning, bringing his total of gold medals to 23. However, in all of the excitement, Phelps got candid about his mental health and reflected on his low points. Perhaps, this is what best defines his friendship to Lewis. 
Ray Lewis's career
Around the same time that Phelps first made his entrance into the national scene, Lewis was on the football field and becoming one of the best defensive players that the sport had ever seen. He was coming off of a Super Bowl win in 2000 when his life and career changed forever.
Although Lewis was not in the Super Bowl that year, he was in Atlanta to watch the big game. That night, he and his friends were allegedly involved with a fight that ended with the deaths of two men. 
Although murder charges against Lewis were eventually dropped in exchange for testimony against his two friends, that stigma followed him for the rest of his career, according to USA Today. Lewis remained a beloved superstar by many and even hoisted the Super Bowl trophy the following year. However, the events of 2000 continue to be a black mark on his legacy in the sport. 
Lewis remained one of the best players in the game, but to those who thought he committed the crimes he was accused of, the damage was already done. To this day, the murder is as part of his legacy as the All-Pro seasons and Super Bowls. 
An unlikely bond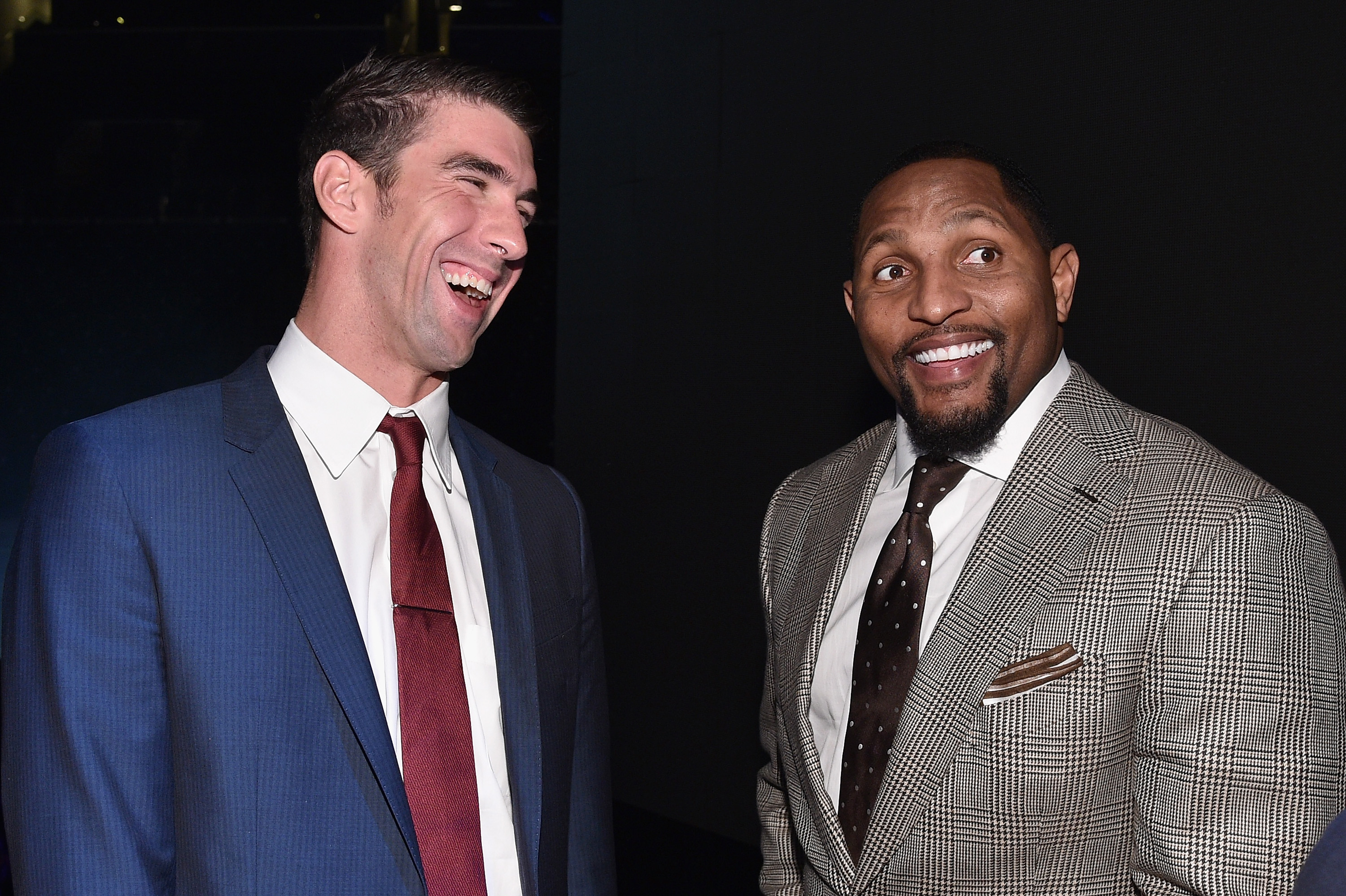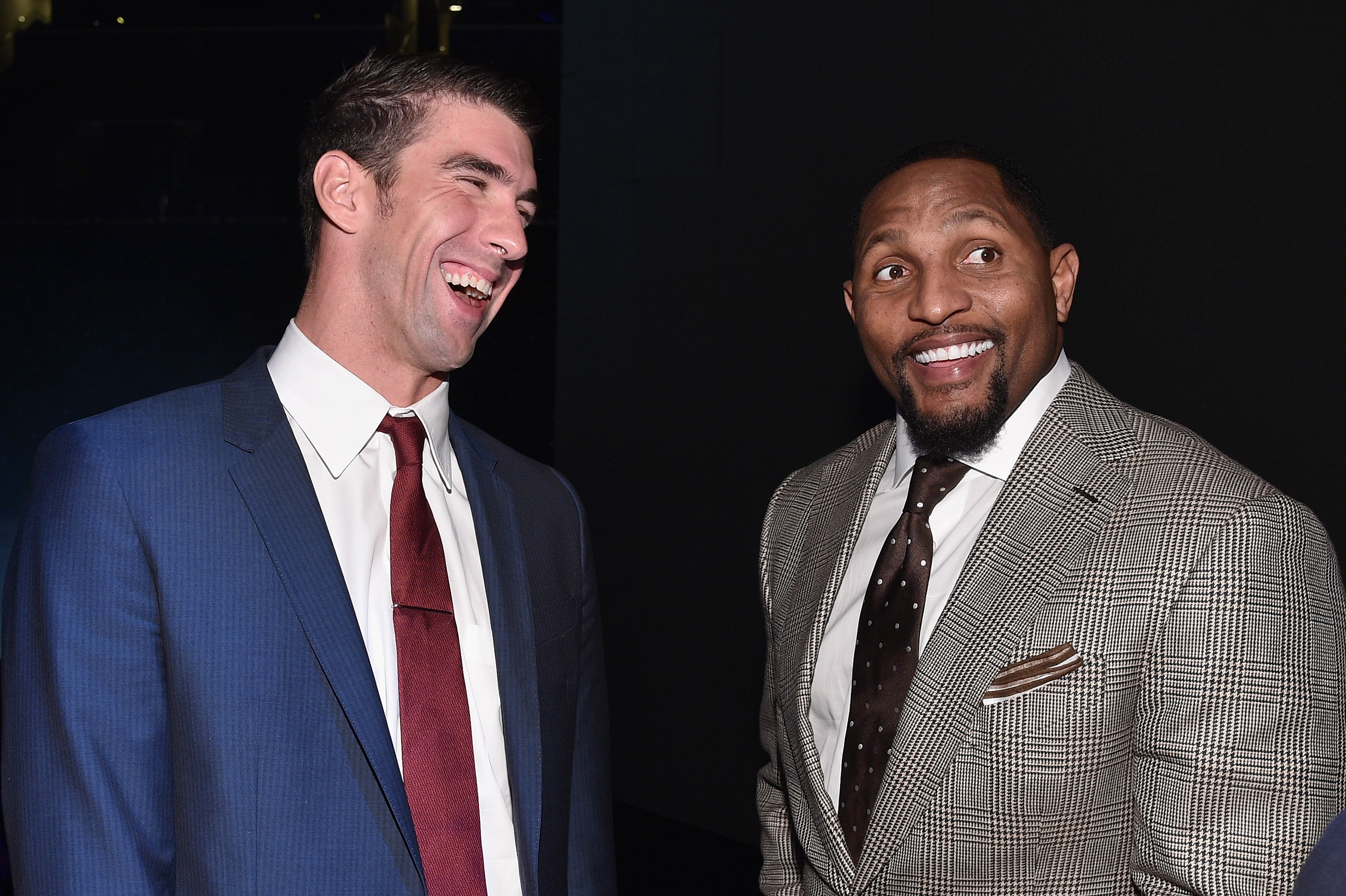 When Phelps was going through his hardest times, Lewis helped him come back in 2012 and continue his dominant streak, according to the Ravens' website. While Phelps problems paled in comparison to Lewis's, Lewis had redeemed himself in the eyes of many. Right or wrong, this common bond helped bring the two close together. 
Before taking the pool for the final race of his career, Phelps credited a talk with Lewis about keeping him going. 
"I was talking to Ray Lewis earlier today. I know he's watching. And we just had a great talk," Phelps said after his final race (per NBC Sports Washington). "It's not the end of a career, it's the beginning of a new journey. And I'm just looking forward to that." 
Lewis knows what it means to have the world look at you judgmentally, and this helped strike a common bond between the two. Phelps noticed this and wanted to pick Lewis's brain about the hurdles of a high-profile downfall. 
"He's probably the only person who could really help me do that," Phelps told the press. "He's been through everything — the ups and downs — and he's helped me literally overcome a lot of things that I've had in my life that have been tough, and he's been there for me."
Now both retired, the two remain friends to this day. No matter what someone thinks of either of these athletes, the unlikely friendship makes sense when we look at what they've been through. Few people know about this type of spotlight, but those who do only have each other to relate to when they get rough.