Michael Phelps and Wife Expecting Baby: See Today's Announcement
Olympic swimmer Michael Phelps and his wife Nicole (née Johnson) Phelps announced Tuesday they are expecting their second child. They shared the news on Instagram with a photo featuring Nicole and son Boomer, who is smiling and holding a positive pregnancy test. "Lil mans going to be a big brother!!!" Nicole captioned the photo.
The proud dad, named the most decorated summer Olympian of all time, shared the same image on his own Instagram account with the caption, "Number 2 on the way!!!! So excited!! Wonder if it's a boy or a girl??"
Boomer, 15 months of age, took to his own Instagram account and posted a snap for his 795,000 followers featuring himself clapping next to the positive pregnancy test. "So excited to see what mama is having!! Do I get to have a brother or a sister?!?" the caption read.
Michael and Nicole were married in a secret wedding in June 2016, a month after Boomer was born. The couple had a public wedding in October 2016, followed up with a party to celebrate their nuptials with family and friends on New Year's Eve 2016.
Photos were widely shared in the news and on social media as Nicole and infant Boomer cheered on Michael from the stands during the 2016 Olympic Games in Rio. At that time, Phelps won a gold medal in the final race of his career by swimming the butterfly in the 4×100-meter medley relay.
Happy @MichaelPhelps family Boomer @MissNicoleJ @MamaPhelpsH20 #Rio2016 #TeamUSA #USA #Olympics #swimming #Baltimore pic.twitter.com/tu4pbfwlOV

— Shannon Encina (@ShannonEncina) August 8, 2016
Nicole, 32, is a model who was Miss California 2010 and competed in the Miss USA pageant. She was born in Colorado, grew up in Pennsylvania, and then moved to California, where she went on to compete in multiple beauty queen pageants. She is an alumnus of the University of Southern California, having graduated with honors in 2007.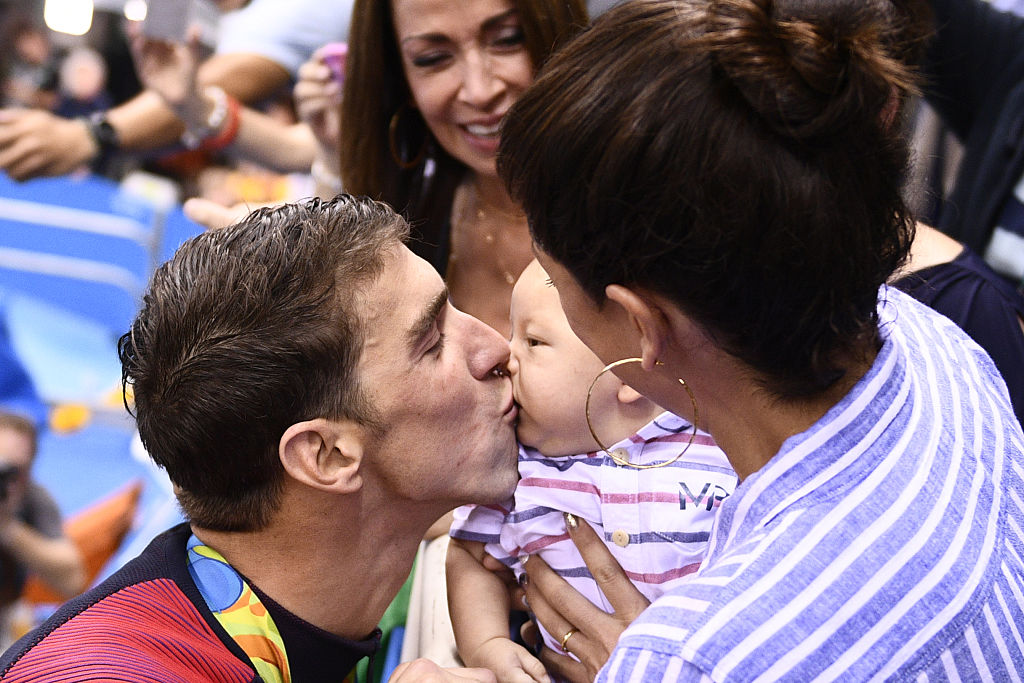 Michael, also 32, is a former competitive swimmer who was named most decorated Olympian of all time, with a total of 28 medals. In the 2016 Rio Olympics, he won five gold medals and one silver.