Michael Schumacher 'Is Fighting' for His Health, According to Former Ferrari CEO Jean Todt
German Formula 1 sensation Michael Schumacher was one of the most dominant racers in the world from the mid-'90s to his peak in 2004. His ability to race in front of crowds and maintain his position made him a favorite every time he was on the track. Tragically, all of this changed in 2013 when Schumacher's life was altered forever. 
Michael Schumacher makes Formula 1 history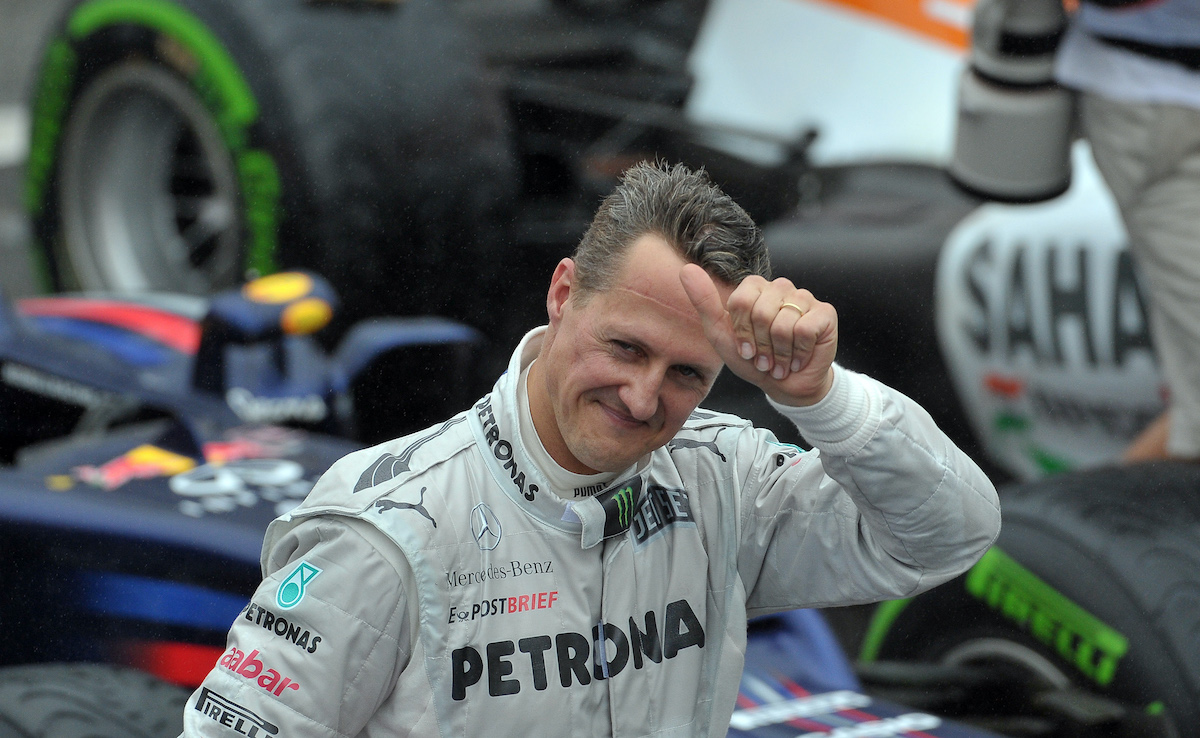 As Racing-Reference reports, Schumacher was once one of the biggest names in Formula 1. Debuting in 1991 at 22 years old, the native of Hürth, Germany spent his first two years as a professional building his skillset and getting to know the competition. After winning two races in his first two full seasons on the circuit, however, he celebrated a coming-out party in 1994.
Schumacher won eight races during the 1994 season despite missing two of the competitions that year. While he was already an up-and-comer at the time, this magnificent season showed the world he wasn't just a promising racer; he was a guarantee. Schumacher followed up his breakout season with a nine-win 1995 campaign. 
While he struggled to recreate that success over the next four years, it doesn't mean he failed, either. Schumacher won 15 races from 1996 to 1999. Then, he was back to his old tricks, winning nine races in 2000 and 2001, 11 in 2002, six in 2003, and a mind-numbing 13 wins in 2004. The father of two never entirely recreated that magic save for a seven-win 2006 campaign.
However, after two sub-par racing seasons, Schumacher's career and life changed forever when a ski accident left him with brain damage that still exists to this day. 
Michael Schumacher's accident in the French Alps
According to The Scotsman, Schumacher was skiing with his son in the French Alps in December 2013. While descending Méribel's Combe de Saulire, he hit his head on a rock. Schumacher suffered severe brain damage despite wearing a helmet. Doctors put him in a medically induced coma, slowly reviving him over a year's time. This put an end to Schumacher's career as he was paralyzed and confined to a wheelchair.
Eight years after Schumacher's near-fatal accident, Jean Todt still speaks about his friend. According to the former Ferrari team boss, the retired driver initially made some progress as he tried to return to a normal life. In recent years, however, Schumacher's health has taken a turn for the worse. 
Schumacher spent his prime racing for Ferrari. During that time, he developed a close friendship with Todt. As such, Schumacher's image was used in marketing materials, commercials, and other ad campaigns due to his godly success out on the track. As such, when Schumacher nearly lost his life, Todt didn't just worry about his brand, but his friend. 
Where is Michael Schumacher now and how is his health?
Schumacher resides in Gland, Switzerland, where his family moved him as he pursues rehabilitation. In 2020, Todt told The Mirror: "I saw Michael last week. He is fighting. My God, we know he had a terrible and unfortunate skiing accident which has caused him a lot of problems. But he has an amazing wife next to him, he has his kids, his nurses, and we can only wish him the best and to wish the family the best, too."
At that time, Todt claimed that Schumacher is in a vegetative state. While there was once hope, now there appears to be a little bit of sorrow, too. On January 3, 2022, Michael Schumacher turned 53.
Todt credited Schumacher's wife, Corinna, who he says, "is a great woman and runs the family," according to Express. He elaborated, "There's no longer the same communication as before," alluding to Schumacher's paralyzed state.
The FIA President explained, "Thanks to the work of his doctors and the cooperation of Corinna, who wanted him to survive, he survived, but with consequences. And right now you are fighting the consequences. We hope that things will slowly but surely improve."
Then, in April 2022, Bernie Ecclestone said he believes Schumacher will be able to answer questions about his health on his own someday. The former Formula 1 CEO explained, "He is not with us at the moment. But when he gets better, he'll answer all the questions."