Michael Strahan Explains the Huge Difference Between the NFL and TV Hosting: 'It's Selfish, and I Don't Operate Well Under That'
Michael Strahan is one of a handful of NFL players known as a TV personality as much as an athlete. After playing for the New York Giants for 15 years, Strahan made a highly-publicized switch to the world of TV hosting, stepping in as the co-host of Live with Kelly and Michael. These days, fans see Strahan's face on Good Morning America.
The 49-year-old has opened up over the years about how he transitioned from the NFL to broadcasting. Strahan also admitted why he felt the need to leave his gig at Live with Kelly and Michael.
Michael Strahan made a name for himself in the NFL
Michael Strahan was born in Houston, Texas, in 1971. From an early age, he knew he wanted to be an athlete. In 1993, the New York Giants drafted him into the NFL. It took a few years, but Strahan had a breakout season in 1997.
A dominant pass rusher, Strahan earned acclaim from critics and fans. He's credited for helping the Giants win Super Bowl XLII over the New England Patriots in his final season in 2007. It was around that time Strahan knew he wanted to retire in favor of a new venture: television hosting.
Ultimately, there was no perfect way to walk away from a sport that he loved so much. Long after his retirement, Strahan admitted that he sometimes wishes he would've played one more season.
When did Michael Strahan transition to TV hosting?
In June 2008, Strahan announced that he was stepping away from the NFL. He already had an opportunity lined up. Just weeks after his official retirement, Strahan was hired as a contributor on the Fox NFL Sunday pregame show.
In 2012, Strahan joined the popular TV show Live with Kelly and Michael, acting as Kelly Ripa's co-host. Filling in for longtime host Regis Philbin, Strahan made a powerful impression, earning two Daytime Emmy Awards. Ultimately, he remained on the show through 2016 when he joined Good Morning America as a full-time contributor.
What did Strahan say about TV hosting compared to the NFL?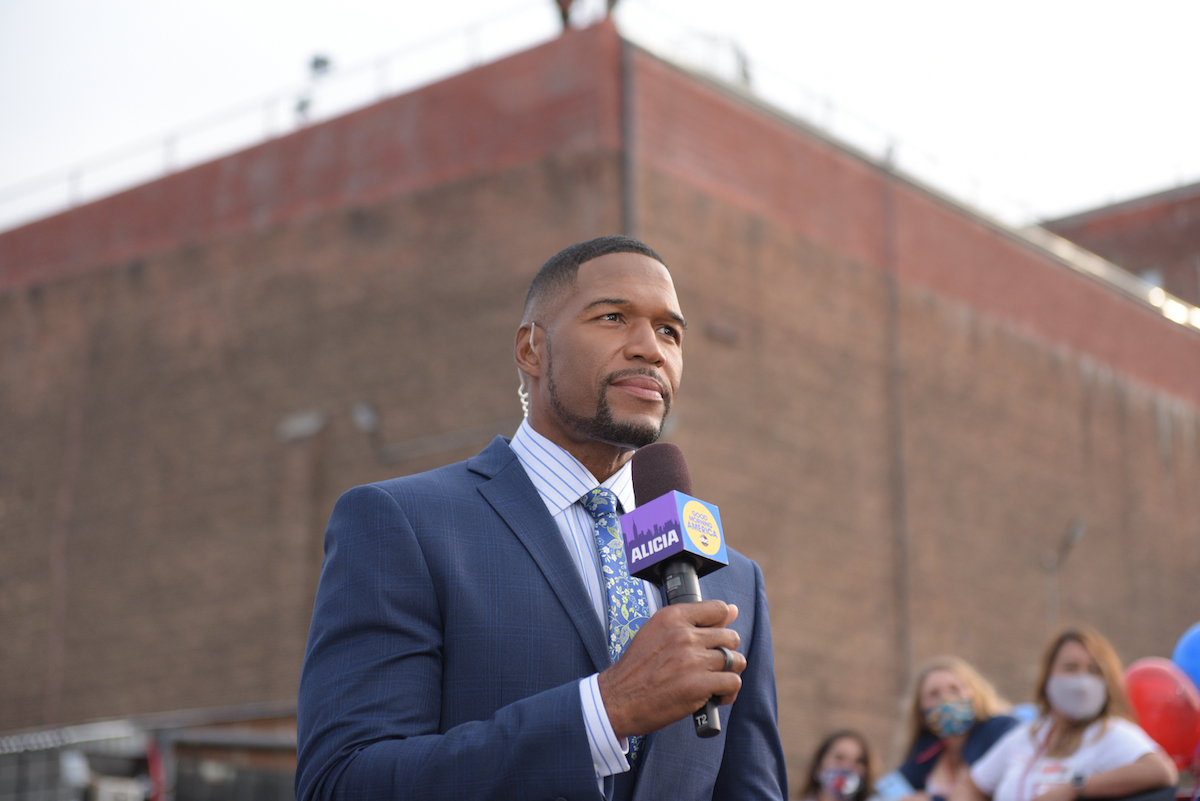 There was a lot of speculation about the reasons behind Strahan's exit from Live with Kelly and Michael. Over the past few years, the host has opened up about why he felt compelled to leave the popular morning show when he did.
In a 2020 interview with the New York Times, Strahan said that there was significant tension behind the scenes and that he didn't feel like a full partner in the show. "When it was time to go, it was time to go. Certain things that were going on behind the scenes just caught up," Strahan admitted.
"On television, I've had jobs where I got there and felt like: 'Wow, I didn't know I was supposed to be a sidekick. I thought I was coming here to be a partner … I've done things where I went in with team concepts, and I got there and realized it's not about team. It's selfish, and I don't operate well under that."
Michael Strahan learned how to be a team player in the NFL
As Strahan revealed to the NY Times, being a team player is of utmost importance to him, whether that's in the NFL as a football player or on television as a host. In a 2017 interview with the Harvard Business Review, Strahan discussed the differences between the world of television and the NFL.
"With Good Morning America, I still think, "What am I doing here?" But it's been about having fun, putting in maximum effort, and not limiting myself," the former athlete admitted. "I thought playing in the NFL was the greatest thing I would ever do professionally. But when I hear that kids today have no idea I played football, it makes me realize that this career has transcended the one I had before."
Ultimately, Strahan thinks that teamwork is the key to a successful second act. He likes to make "everybody feel empowered," a skill that he learned in the NFL as a top athlete.
RELATED: Michael Strahan Fires 1st Shot of 2021 NFL Season at Terry Bradshaw During Fox Pregame Show Before Cowboys-Steelers Game