Michael Strahan Jersey Retirement: The New York Giants Legend Surprised by Eli Manning, Jessie Armstead, and Justin Tuck
The New York Giants are a storied franchise. Numerous legendary players have donned the uniform. Not many players have meant more to the franchise than Michael Strahan. His former teammates Eli Manning, Justin Tuck, and Jessie Armstead surprised the Giants legend at his current job to announce his jersey retirement.
Eli Manning, Justin Tuck, and Jessie Armstead surprise Michael Strahan on 'Good Morning America'
Michael Strahan has kept himself busy since retiring from the NFL in 2007. He kickstarted his media career and has been thriving in his new industry. The seven-time Pro Bowler is currently a member of FOX's NFL pregame shows and a co-host on ABC's Good Morning America. He also hosts a game show called The $100,000 Pyramid.
During a recent broadcast of Good Morning America, Strahan's old teammates made a surprise appearance to deliver the surprising news to their friend. Eli Manning awkwardly popped out of a box, and confetti rained down as Justin Tuck and Jessie Armstead emerged from backstage. All three players were sporting Strahan's legendary No. 92 jersey.
The New York Giants are officially retiring the Hall of Famer's jersey on Nov. 28 when they host the Philadelphia Eagles.
Michael Strahan was dominant for the New York Giants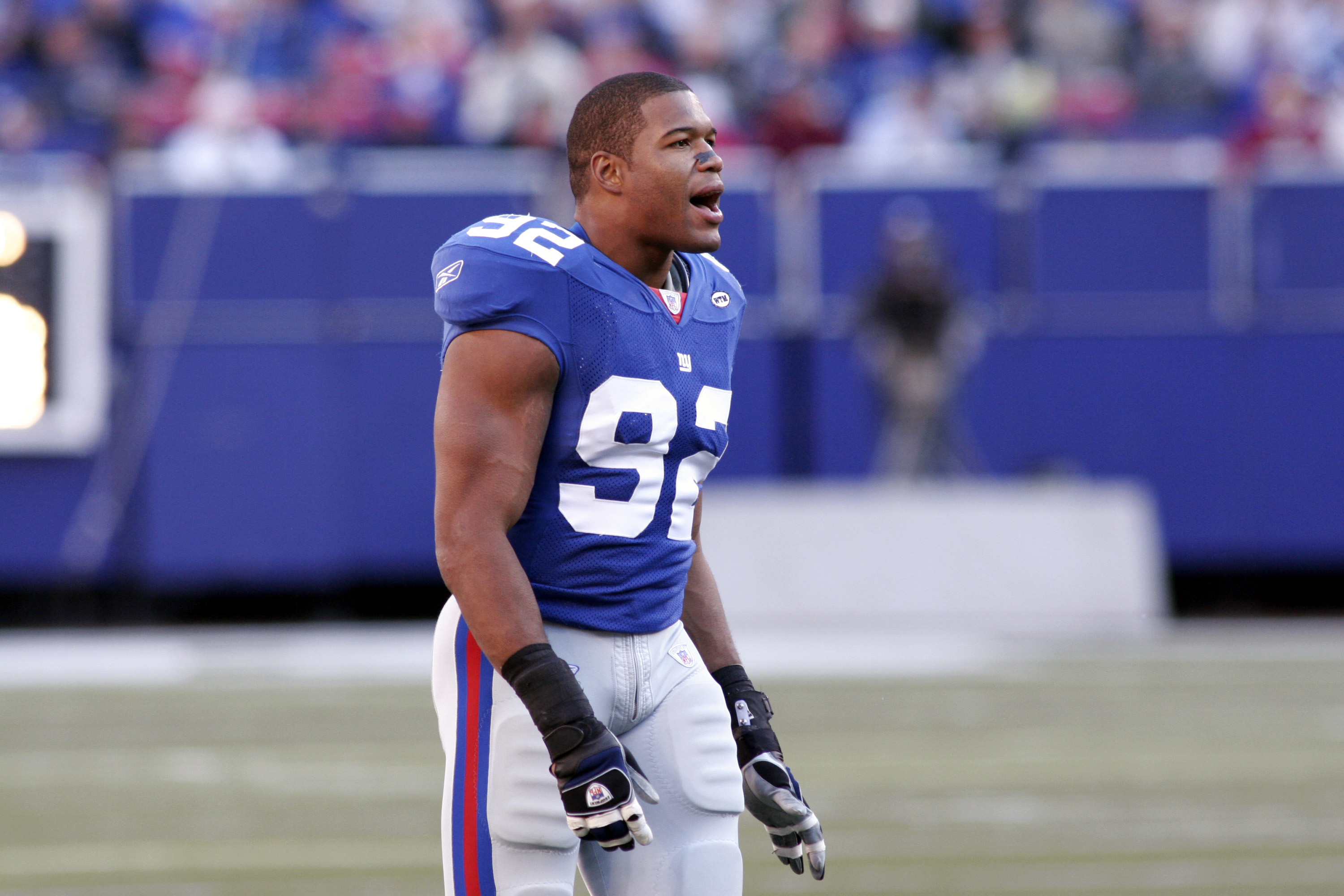 The New York Giants drafted Michael Strahan with the No. 40 overall pick in the second round of the 1993 NFL Draft. He played his college ball at Texas Southern University. He recorded a school-record 19 sacks as a senior, en route to being named the Southwestern Athletic Conference Player of the Year.
It's rare for a player to spend his entire career with one franchise, but Strahan did just that. He played 15 seasons with the Giants and served as a pillar of their defensive unit. The Houston, Texas native started 205 games in his career, racking up 854 tackles, 141.5 sacks, and 24 forced fumbles. Strahan also recorded four interceptions, returning two of them for touchdowns.
He's a four-time NFL All-Pro selection. He also won Associated Press Defensive Player of the Year honors in 2021. The defensive end ranks No. 10 on the NFL's all-time career sacks list.
Strahan was the driving force on the Giants' defense and helped lead the team to two Super Bowl appearances. He concluded his legendary career by defeating Tom Brady and the New England Patriots in Super Bowl XLII.
Strahan says Good Morning America is more intimidating than the NFL
Michael Strahan sat down with Jimmy Fallon on The Tonight Show, to discuss his NFL career and current business ventures.
Michael Strahan was an intimidating presence on the field when he played, especially for unsuspecting quarterbacks. However, he admitted that he was scared when he first stepped foot in the New York Giants locker room as a rookie. "I'm not like a big guy, but I'm watching these grown men," Strahan said. He was 6-foot-5, 255 pounds, but says these guys were bigger.
The Super Bowl champ recalled being in awe of Giants great Lawrence Taylor. He soon realized he belonged and had the talent to compete at the highest level. Playing against some of the largest athletes in the world isn't the most intimidating thing he's ever done, though.
Fallon credited Strahan for his work on Good Morning America. Making the transition from the football field to daytime television wasn't the easiest thing to do, though. "That was more intimidating than being in the locker room with the big ol' dudes," he said. "The overall pressure of it, you feel more than I ever did on the football field."
He didn't see himself on television after football, but he's grown more comfortable. He's the blueprint for success after the playing days are over. He challenged himself, and it's paid off.
Michael Strahan is a winner whether he's in a New York Giants uniform or on the TV screen.
All stats courtesy of Pro Football Reference