Michael Strahan Once Slammed Skip Bayless, Said the Last Time He Wore a Uniform Was When He Went 'Trick-or-Treating'
Michael Strahan went to war against many legends during his NFL career with the New York Giants. He typically came out on top, too, as he ultimately entered the Pro Football Hall of Fame. However, since retiring from football, Strahan has built a large following and has been given a massive platform to hold people accountable if needed. This once led to him calling out FOX analyst Skip Bayless.
Skip Bayless controversially criticized Dak Prescott
RELATED: Michael Strahan Sends out a Stern Message While Defending Ex-Foe Tom Brady: 'Shut Your Mouth'
In 2020, Dallas Cowboys quarterback Dak Prescott did what nearly everyone viewed as a commendable thing to do when he spoke out about his mental health struggles. Prescott's brother died by suicide in April of that year. The star QB also dealt with the scary unknown of living in a world with COVID-19 prior to the vaccinations becoming available.
"All throughout this quarantine and this offseason, I started experiencing emotions I've never felt before," Prescott said on a September 2020 episode of In Depth with Graham Bensinger. "Anxiety for the main one. And then, honestly, a couple of days before my brother passed, I would say I started experiencing depression."
Not long after Prescott's interview, FOX analyst Skip Bayless then made some very controversial comments.
"You are commanding an entire franchise," Bayless said on his show, Undisputed, per ET Canada. "… They're all looking to you to be their CEO, to be in charge of the football team. Because of all that, I don't have sympathy for him going public with, 'I got depressed' [and] 'I suffered depression early in COVID to the point that I couldn't even go work out.' Look, he's the quarterback of America's team."
Michael Strahan blasted Skip Bayless for his comments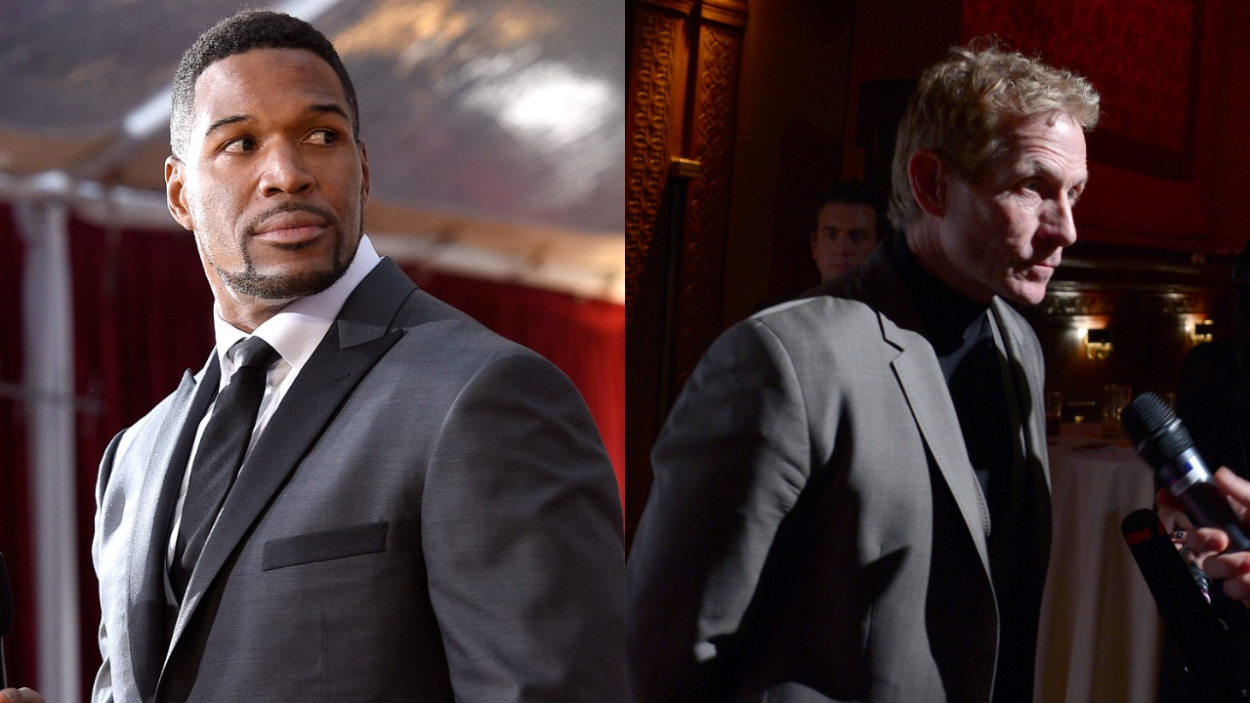 RELATED: Michael Strahan Once Admitted That He 'Could've Killed' His Giants Teammate During an Intense Fight in His Career
Skip Bayless received a ton of criticism for his remarks. The next day, Bayless himself then ultimately said that he had "great compassion for anyone suffering clinical depression," and told anyone who was struggling with it to seek help, via Yahoo.
However, among the people to criticize Bayless was Giants legend, Michael Strahan.
"I think it's sad," Strahan said on Good Morning America, per his Twitter. "September is National Suicide Prevention Month; [Prescott] lost his brother that way. These comments are made, in my opinion, from someone who likes to shock people. And he's talking about being a leader, part of being a leader is having guys respect you. They respect you by being honest about what's going on in your life."
Strahan then continued to discuss how disappointed he was in Bayless' comments.
"Skip comes from a place where he's only leading himself," Strahan said. "He's a very individual business. So, I just didn't like that comparison, and it's very hard, being an NFL player, knowing what guys go through, how tough it is, to listen to an opinion of someone who the last time they put on a uniform was when they went to Halloween and trick-or-treating. You don't understand what it takes."
Michael Strahan certainly didn't hold back on Bayless, but he made some great points. Bayless' comments were insensitive, and Prescott's openness and honesty proved how strong of a leader he truly is.
Skip Bayless has not been the only one to put himself on the other side of Michael Strahan's criticisms via national television, either. Strahan has ultimately used his platform to hold multiple other people accountable.
Michael Strahan has a huge platform after starring for the Giants
RELATED: Stephen A. Smith Blasts the Packers After Aaron Rodgers' Recent Comments, Says Green Bay Has Been 'Flagrantly Disrespectful'
Michael Strahan was an excellent football player during his career with Giants. He earned seven Pro Bowl selections, was the 2001 Defensive Player of the Year, and won one Super Bowl. Strahan even recorded the sixth-most sacks in NFL history with 141.5. 
However, he also had a very likable personality, which has since made him an even bigger star in his post-NFL days. Strahan previously co-hosted Live! with Kelly and Michael before moving over to Good Morning America, where he is now a co-anchor. 
Throughout his time on TV, Strahan has not been afraid to call people out, similar to the way he called Bayless out. After interviewing Bachelor host, Chris Harrison on Good Morning America in regards to some controversial comments that Harrison had previously made, Strahan said that "it felt like" he had received "nothing more than a surface response."
Additionally, regarding a much lighter topic, Strahan also called out all of Tom Brady's haters after Brady won his seventh Super Bowl ring.
"For everybody out there — seven rings. Shut your mouth," Strahan said, via a clip of an interview he did with Brady that he posted to his Twitter.
Whether it's a pop culture topic or the NFL that he knows so well, Michael Strahan isn't afraid to call people out if he feels that they deserve it. His success in the NFL and on TV have ultimately helped him become respected enough to do so, too.
How to get help: In the U.S., call the National Suicide Prevention Lifeline at 1-800-273-8255. Or text HOME to 741-741 to connect with a trained crisis counselor at the free Crisis Text Line.
Stats courtesy of Pro Football Reference