Michael Strahan's Pregame Ritual Included Reading the Game Program on the Toilet and Talking to His Socks
Athletes all have different pregame rituals. Some eat a certain meal before a game, while others say a prayer before they head out to the field. Some athletes are a bit more unusual with their pregame rituals, especially those who are superstitious and believe doing a certain thing before a game helps their performance. Of all NFL players in recent memory, the retired Michael Strahan may have had one of the more unique pregame rituals when he was playing. That's because his pregame routine took him to the bathroom and had him talking to his clothes — and the details get even more interesting than that.
Michael Strahan had an impressive 15-year career in the NFL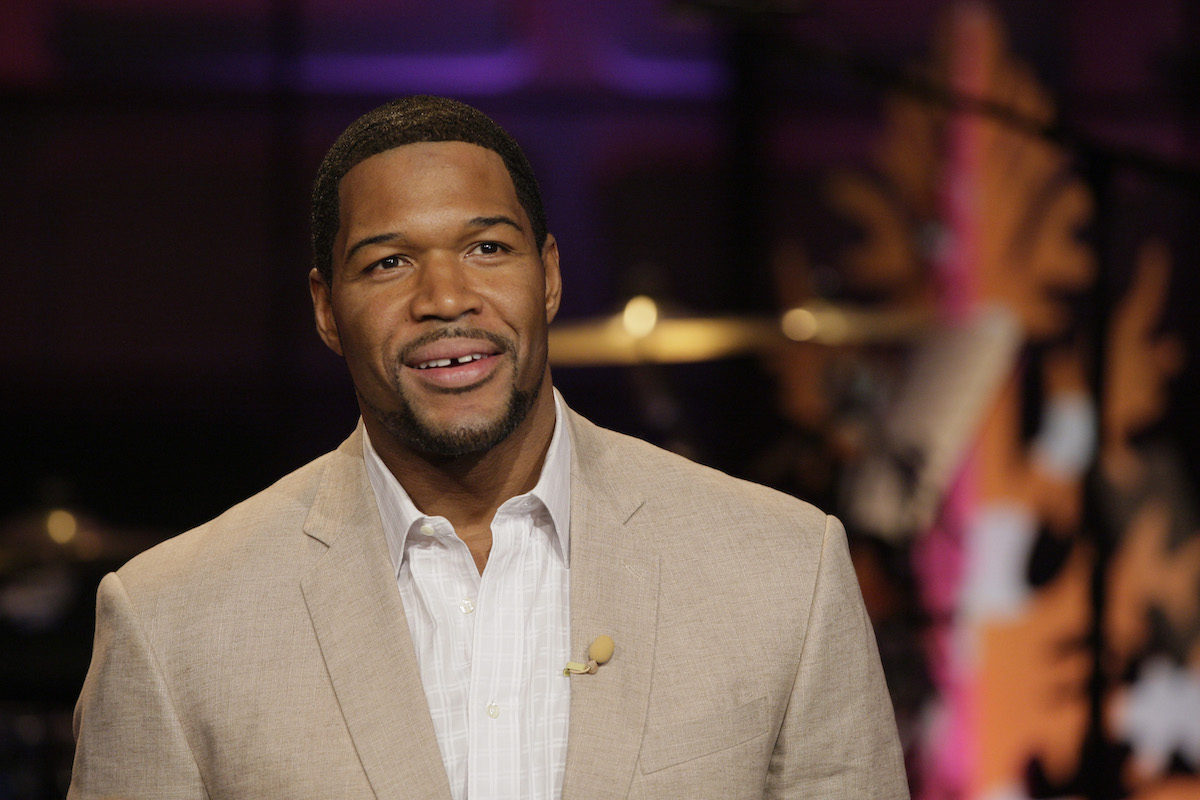 The NFL is an offense-focused league, so a defensive player needs to be great to become a star, and Strahan was able to do that. Strahan played for the Giants for his entire 15-year career, and playing for a team in the New York metro area certainly helped his profile grow. Pro Football Reference tells us that Strahan played in 216 games, including 205 starts, and racked up 854 tackles — 131 for a loss — and 141.5 sacks.
That number gives him the sixth-most sacks in the NFL since it became an official stat in 1982. Strahan's 22.5 sacks in 2001 is the most in a single season since sacks became official. He had four interceptions, two returned for a touchdown, in his Hall of Fame career, in which he was a seven-time Pro Bowler and a Super Bowl champ.
Michael Strahan's pregame ritual included talking to his socks
In an interview with Graham Bensinger, Strahan said his "pregame was cool" and that he "liked it." He had a pregame routine that was timed out "perfectly." He would put his gear on in a certain order and at a certain time, so he knew exactly what to do when. That gave him some consistency in his pregame preparations and made him feel comfortable before going out to the field with his teammates.
Part of his pregame ritual included talking to his socks about which foot they wanted to be on that day. Although Strahan clarified that he didn't talk to his socks out loud because his teammates would've thought he was nuts, he did do it silently in his head. Strahan recalls that they would sometimes debate before he finally put them on. And if one of the socks told him. "I don't like this one today," the defensive end would switch them up and put the socks on the opposite feet.
He felt if he put his socks on the wrong feet and they didn't tell him, he would be clumsy that day — and that is not a feeling that an NFL player wants to have when playing a game. So, Strahan says, "I had to listen to the socks. I had to." Strahan has a clothing line now, so he can talk to his own socks if he chooses to, and he won't have teammates around to judge him.
What else was part of Strahan's pregame ritual?
Strahan says most players look "so mean" with their pictures in the game program, so he would smile in his pictures because "a mean person smiling is an insane person." Whether he had to use the bathroom or not before the game, Strahan would go in there and close the stall door and flip through the pages of the program. He would look at his teammates' pictures first, then the opponents'. The pictures didn't change every week but he got used to doing it as part of his routine. The Good Morning America co-anchor says it was "calming" for him to do it. He joked that he should find a program in the bathroom now to calm himself down.
RELATED: Michael Strahan's Positive Attitude Was Just as Important as His Ferocious Pass-Rush Moves: 'He Made Everyone Around Him Play Better'