Michael Strahan Reveals What He'd Do If He Quit TV: 'Every Once in a While, You Want to Get Dirty'
Michael Strahan's transition between wildly different industries has been so impressive that you almost forget how incredible it is that he moved so seamlessly from the gridiron to daytime TV. The former defensive end is still striving for more with his additional business interests. In a recent interview, he passed on advice to fellow athletes who want to mirror his success, but his words can also help the less athletically gifted. 
Michael Strahan called it after being a legendary defensive end
Michael Strahan had an NFL career most players only dream of. Few defensive linemen had the complete package like Strahan. After only getting 17 sacks in his first four years, he broke out as a star in the next two years with 29 sacks combined. At his peak, Strahan was the best defensive end in the league, equally excellent as a run stopper and pass rusher.
He was named the NFL's Defensive Player of the Year in 2001 and was twice named the NFC Defensive Player of the Year. Strahan also set the league record for most sacks in a single season with 22.5, although the sack that gave him the record was basically handed to him on a plate: He retired in 2008 after taking part in one of the biggest upsets in Super Bowl history with the fifth-most career sacks ever (141.5) and 854 tackles.
Strahan was then elected to the Pro Football Hall of Fame in 2014. (He was also set to get his number retired by the Giants, but then Covid-19 happened, details Pro Football Talk.) A 14-year career as an NFL player is enough reason to enjoy retirement. But Strahan decided to try his hand in a completely different profession. 
His move to daytime TV that's worked surprisingly well
Strahan wasted no time in finding his next ambition. He joined Fox's NFL coverage a few months after retiring but wanted to test himself outside football. An awkward experience interviewing models at a Sports Illustrated party was the impetus for his next move. After 20 guest appearances in two years, Strahan replaced Regis Philbin as Kelly Ripa's new co-host in 2010. 
Live! With Kelly and Michael received significant ratings boost after the announcement, and Strahan's success on the show — he won two Daytime Emmys for Outstanding Talk Show Host — opened up new opportunities. In 2016, he left the show to work full-time on Good Morning America. Strahan also hosted the rebooted version of The $100,000 Pyramid, guest-starred in commercials, TV shows, and movies.
What makes him so good on TV? According to Michael Gelman, executive producer of Live, his talent lies in the fact that "Michael has charisma, a big, warm, playful personality, and has the rare ability to be himself on camera," Gelman says in a DuJour feature about Strahan. "But he also has that special hard-to-define quality, that 'x-factor' that makes him stand out."
TV work isn't the only passion in Strahan's professional life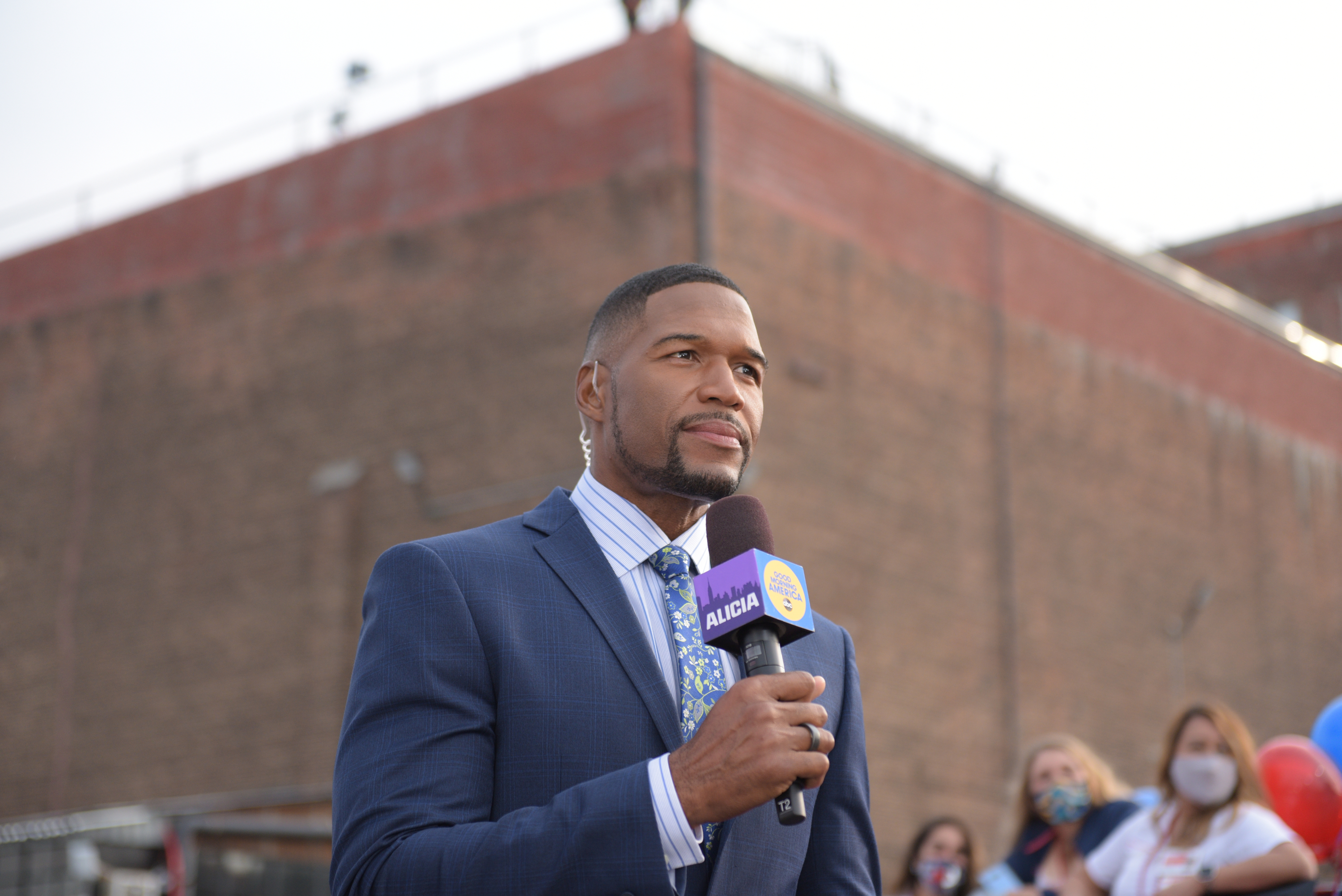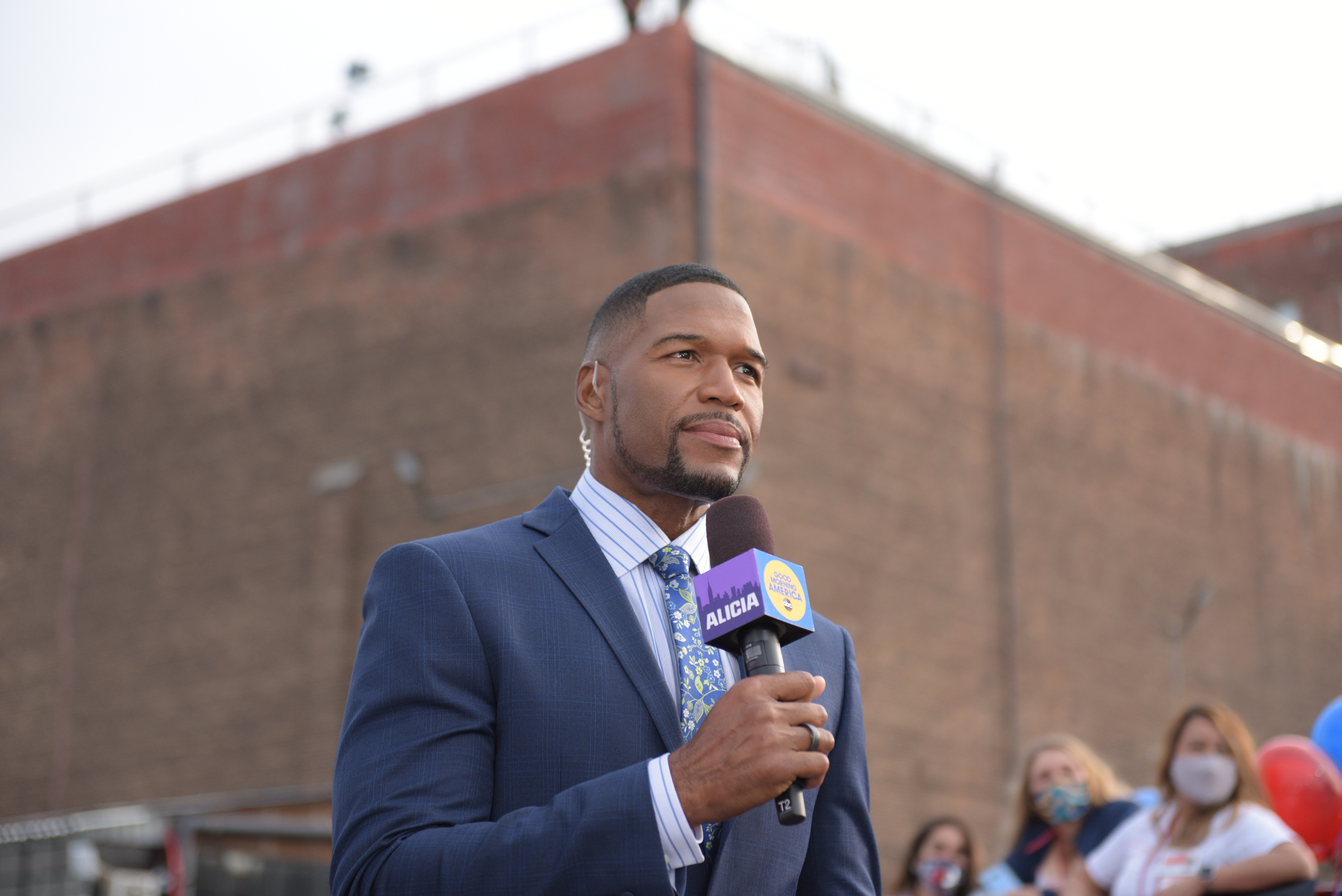 Strahan's sterling post-NFL career has made him the envy and fascination of active players who want to follow in his footsteps. He revealed some of the advice he gives to players in an interview in the Harvard Business Review:
"When any athlete tells me they want to have my career, I say, "Focus on what you do now. Everything else will be a branch off that main body of work. Then find something else you're passionate about and willing to work for as hard as you do with sports." I have a passion for real estate and construction. If I weren't on TV, that's what I would do."
TV isn't the only hustle Strahan has these days. He's overseen top-down renovations of eight houses in LA and New Jersey and the flipping of said properties afterward. Strahan also wrote a motivational book, Wake Up Happy: The Dream Big, Win Big Guide to Transforming Your Life, that became a New York Times bestseller.
He also launched a line of menswear and accessories for J.C. Penney and co-runs SMAC Entertainment, a talent management and production company, alongside his longtime friend, Constance Schwartz. The company produced the Kids' Choice Awards for Nickelodeon and boasts clients such as Deion Sanders and Erin Andrews.