Michael Strahan Admits Why He Actually Roots for Players to Break His Sack Record: 'I Just Want It Gone'
Two of the greatest defensive players in NFL history played for the New York Giants: Lawrence Taylor and Michael Strahan. They were both excellent at getting to the quarterback, but the latter holds the Giants' record for career sacks, as well as the NFL record for sacks in a single season. However, Strahan recently admitted he sometimes roots for players to break his single-season sack record. In fact, he even said he wants the anxiety that comes with it to be gone.
Michael Strahan broke the NFL single-season sack record with the Giants
RELATED: Michael Strahan Set the Single-Season NFL Sack Record After Not Really Knowing About the Statistic Until He Got to College
Through his first eight seasons, Strahan had already proven he was one of the top defensive players in the NFL. He earned Pro Bowl and First-Team All-Pro honors in 1997 and 1998 after recording 14 and 15 sacks in those years.
However, in 2001, Strahan had one of the greatest seasons of all time. The Giants legend recorded 73 total tackles to go with an NFL-leading six forced fumbles. He also had 22.5 sacks, a single-season NFL record. His performance that year helped him win the AP Defensive Player of the Year award.
Strahan's record has stood ever since, too, as Jared Allen and Justin Houston came the closest to breaking it, but couldn't quite accomplish the feat. Allen recorded 22 sacks in 2011, and Houston recorded 22 in 2014.
He wants someone to break his record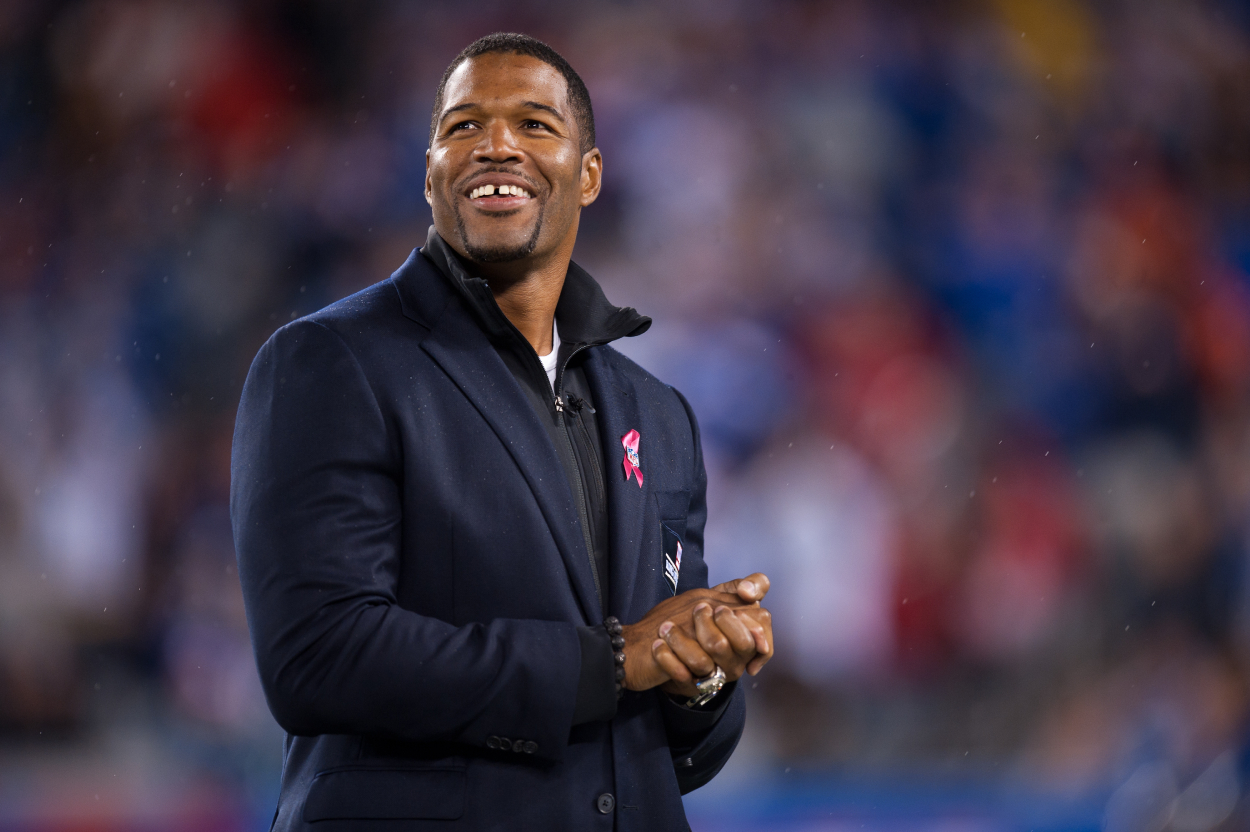 RELATED: Michael Strahan Sends out a Stern Message While Defending Ex-Foe Tom Brady: 'Shut Your Mouth'
Strahan recently appeared on 10 Questions With Kyle Brandt, and he said he doesn't really care about the record.
"I didn't really care about any records, I just wanted to be a great player. I just wanted to be respected and remembered," Strahan said on the April 28 episode. "The one record that I am most proud about is breaking [Lawrence Taylor's] single-season sack record with the Giants because LT is the greatest defensive football player to ever put on a uniform."
Strahan added that he sometimes even roots for players to break his single-season NFL record.
"The anxiety of wondering if somebody's going to break it every year — I just want it gone," Strahan said. "I don't want to even worry about it anymore because every time somebody gets close, everybody comes to me, 'Michael, what do you gotta say?'"
Strahan also insinuated that seeing someone break it wouldn't be too upsetting to him because he's so far removed from the game.
Even if a player does surpass him one day, though, Strahan knows he's still an NFL and Giants legend.
Michael Strahan is one of the greatest players in NFL and Giants history
RELATED: Michael Strahan Made $76.3 Million in the NFL but Once Fought a 'Rookie' to Gain Respect: 'I Told You Not to Mess With Me'
Strahan ultimately earned seven Pro Bowl selections with the Giants, and was a First-Team All-Pro four times. He also led the NFL in sacks in two different seasons.
Overall for his career, Strahan recorded 141.5 total sacks, which is the sixth-most in NFL history. It is also No. 1 in Giants history and nine more than Lawrence Taylor's 132.5.
Strahan's individual accomplishments later helped him become a Pro Football Hall of Famer.
However, his Super Bowl win during his final season in 2007 is the one career accomplishment Strahan holds in higher regard than his others.
"The most enjoyable thing I've ever had in my NFL career is winning the Super Bowl with the guys," he said. "That's what bonds us. I'm connected to those guys, and I'm on a group chat and group text every single day with the defensive line from there."
With the NFL regular season being 17 games now, there's a good chance Strahan's sack record could eventually fall. No one, though, can take away his Super Bowl ring.
Stats courtesy of Pro Football Reference