Michael Strahan Set the Single-Season NFL Sack Record After Not Really Knowing About the Statistic Until He Got to College
In 15 seasons with the New York Giants, pass-rusher Michael Strahan always made his way to the quarterback.
Entering the 2021 NFL season, there aren't many players in league history with more sacks than Strahan, who entered the Pro Football Hall of Fame with 141.5 sacks to his name. Considering Strahan's late start to football, his success is all the more impressive.
Michael Strahan didn't know about sacks until he reached college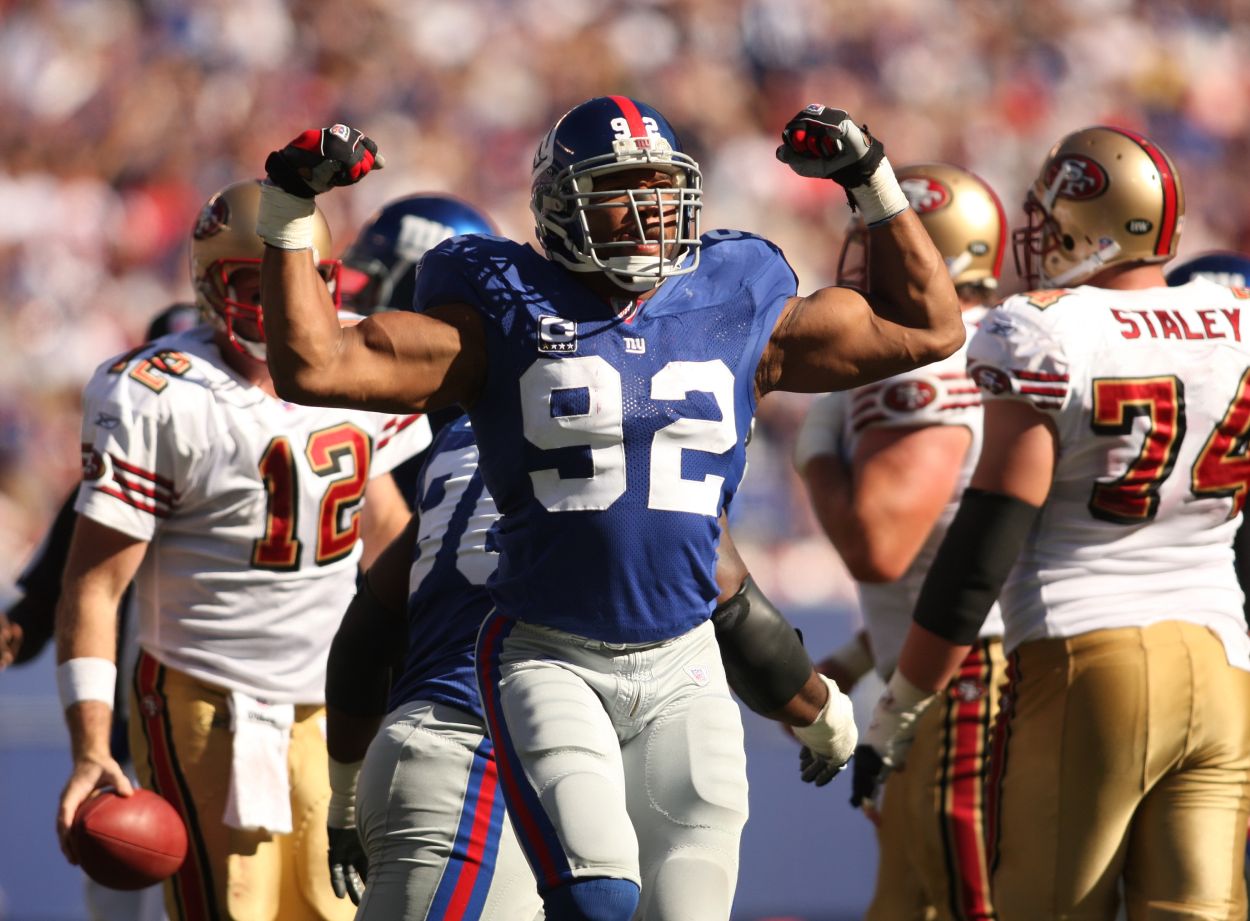 RELATED: Lamarr Houston Made a Grievous Error Celebrating a Sack and He Never Lived It Down
To fully understand Michael Strahan's journey from underrecruited prospect to NFL legend, one has to remember that he spent a good portion of his childhood in Germany.
Strahan played organized football as a youth growing up in Germany, so he wasn't totally unfamiliar with the sport. However, Strahan got an opportunity to do more when he played high school football for a year in Houston.
Strahan played well enough that he earned a scholarship from Texas Southern, a Division I-AA (now FCS) program. In a 2014 interview with Cigar Aficionado, Strahan reminisced on his college days and a time before the NFL.
Strahan explained that he was still fairly raw as a football player, both on the field and as a student of the game.
"When I got to college, I'd played one year of real high school ball and didn't really know what I was doing. I read a lot of magazines. Until I did, I didn't know that sacks were a big deal. I just figured, well, whoever has the ball, I'd get 'em. I watched a lot of pro football to study the techniques."

Michael Strahan
Well, Strahan eventually learned how important sacks were, and we know how that turned out. There's a giant bronze bust in Canton, Ohio, that proves that fact.
Strahan later set the single-season sack record
RELATED: Mark Gastineu Finally Shares His True Feelings About Michael Strahan's Sack Record
The idea of Strahan not really understanding sacks and then becoming a legendary pass-rusher is what makes sports so great.
Let's go back to 2001, when Strahan was a veteran defensive end for the New York Giants. Playing most of the season at 29 years old, Strahan totaled an NFL-record 22.5 sacks in 16 games.
Of course, that title is subject to debate because some, including ex-Jets star Mark Gastineau, argued that Packers quarterback Brett Favre intentionally took a sack to give Strahan the record-breaker. Gastineau held the record before Strahan and Favre faced off in January 2002.
Strahan is among the most prolific sack artists in NFL history
RELATED: Michael Strahan Admits Why He Actually Roots for Players to Break His Sack Record: 'I Just Want It Gone'
Strahan retired after the 2007 season with 141.5 sacks and, perhaps most importantly, a Super Bowl ring. He added another 9.5 sacks in 10 career playoff games.
Entering the 2021 season, Strahan ranked sixth on the all-time sack list. Denver Broncos linebacker Von Miller leads all active players with 106 sacks, and he is tied for 25th all-time.
Strahan, who earned induction into the Hall of Fame in 2014, definitely knows how important sacks are now.
Like Sportscasting on Facebook. Follow us on Twitter @sportscasting19.