Michael Strahan's Twin Daughters Aren't Afraid To Flaunt Their Dad's Wealth
In the NFL, defensive players don't always get the same kinds of attention as their offensive counterparts. One notable exception is former New York Giants defensive end Michael Strahan. Not only was Strahan a wildly popular player during his Pro Football Hall of Fame career, but he then went on to enjoy arguably even more fame as a media personality.
Strahan has also pursued a vigorous, if not always successful, family life. He has four children with two ex-wives. Strahan's twin daughters Isabella and Sophia haven't been shy about capitalizing on their father's fame and wealth.
Michael Strahan first made a name for himself in the NFL
The Giants drafted Strahan with the 40th pick of the 1993 NFL Draft. The second-round pick's first few years in the league were pretty quiet in terms of on-field performance.
He finally broke out in his fifth year in 1997, racking up 14 sacks and receiving the first of seven Pro Bowl selections. Strahan also took home four First-team All-Pro selections in his career.
Even more impressively, he led the NFL in sacks in two seasons, while taking home the Defensive Player of the Year award in 2001. That year, Strahan recorded a career-best 22.5 sacks and 24 tackles for loss.
He remains the Giant's all-time leader in sacks, and has the sixth highest career total of all time, with 141.5. Strahan also won one Super Bowl with the Giants, against the New England Patriots in 2007.
Soon after retiring, Strahan took a position with the Fox NFL team. Meanwhile, he made regular appearances on Live! with Regis and Kelly, before taking over as Kelly Ripa's full-time co-host in 2012.
He left that gig for Good Morning America in 2016. That year, he also became the host of ABC's rebooted version of The $100,000 Pyramid.
Juggling a robust family life with a busy career
RELATED: Michael Strahan Has a Crucial Piece of Advice for Athletes Entering the Business World
Strahan got married for the first time back in 1992 to Wanda Hutchins. The couple divorced in 1996, but not before they'd had a daughter and a son together: Tanita Strahan and Michael Anthony Strahan, Jr.
In 1999, Strahan married his second wife Jean Muggli, who he had met at a spa. The couple had a pair of twin daughters, Sophia and Isabella, in 2004.
Strahan second marriage lasted longer than his first — but not much. The couple underwent a nasty divorce in 2006, according to the New York Times.
Several legal battles over the financial settlement ensued, with Muggli eventually coming away with $15.3 million and $18,000 a month in child support (per Page Six). Since then, Strahan has not remarried, although he spent several years engaged to the ex-wife of film star Eddie Murphy.
Michael Strahan's twin daughters' social media lives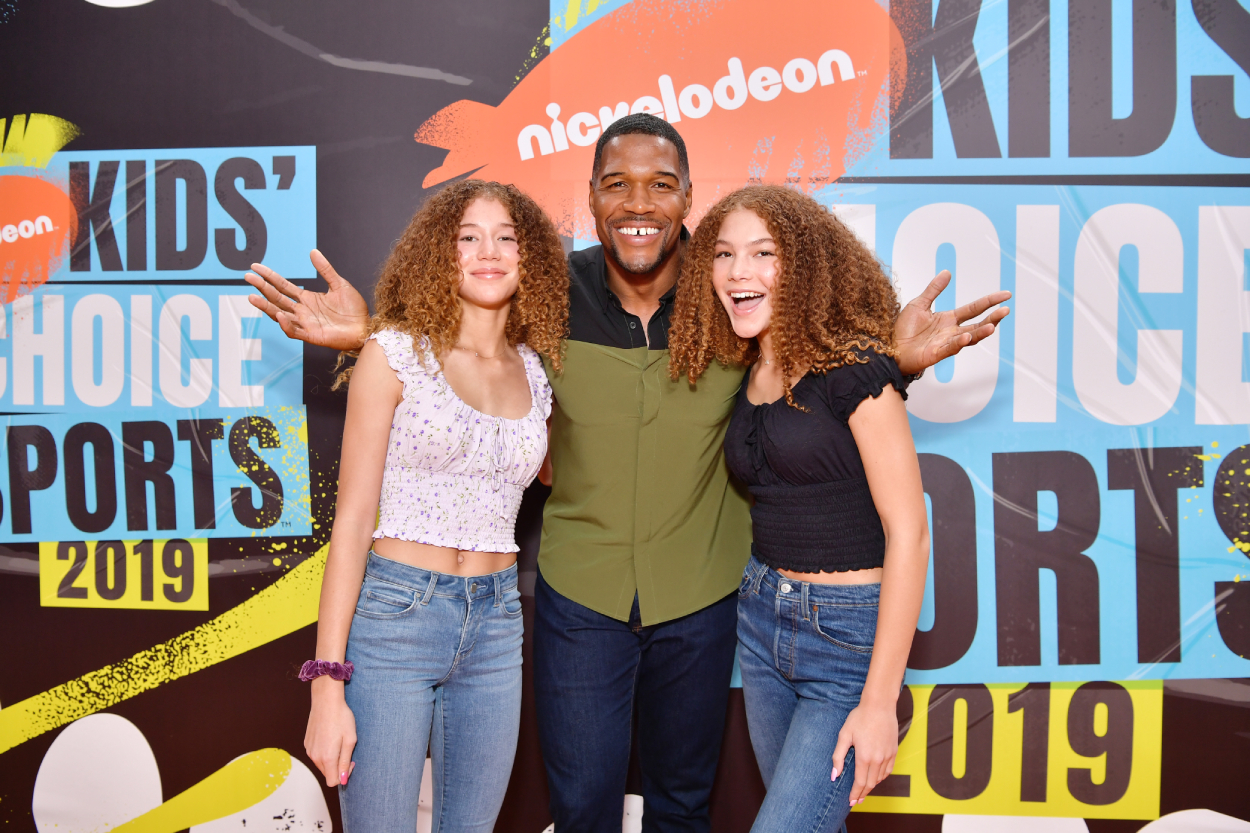 RELATED: Michael Strahan Is in the Most Important Fight of His Life
After Strahan and Muggli's divorce, the twins relocated along with their mother to North Carolina. Their they enjoyed a range of activities — from beach volleyball, to tennis, to horseback riding. Both of the twins got heavily involved with horses, even taking home a number of blue ribbons from prestigious competitions.
With the kind of money that their mother got in her divorce settlement from Strahan, it's not surprising that Sophia and Isabella soon grew used to a lavish lifestyle.
Nor have they been shy about showing off their luxurious lives via Instagram, where they are both successful influencers, according to Distractify. They frequently post photos shot in exotic locales, or at exclusive celebrity events.
By contrast, Strahan's two children from his first marriage have far quieter social media presences, and are seemingly content to live outside of the limelight.
All stats courtesy of Pro Football Reference