Michael Thomas Could Join Randy Moss and These Receivers With Another 99 Overall Madden Rating
New Orleans Saints star receiver Michael Thomas finally joined the 99 overall rating club in Madden last year. The record-setting Saints wideout became the newest member of a rare club that features multiple Hall of Fame players and others who are likely to join Canton's ranks in the coming years.
Will Michael Thomas be a 99 overall in Madden NFL 21? What other receivers attained the elusive, elite ranking? Let's take a look.
Calvin Johnson has the most 99 overall ratings of any Madden receiver
One would think Randy Moss or Terrell Owens, two of the most iconic receivers in recent NFL history, would hold the title of most 99 overalls by a Madden receiver. The two Hall of Famers combined for as many 99 overalls in Madden (three) as Calvin Johnson attained in his 10-year NFL career.
"Megatron" was a 99 overall for the first time in Madden NFL 13, the same year he appeared on the game's cover. Johnson repeated as a 99 overall in 2013's Madden NFL 25 and 2014's Madden 15.
Calvin Johnson was the only receiver in each game with a legitimate 99 overall rating. He is also one of the few players not to suffer the Madden Curse. Johnson's 1,964 receiving yards in 2012 set a new NFL single-season record.
Randy Moss and other Hall of Fame receivers also had 99 overalls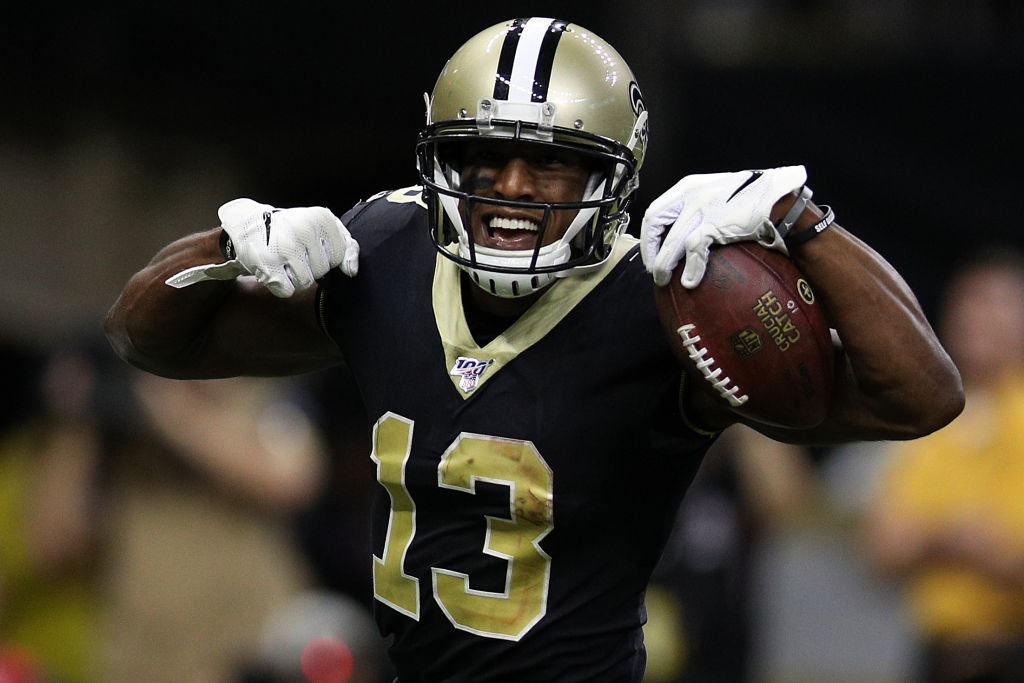 There have only been 12 instances of a wide receiver being a 99 overall in a Maddden game, according to the Madden 99 Club. Two players, Calvin Johnson and Randy Moss, have accomplished a 99 overall twice.
Moss opened Madden 2006 and Madden 09 with the game's highest rating.
Indianapolis' Marvin Harrison and San Francisco's Terrell Owens each had a 99 overall in Madden 2004. Owens' presence on ESPN's NFL 2K5's cover may have cost him a 99 overall in Madden 2005. Owens had a 97 that year, his first with the Philadelphia Eagles.
Arizona Cardinals star receiver Larry Fitzgerald and Pittsburgh Steelers safety Troy Polamalu were co-cover stars on Madden NFL 10. Both players had a 99 overall on the day one rosters.
Steelers receiver Antonio Brown repeated the feat of a cover athlete with a 99 overall in 2018's Madden NFL 19. Houston's DeAndre Hopkins opened last year as a 99 overall and New Orleans' Michael Thomas joined him in December.
The four retired receivers are all in the Pro Football Hall of Fame, while Fitzgerald is a lock to join them and Johnson could join the Hall next year. It is too early to predict if Hopkins or Thomas will get in.
Antonio Brown has a complicated Hall of Fame case because of his off-field issues. His on-field numbers, even if he never plays again, already put him in the Hall conversation.
Jerry Rice, surprsiingly, never earned a 99 overall rating. However, Rice famously held a 189 overall rating in Madden 98 and wieleded a 100 overall in Madden 1999.
What receivers will be a 99 overall in Madden 21?
Michael Thomas ended Madden 21 as the only receiver with a 99 overall. DeAndre Hopkins dropped to a 98 overall and Atlanta's Julio Jones is third at 96 overall.
Barring any unexpected retirements, those three stand to be the game's three highest-rated receivers again when Madden 21 eventually releases. Thomas had a record-setting season that makes him a near-shoe in to be a 99, while Hopkins only dropped when the regular season ended.
Kansas City's Tyreek Hill (96 overall) will likely stay in the high 90s, but it's hard to see him joinng the 99 club. The same goes for Green Bay's Davante Adams, who ended the year at a 94 overall.