Michael Vick and Others Paved the Way, and it's Lamar Jackson's NFL Now
During his time with the Atlanta Falcons, Michael Vick transformed the quarterback position. He gave a new perspective into what a quarterback could do at the NFL level, torching defenses with both his arm and his legs. In his final season with the Falcons in 2006, Vick set the all-time record for rushing yards by a quarterback with 1,039. That record stood for 13 years before Lamar Jackson broke it on Thursday night with 1,103 yards and counting in 2019.
There were mobile quarterbacks before Michael Vick, but he elevated the concept of the dual-threat quarterback to new heights. And in 2019, we are finally seeing what a nearly-perfected version of the dual-threat quarterback can do in Lamar Jackson's breakout season.
Michael Vick set the stage for future mobile quarterbacks
Before Michael Vick entered the league, dual-threat quarterbacks like Randall Cunningham, Steve Young, John Elway, Steve McNair, and Donovan McNabb all used their running ability to extend plays and to move the ball on offense. But Vick was different; his speed and athleticism were unparalleled.
And perhaps most importantly, he was the first quarterback in the modern who's rushing ability was the main feature in his offensive repertoire. In two seasons as Virginia Tech's starting quarterback, Vick only completed 56.3% of his passes and compiled 3,279 passing yards, 21 passing touchdowns, and 12 interceptions. He was drafted first overall in the 2001 NFL Draft for his blinding speed and rushing ability, not for his abilities as a passer.
"I was the guy who started it all," Vick told ESPN.com in 2014. "I revolutionized the game. I changed the way it was played in the NFL."
Vick did pave the way for future dual-threat quarterbacks like Colin Kaepernick, Robert Griffin III, Cam Newton, and Russell Wilson. And, of course, Lamar Jackson.
Lamar Jackson's passing ability makes him special
Lamar Jackson possesses the same generational speed, athleticism, and intuition that Michael Vick had in his early years in Atlanta. But he also has something that Vick never had; excellent passing skills to go along with those rushing gifts.
It's fitting that Jackson threw five touchdown passes on the same day that he broke Vick's single-season rushing record. This is a statement to what makes Lamar Jackson so special; he can beat you with both his arms and his legs. And this, in turn, makes both aspects of his game more dangerous. Defend the run or pass to heavily and he will beat you with the other.
When opposing teams played against Michael Vick, the strategy was obvious; try to contain him as a runner and make him beat you as a passer. This was easier said than done, and it wasn't as if Vick was a hopeless passer or anything. But in his four healthy seasons in Atlanta as a starter with at least 15 games played, Vick averaged only 2,534 yards, 16.2 touchdown passes, and 11.5 interceptions per season.
Through 14 games, Lamar Jackson has 2,889 passing yards and league-leading 33 passing touchdowns with only six interceptions to go along with his 1,103 rushing yards and seven rushing touchdowns. He has completed 66.2% of his passes; Vick never had a completion percentage over 56.4% during his years as an elite rusher in Atlanta.
How do you defend a healthy Lamar Jackson?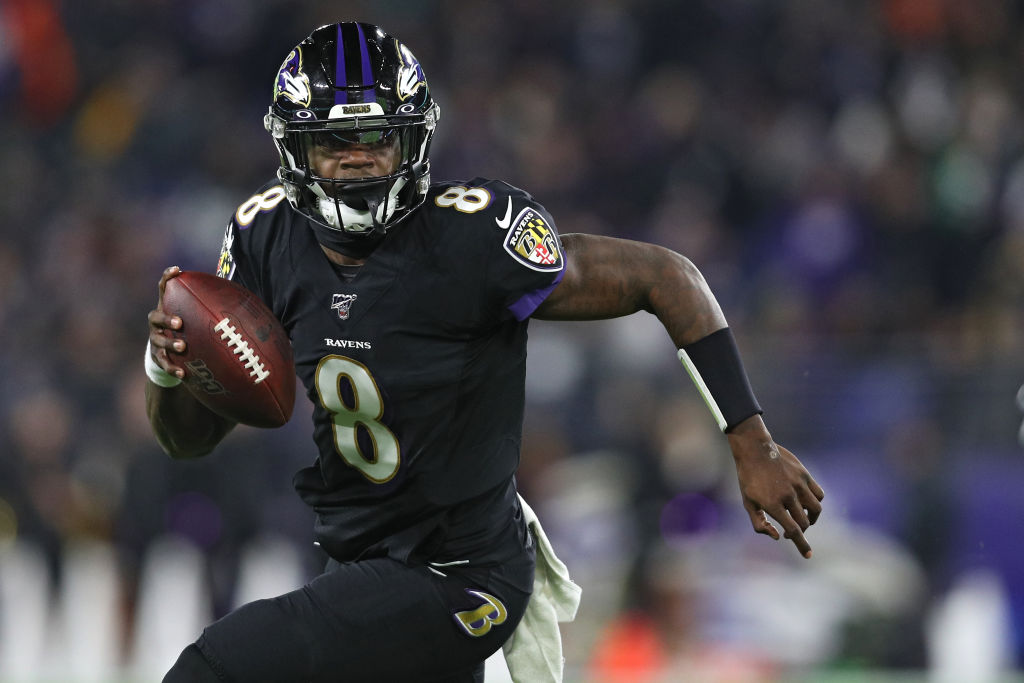 Most teams have no shot at all of defending Lamar Jackson. In games against the league's top three defenses in the New England Patriots, Buffalo Bills, and San Francisco 49ers, Jackson has had his total yards limited, but has still scored eight total touchdowns with only two turnovers. And most importantly, his Ravens won all three of those games.
Defenses are forced to pick their poison when trying to defend Lamar Jackson, and over Baltimore's current 10-game winning streak averaging 33.7 points per game, it seems that all forms of the poison are lethal. Baltimore is one win away from clinching the top seed in the AFC, and the Ravens are clearly the team to beat in 2019.