Michael Vick Blames a Lack of Maturity and Desire for Not Winning More Games With the Atlanta Falcons
At this stage in the game, Atlanta Falcons fans would likely prefer to remember Michael Vick's tenure in the NFC South for his electric running ability and cannon of an arm. You know, as opposed to how things ended with a prison sentence and a dogfighting ring.
For all of his on-field accomplishments in Atlanta, the four-time Pro Bowl quarterback can only look back so fondly on his time with the Falcons without thinking about what could have been.
Michael Vick blamed his immaturity for not winning a Super Bowl with the Falcons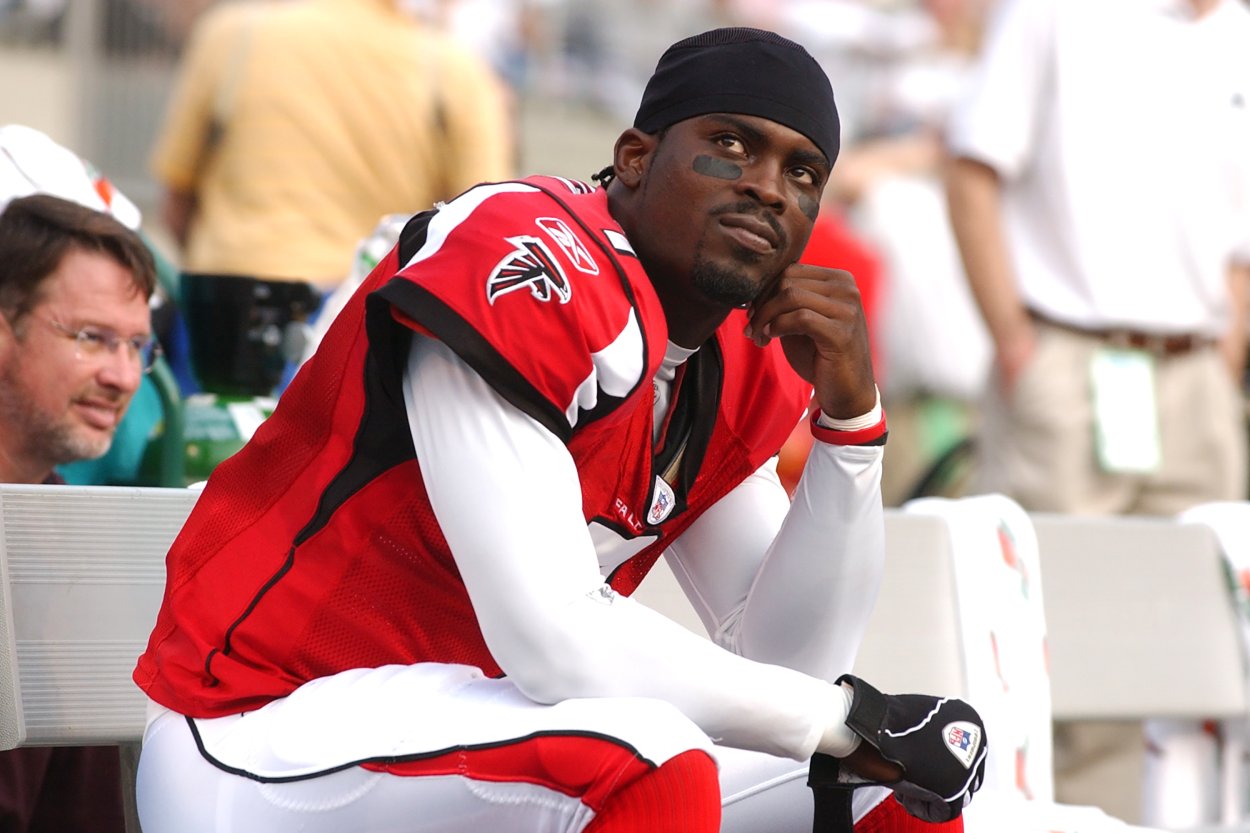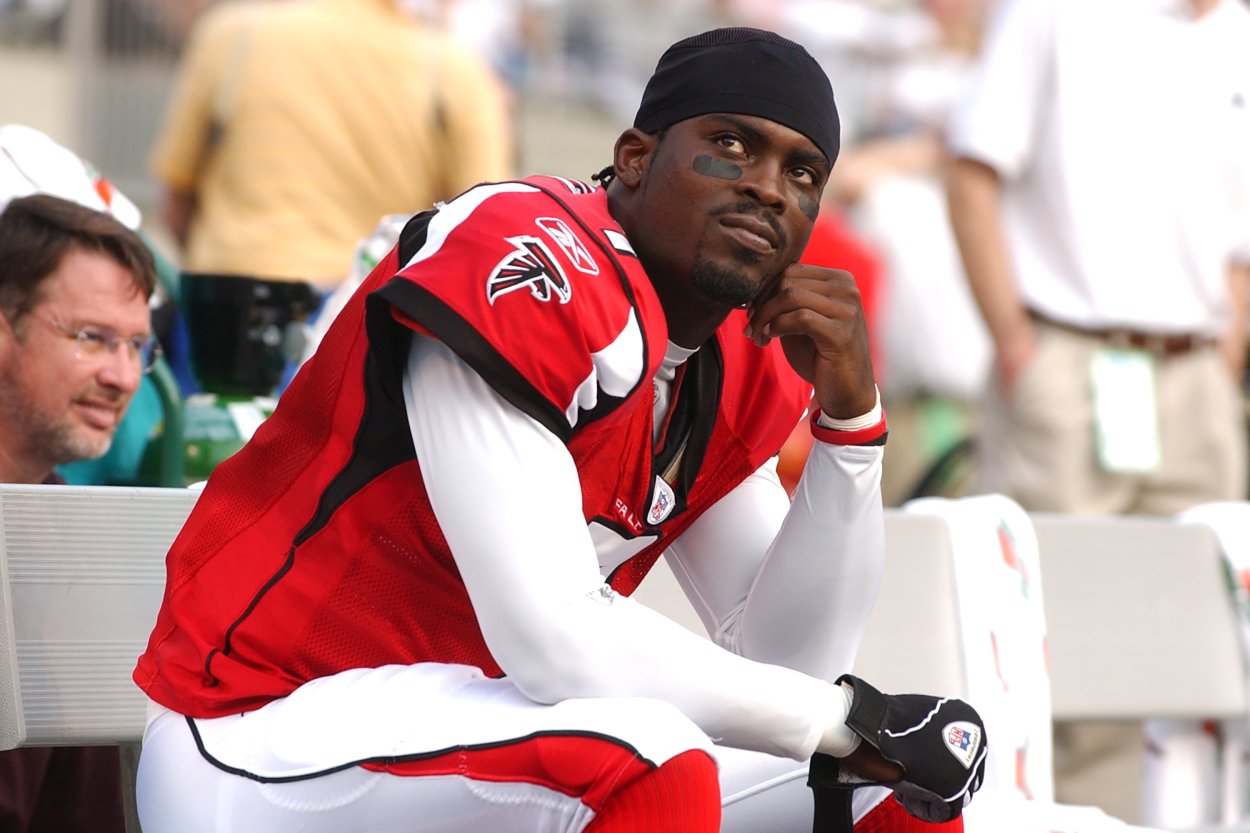 It doesn't feel right to say the Vick era in Atlanta ended with a bang. A 23-month prison sentence for his involvement in running a dogfighting ring feels like far more of a nuclear bomb.
Football fans have long wondered what would have happened if Vick exercised better judgment and continued playing for the Falcons. Would he have eventually led the team to a Super Bowl victory? Additionally, where would Matt Ryan, the third overall pick in the 2008 NFL Draft, have landed if Vick remained in Atlanta?
In a 2012 interview with the NFL Network, Vick admitted he also plays the what-if game when he looks back on his time in Atlanta. However, he isn't bothered solely by the dogfighting scandal and the financial problems which forced him to file for bankruptcy.
When he spoke with NFL Total Access that year, Vick admitted he feels the team would have been more successful if he studied the playbook more.
"[I] probably would have already had a ring on my finger. But that's easy to say. With any team, you still have to have 11 guys on offense, defense, special teams that can put it all together. But I would have made a better contribution. … Maybe if I would have put more time into my craft, I could have done some things differently."

Michael Vick
The Falcons went 47-48-1 in Vick's six seasons with the team. He won 38 of his 67 starts in Atlanta.
It's easy to understand why Vick let his talent do the talking
There are some players who can survive on talent alone. Even if Patrick Mahomes didn't fully know the Kansas City Chiefs' playbook in 2018, he had the skill set and overall knowledge to be an effective quarterback. He might not be the player we know him as now, but he'd have survived.
Vick, especially in his prime, was capable of doing the same thing. Remember, he became the first quarterback in NFL history to rush for 1,000 yards in a season when he established the club in 2006. Atlanta tailored its offense around him, and the Falcons made the playoffs twice in his six years at quarterback.
Still, Vick's thoughts about what could have been if he studied harder present an interesting what-if. In those six seasons with the Falcons, he completed 53.8% of his passes. One can only wonder if he would have posted higher completion percentages — and won more games as a result — if he knew more of the playbook.
Vick completed 11 of 24 passes for 136 yards and an interception in a 27-10 loss to Donovan McNabb and the Philadelphia Eagles in the 2004 NFC Championship Game. Would the Falcons have played better, or even won, if he completed more passes? It's a tough question but, given his comments, it's also a fair one.
Vick eventually changed his ways when he joined the Eagles
When Vick left prison in 2009, he signed with the Eagles and became Donavan McNabb's backup. Few would have figured at the time that the ex-Falcons star would revive his career and begin the process of revamping his reputation. 
Do you want to know what else Vick did in Philadelphia? He drastically improved his completion percentage.
Vick's completion percentage across 74 games and 67 starts (2001-06) with the Falcons: 53.8%.
Vick's completion percentage across 54 games and 42 starts (2009-13) with the Eagles: 59.5%.
As time went on, Vick became a more accurate passer in part because he worked with coaches on knowing and applying the playbook. He noted as much when he spoke with the NFL Network in 2012.
We often think about the major changes, like a team selecting Tom Brady earlier in the 2000 NFL Draft, when we think about alternate universes and what-if scenarios. Vick's personal reflections are a reminder that even the slightest alteration can provide tremendous changes.
Like Sportscasting on Facebook. Follow us on Twitter @sportscasting19.