Michael Vick Dominated the NFL as a Mobile Quarterback but Admits He Had Different Mindset: 'I'm Tom Brady, I'm Peyton Manning'
Michael Vick is one of the most dangerous dual-threat quarterbacks the NFL has ever seen. From an on-field perspective, he changed the game. The former Atlanta Falcons and Philadelphia Eagles star knew what he was capable of with the football in his hands. However, Vick admits he always wanted to play like Tom Brady and Peyton Manning.
Michael Vick wanted to be a pocket passer like Tom Brady and Peyton Manning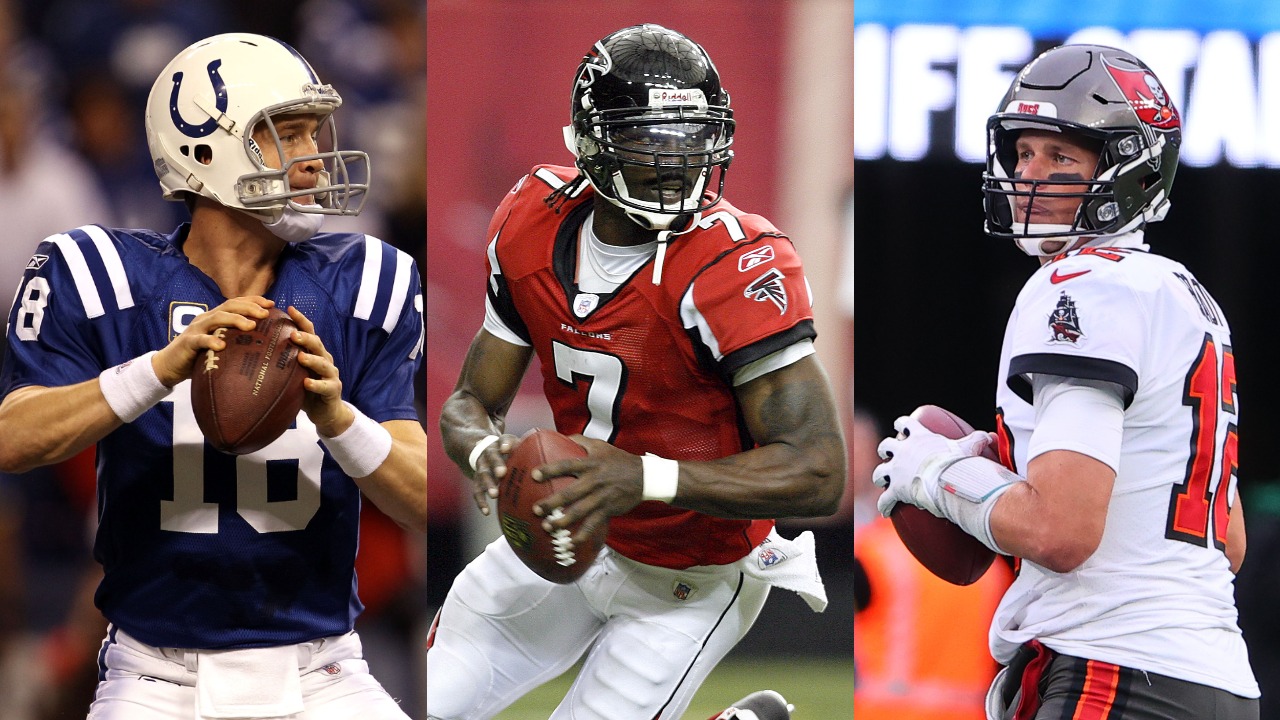 Michael Vick made a 13-year NFL career out of making defenders look silly. He made memorable plays with his arm and legs, but he's most associated with the damage he did as a runner.
As far as mobile quarterbacks go, Vick set the standard for the modern-day generation. The former NFL star revealed that it wasn't his plan to be a run-first quarterback. In a recent interview on No Chill with Gilbert Arenas, Vick explained why he preferred to be a pocket passer.
"I like the pocket passers," said Vick. "I'm a pocket passer at heart. I'm Tom Brady, I'm Peyton Manning. When I line up, I'm not thinking about scrambling and running. I'm thinking about throwing like Drew [Brees] from the pocket. That was always my mindset when I played. I want to be a precise passer."
The Virginia Tech product understood how lethal he was with the ball in open field, but that wasn't always his intention.
"When I pulled it down and ran it, that was just a part of my game," Vick added.
The Falcons legend was the cover athlete for the Madden NFL 2004 video game. He was one of the most unstoppable players in the franchise's history but admitted he didn't like playing with himself.
"In an ideal world, I want my teammates involved," he said. "I want to spread the ball around and sit back and throw for four touchdowns and 450 yards. I ain't got to run a lick today."
The 4-time Pro Bowler is one of the most electric NFL players of all time
Even though Michael Vick wanted to play more like Tom Brady and Peyton Manning, he also knew the gift he possessed.
The Newport News, Virginia native was as electric a player as the game has ever seen. Years before Lamar Jackson took the NFL by storm, Vick did the same in his early days with the Atlanta Falcons.
The 4-time Pro Bowl quarterback finished his NFL career with 22,464 passing yards, 6,109 rushing yards, and 169 total touchdowns.
Vick brought something different to the game that no player before him had. He was a quarterback, but he could beat a defense in multiple ways. Opposing defenses didn't just have to account for him. They needed to game plan for the dual-threat dynamo.
Many of today's mobile quarterbacks grew up watching Michael Vick, and he serves as a mentor for many of them. From his raw natural ability to his swagger, he became a football icon. Vick's on-field impact was similar to Allen Iverson's in the NBA.
The Falcons legend admits the NFL humbled him early on
Michael Vick started to become a household name during his college football career. He didn't put up gaudy passing numbers, but his dual-threat abilities intrigued NFL scouts.
The Atlanta Falcons hit the jackpot, landing the No. 1 overall pick in the 2001 NFL Draft. They selected Vick, and the rest was history. The former Hokies standout started just two games during his rookie season, but he admits he learned some valuable lessons in year one.
"When I got to the league, it's another level, so everything changed," Vick said. "I gotta revamp, and I gotta find my niche. In my rookie year, I realized I've got to change a lot of things. I wasn't ready. I played against Brian Urlacher and the Bears. It just looked like I never played the game before."
Vick said year two is when he started to get more comfortable playing at the next level.
"I took off," he said. "But I still felt like next year, they might pick up on what we're doing. Each year has to be better. I got to the NFC Championship game. It was easy to get there. I expected to get back, but I never made it back. I got humbled because it was hard to get back there."
Michael Vick was a cheat code on the football field, but he learned that winning in the NFL is no guarantee.
Like Sportscasting on Facebook. Follow us on Twitter @sportscasting19.