Michael Vick and Drew Brees' Stacked 2001 NFL Draft Class: Where Are All of the 1st-Round Picks Now?
What was the best NFL draft class in history? It's hard to tell, as every draft features great players mixed in with mediocre and bad ones. The one that may stand out above the rest, though, was 2001. The 2001 NFL draft class has a solid argument for being the best draft class of all time.
But who went in the first round of the draft? Here's the story of the draft's first-round picks, who fared the best, and some who fared poorly as major busts not long after.
The first-round picks of the 2001 NFL draft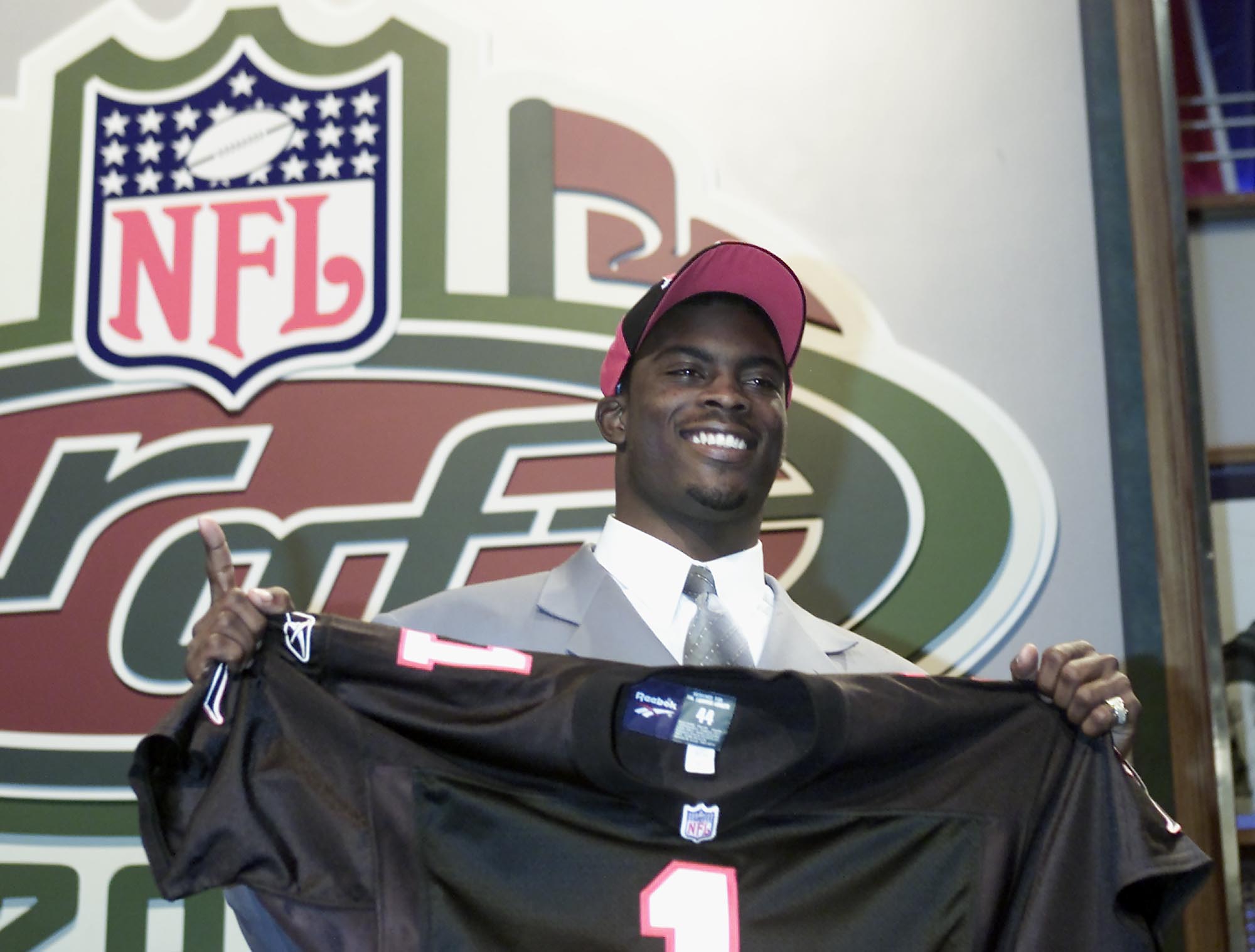 RELATED: NFL Draft: Which Schools Have Produced the Most Pro Football Hall of Fame Players?
Pro Football Reference has a record of the 2001 NFL draft first-round, listed below:
Michael Vick, Atlanta Falcons
Leonard Davis, Arizona Cardinals
Gerald Warren, Cleveland Browns
Justin Smith, Cincinnati Bengals
LaDainian Tomlinson, San Diego Chargers
Richard Seymour, New England Patriots
Andre Carter, San Francisco 49ers
David Terrell, Chicago Bears
Koren Robinson, Seattle Seahawks
Jamal Reynolds, Green Bay Packers
Dan Morgan, Carolina Panthers
Damione Lewis, St. Louis Rams
Marcus Stroud, Jacksonville, Jaguars
Kenyatta Walker, Tampa Bay Buccaneers
Rod Gardner, Washington Football Team
Santana Moss, New York Jets
Steve Hutchinson, Seattle Seahawks
Jeff Backus, Detroit Lions
Casey Hampton, Pittsburgh Steelers
Adam Archuleta, St. Louis Rams
Nate Clements, Buffalo Bills
Will Allen, New York Giants
Deuce McAllister, New Orleans Saints
Will Middlebrooks, Denver Broncos
Freddie Mitchell, Philadelphia Eagles
Jamar Fletcher, Miami Dolphins
Michael Bennett, Minnesota Vikings
Derrick Gibson, Oakland Raiders
Ryan Pickett, St. Louis Rams
Reggie Wayne, Indianapolis Colts
Todd Heap, Baltimore Ravens
Who were the best first-round picks of the 2001 NFL draft?
RELATED: Drew Brees May Not Be Ready to Move On, But New Orleans Saints Fans Definitely Are
Vick, at number one overall, had quite a notable career with the Atlanta Falcons. He was eventually jailed for a dogfighting ring being operated out of his home, but later came back and experienced a career renaissance with the Philadelphia Eagles. Vick may not have been the superstar many thought he'd be coming out of Virginia Tech, but he was one of the best dual-threat (running and passing) quarterbacks of his generation. 
Tomlinson was probably the best player to come out of this first round. He had a Hall of Fame career with the Chargers. Hutchinson also made the Hall of Fame as a guard for the Seahawks, providing outstanding run and pass blocking for the majority of his career. Wayne, Heap, and McAllister also logged solid time as dependable starters and borderline stars.
Of course, a couple of players picked outside the first round could be two of the best of them all. Drew Brees went to San Diego with the first pick of the second round, giving the Chargers quite a haul with Brees and Tomlinson. Brees played well for the team, but they decided to go in a different direction in 2004 when they selected Philip Rivers. Brees took his shoulder injury to New Orleans, where he thrived and won a Super Bowl.
Steve Smith hasn't made the Hall of Fame (yet), but will likely be headed for Canton one day. This third-round pick helped the Panthers qualify for a Super Bowl appearance and became one of the most consistently excellent receiving options of the 21st century.
Which 2001 NFL first-round picks didn't turn out well?
Not every first-round pick was a good one, however. There were more than a few busts in this draft. Reynolds only played 18 games in Green Bay. According to Acme Packing Company, he almost immediately suffered from knee problems and failed to make an impact at the professional level. The Pack's rival didn't fare much better, as Bleacher Report called their first-round pick Terrell one of the five biggest draft busts in franchise history.
One player who wasn't a bust but nonetheless had a tragic ending was Kenyatta Jones. While he won a Super Bowl with the Patriots after they spent a fourth-round pick on him, he tragically passed before turning 40 years old in 2018 due to an unexpected heart attack.