Michael Vick Says Lamar Jackson Is 'Just Scratching the Surface on How Good He Can Be'
A small group of quarterbacks can call themselves elite in the NFL. One of these is the Baltimore Ravens' Lamar Jackson. The 23-year-old has had an incredible career so far and he's only a few years in. Jackson has earned recognition from coaches, players, and fans. One former player who sang his praises is Michael Vick, formerly of the Falcons and Eagles.
Vick played the same style as Jackson, so he's in a good spot to analyze his game. Here's why Vick thinks the young signal-caller may only be "scratching the surface" of his ability. 
How good has Lamar Jackson been?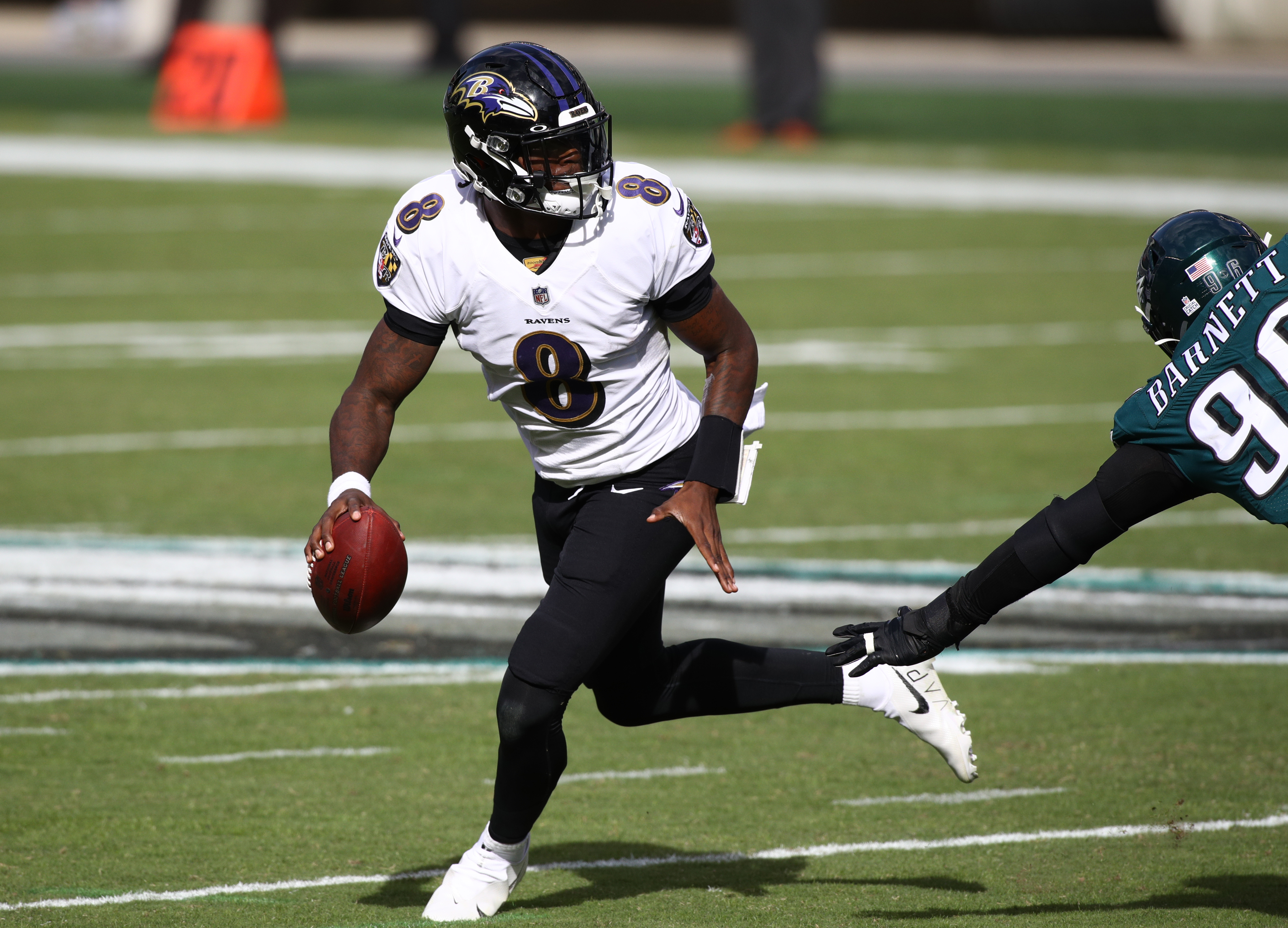 RELATED: Lamar Jackson Just Got the Motivation He Needed to Become the Best
It's hard not to notice Jackson's results. In his rookie year, he entered in mid-season but helped the Ravens get to the playoffs. He played well, but if the next season was any indication, he hadn't begun to peak yet. Last year, Jackson dominated the league. He led the Ravens to the No. 1 overall seed in the AFC. He won the NFL MVP Award.
The Ravens didn't fare well in the playoffs — they fell behind early against the Titans and were forced to shy away from the run in an attempt to come back. Still, Jackson still positions the Ravens to be championship contenders for the foreseeable future. This season, Jackson's having another solid year. 
What makes Jackson so dangerous is his ability to beat teams with both his arm and his legs. He's got a cannon for an arm and pinpoint accuracy, but he's just as much of a threat to take off and scramble downfield as he is to throw. He definitely keeps defenses honest, and as long as he can stay healthy, there's no reason to think he can't keep doing it. 
How good was Michael Vick?
RELATED: Lamar Jackson's Critics Are Making The Same Ridiculous Mistake
Before there was Jackson, there was Vick. Vick first starred at Virginia Tech, leading them to a national championship game appearance against Florida State. When he entered the NFL Draft, the Atlanta Falcons traded with the San Diego Chargers to acquire the rights to draft Vick. Vick had a long and somewhat troubled NFL career, but no one would ever say he wasn't a great player. 
In the middle of Vick's career, he went to prison on dog-fighting charges. Sandwiched around that, however, was some outstanding play. Vick brought the Falcons to respectability even if he never got them over the championship hump. After his incarceration, Vick proved his doubters wrong. He'd play solid football as a starter for the Eagles for several years. 
There are differences in Jackson and Vick's games to be sure, but they did have similar skill sets. Just like Jackson, Vick was a tremendous threat to run the football at any time. He almost always proved elusive when running in the open field. 
Michael Vick says Lamar Jackson is "just scratching the surface on how good he can be"
Vick appeared on Skip and Shannon: Undisputed to discuss Jackson's play. He jokingly lamented that the QB will soon obliterate his rushing records. In actuality, Vick was complimentary of Jackson: "Lamar in his third year, he's just scratching the surface of how good he can be … He just continues to get better and better in his role as quarterback of the Baltimore Ravens." 
Based on how Jackson's played so far, there's no reason to think Vick isn't right on the money. Jackson may seem like he has no place to go but down, but he's still young and the Ravens have a strong infrastructure in place to contend for a while. It's very likely that Jackson will only continue to improve.